Dagens blog tager udgangspunkt i, at vores bil lige har været på værksted. Et besøg der endte med at tage meget lang tid, og hvor vi fik mulighed for at mærke kontrol-tabet tæt på. Også selvom værkstedet havde indført værktøjer, til at sikre at vi kunne følge med i udviklingen.
Men historien har også en bi-fortælling, som jeg vælger at starte med. Den kan du naturligvis springe over, hvis du gerne vil nøjes med at læse om vores behov for ikke at miste kontrollen. Hop til hovedhistorien
System 1 tager over
Mens vores bil var på værksted havde vi en såkaldt lånebil. Ikke et særligt komfortabelt køretøj, men det kunne da fragte os rundt. Der var dog et særligt minus ved den, som blev ved med at drille, efter at vi havde fået vores bil tilbage.
Du har formentlig læst om Kahnemans System 1 og System 2. System 1 er det intuitive, der bruges til at træffe hurtige beslutninger, mens vi bruger System 2, når vi skal tænke os om. Det er ikke altid vi husker at bruge System 2 – det er jo derfor at adfærdsdesign og nudge virker!
Men System 1 overtager også en række opgaver efterhånden som vi får styr på dem. For eksempel når man kører bil. En ny bilist er ikke så dreven og kan finde på at kigge på gearstangen, når de skifter gear. Efter nogle måneder med kørekort, har de fleste fundet ud af at finde gearene uden at kigge.
Heldigvis sidder de fleste gear også nogenlunde ens. I hvert fald gearene 1-5/6, mens bakgearet kan sidde forskelligt. Og det er netop det, der er kernen i denne første del af historien.
For vores lånebils gear var placeret som på det røde billede, mens vores egen er placeret som på det gule billede.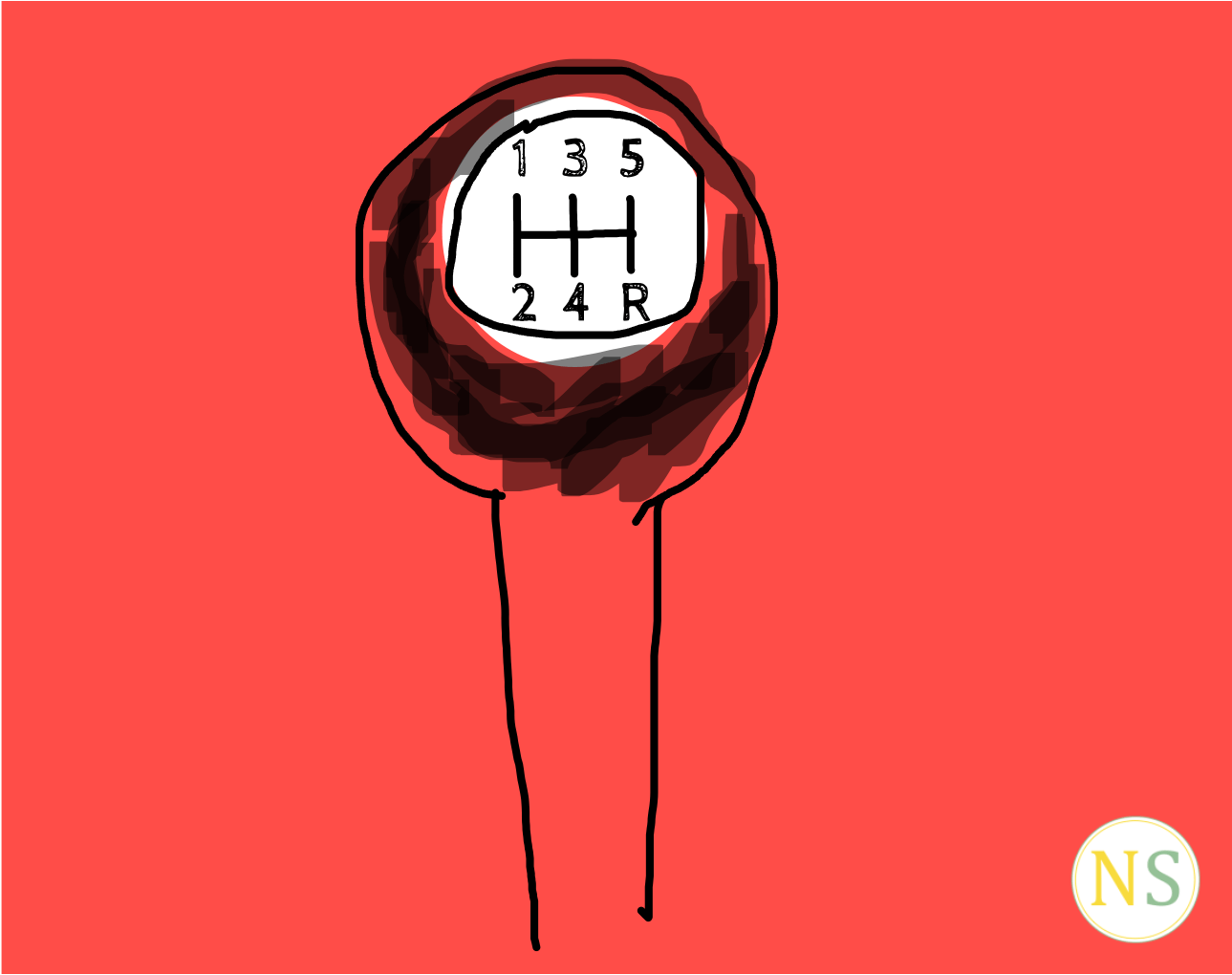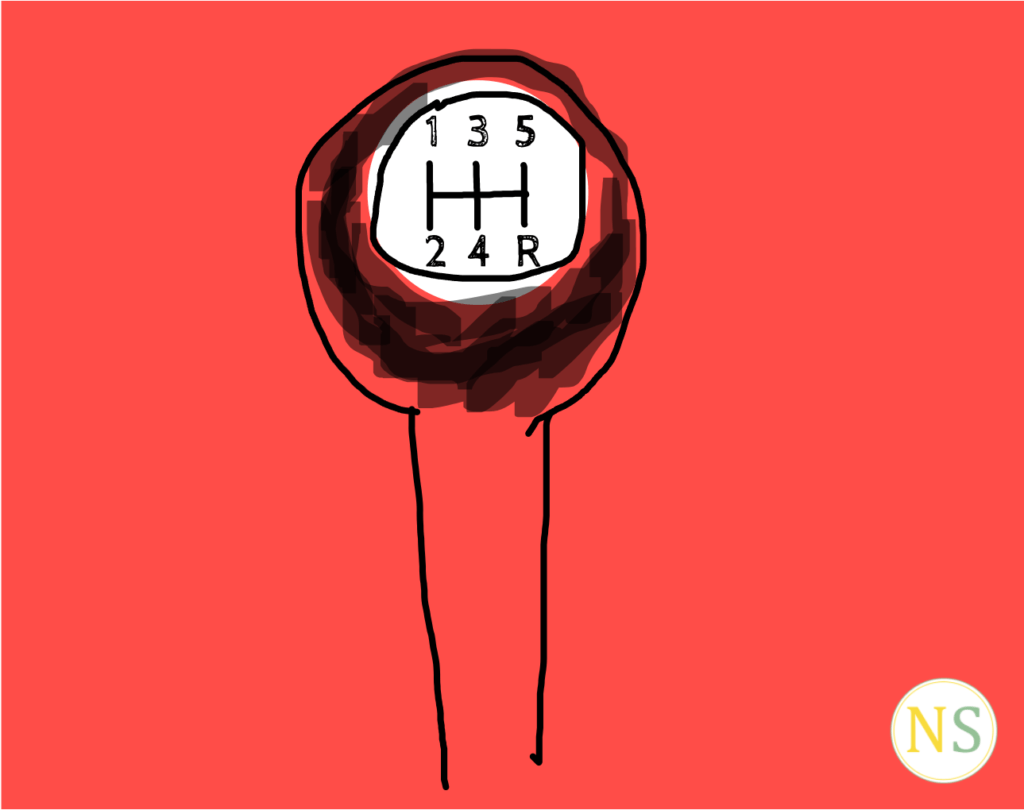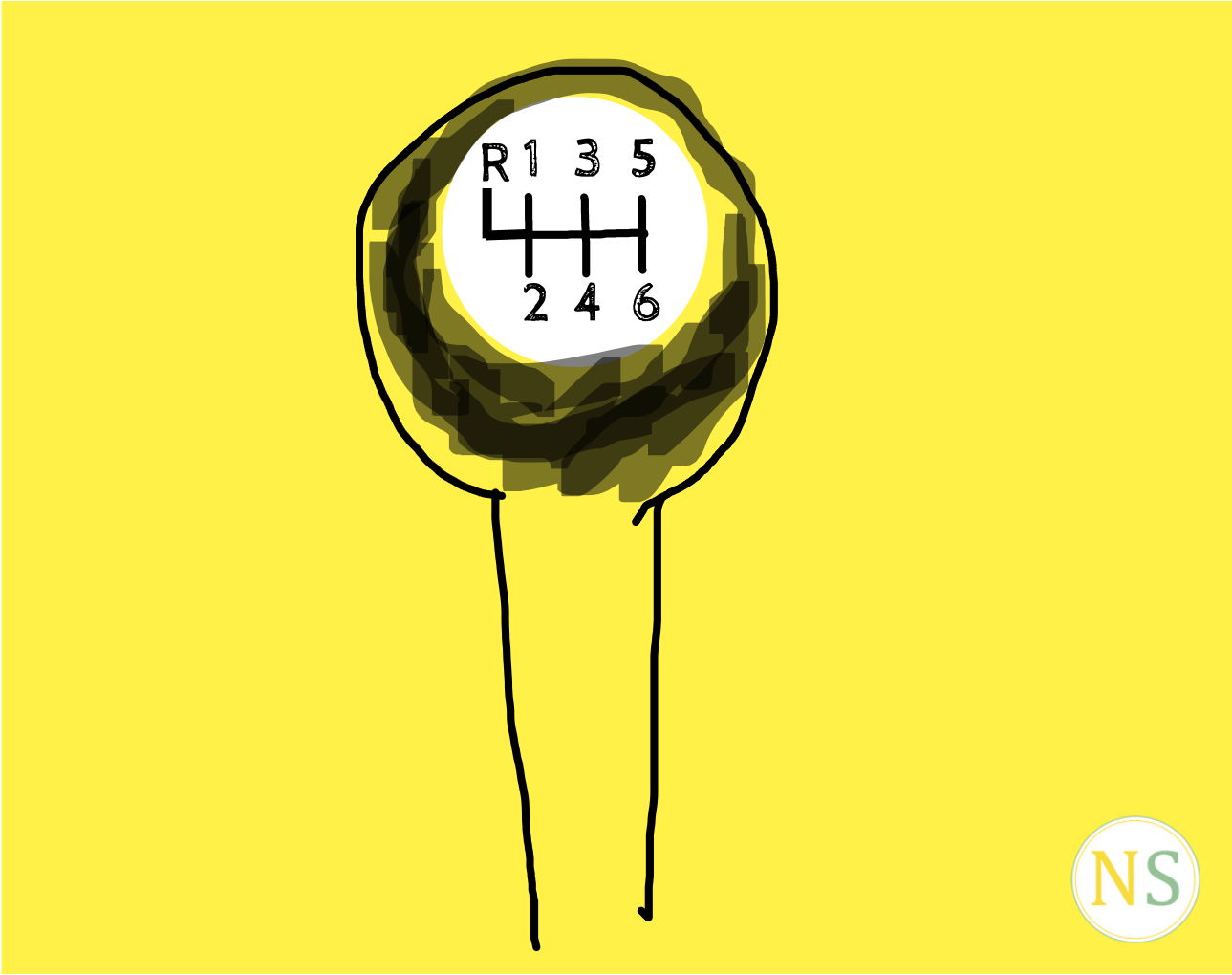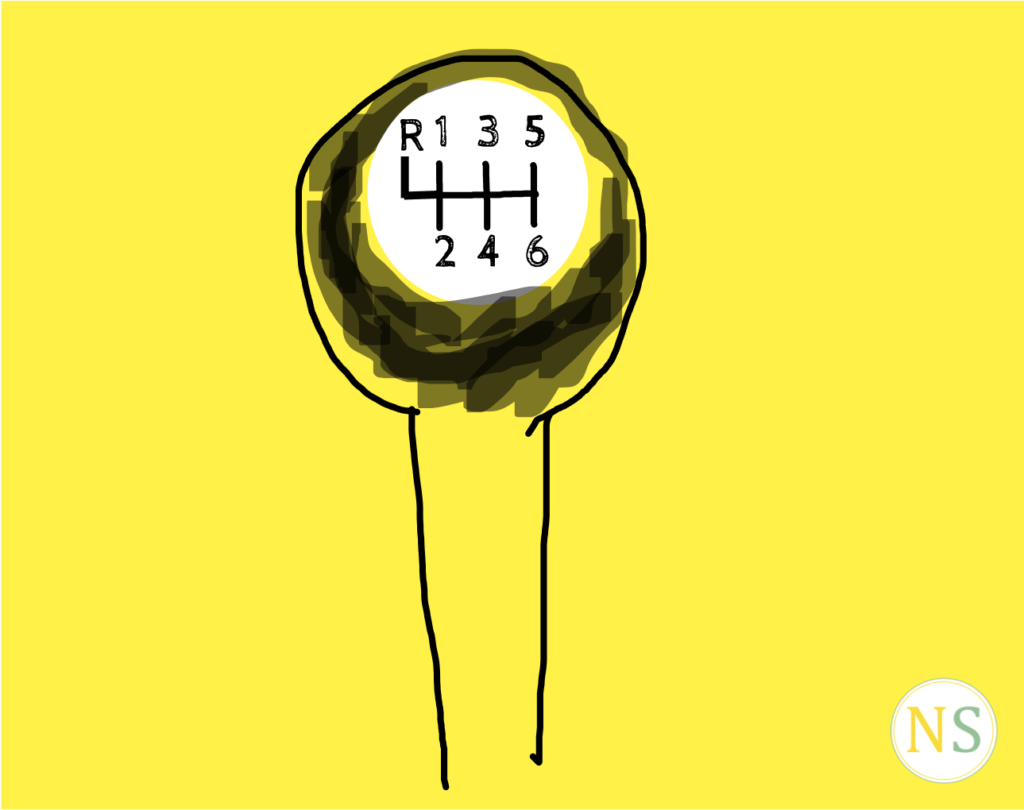 Reparationen trak ud og vi kørte derfor rundt i lånebilen i lang tid. Faktisk så lang tid, så vi til sidst kunne alle gearene med System 1. Så da vi endelig fik vores egen bil tilbage, har vi adskillige gange prøvet at bakke, efter at have sat bilen i 6 gear….
Nogen vaner tager ikke så lang tid at ændre.
---
Vi vil ikke miste kontrollen
Vi kan generelt ikke lide at miste kontrollen og derfor er det en god ide, at give vores brugere en indikation af, hvor de er i forløbet. det kunne være en progress-bar, som den her:
Du har snart læst det hele
55%
At det virker kender man blandt andet fra trafikken, hvor en tidsindikation af ventetiden ved fodgængerovergange, reducerer antallet, der går over for rødt, drastisk.
Det er også derfor man har muligheden for at trykke på en knap i andre fodgængerovergange, for så tror vi at vi styrer tingene.
Netop denne oplevelse af at være i kontrol, giver os en bedre fornemmelse.
Det havde mit værksted sikkert også hørt om, så de har indført sms-notifikationer til bilernes ejere, så vi kan følge med i udviklingen. Men det kan også have den modsatte effekt, hvis man ikke bruger det rigtigt.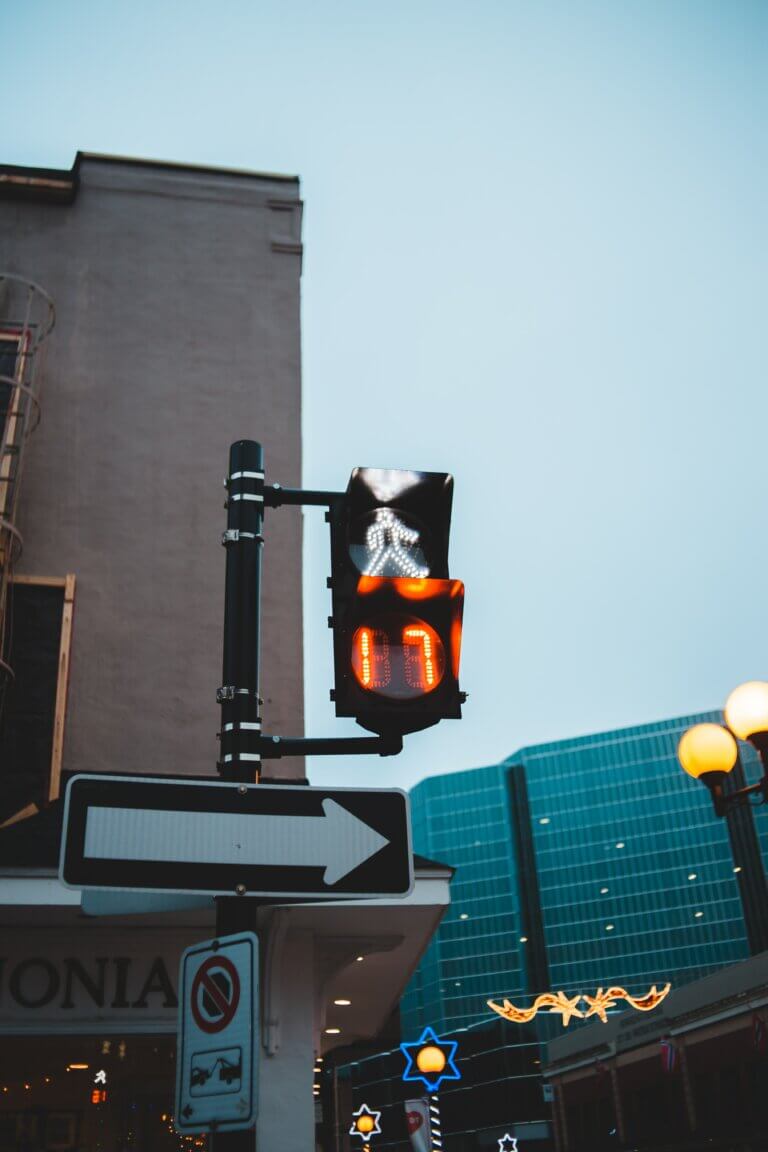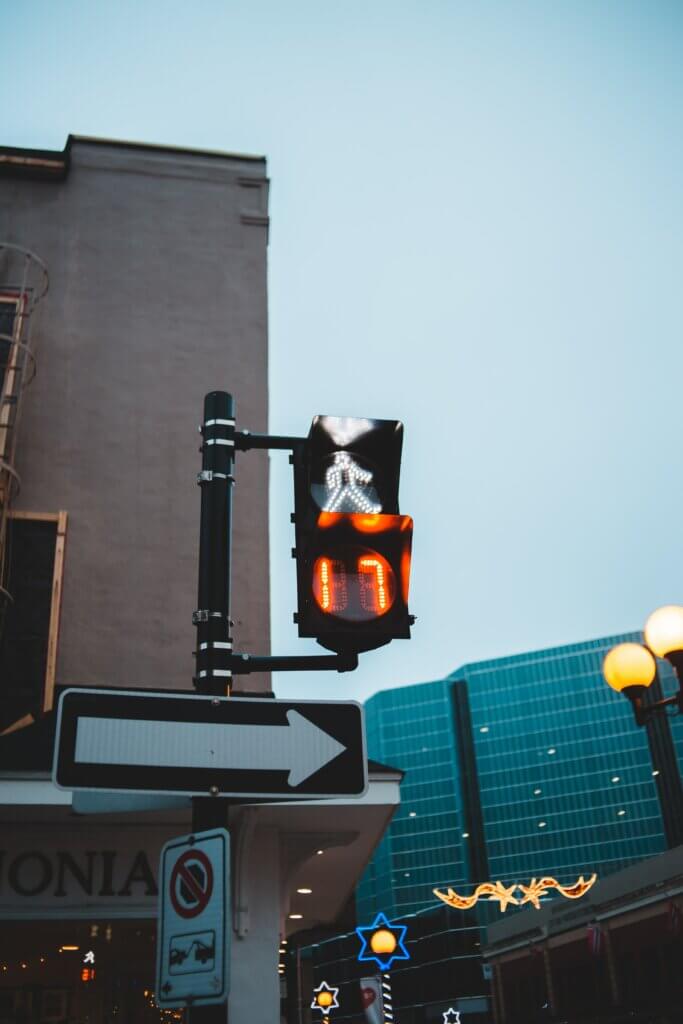 Og det oplevede jeg ikke helt de gjorde….
Jeg indleverede glad bilen 7:30 på den aftalte dag, for så kunne de komme i gang med bilen. 15:15 fik jeg så den første besked om at bilen nu var takseret (det var en stor Bilka-bule, der var skyld i indlæggelsen af bilen).
Det vakte undren, da jeg ikke på nogen måde kunne se, hvordan en gennemgang af skaden kunne tage næsten 8 timer. Nuvel jeg er ikke udlært på et værksted, men noget tyder på at bilen har stået uberørt af mekaniker-hænder meget længe.
Så informationen fik en anden modtagelse end den var tiltænkt. Kommunikation er svært!
Dagen efter bestiller de reservedele, og jeg hører ikke nyt om bilen i 6 dage (2 af dagene er weekend og det er fint nok, de ikke arbejdede på bilen der).
Men jeg mangler minimum denne sms fra dem:
Kære kunde, reservedelene til din bil er nu kommet og vi går nu i gang med at montere dem. Mvh….
I stedet hører jeg først da bilen er kørt til maler. Jeg begynder allerede nu at glæde mig til igen at skulle køre min egen bil. Men det var alt for tidligt.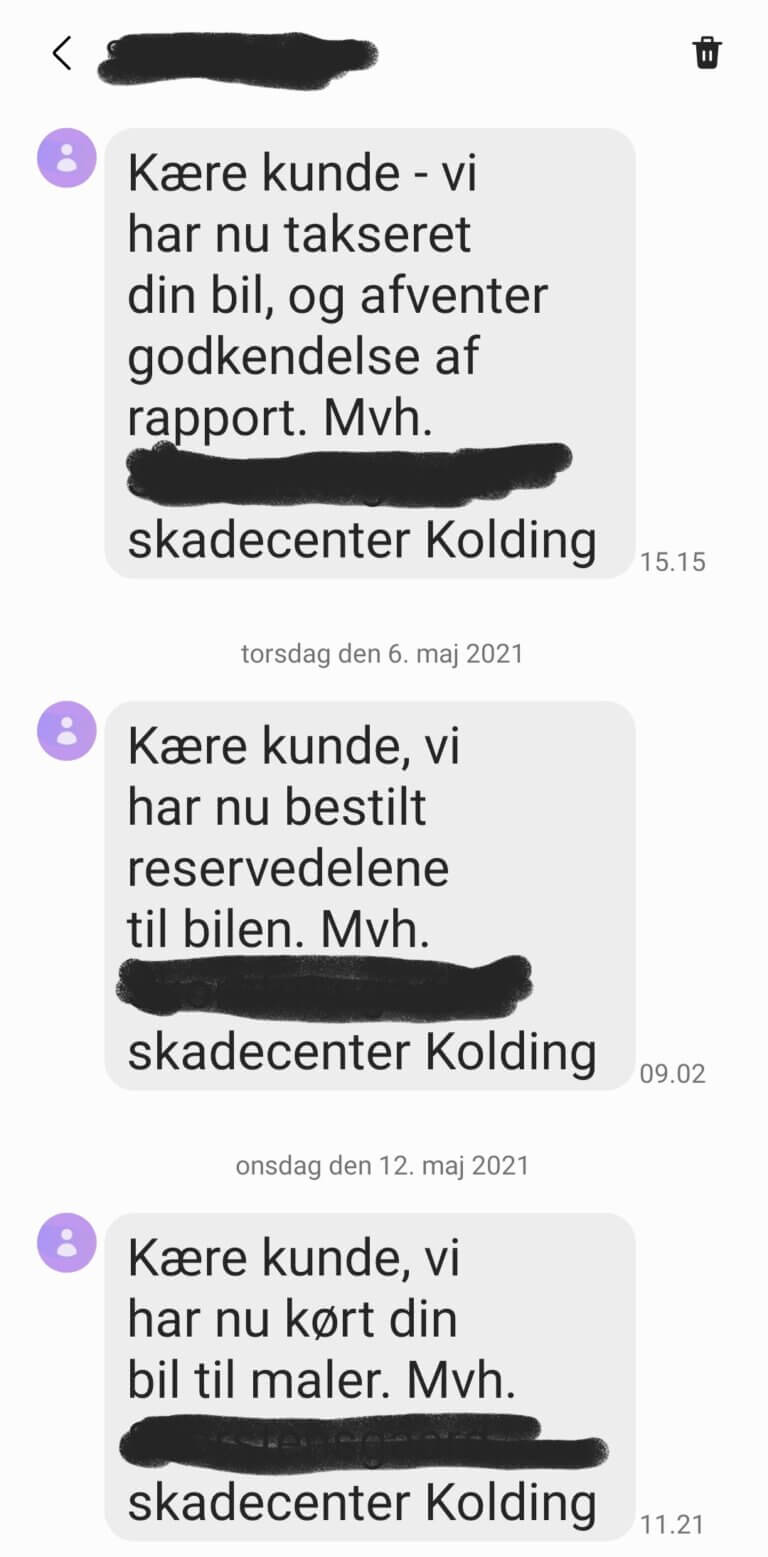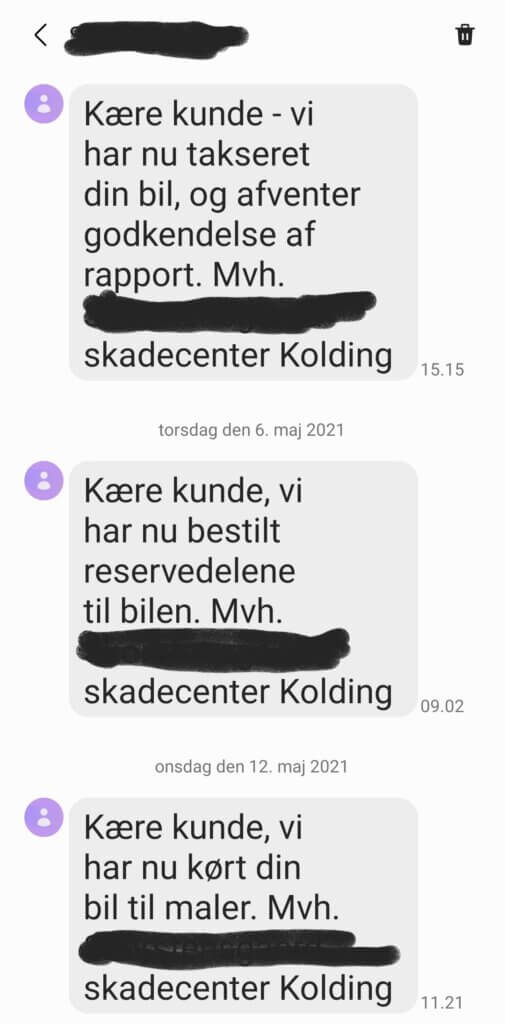 For det første var der både en helligdag og en weekend i vejen, før bilen kunne komme hjem. Men efter 8 dage havde vi stadig ikke hørt nyt fra vores lille bil. Vi var bekymrede og skrev en e-mail til værkstedet, der svarede:
Din bil har været forbi maleren igen, da vi ikke syntes det var ok det som var blevet malet – så hvis alt går vel så skulle den gerne blive klar i morgen 21/05 – vi ringer til dig så snart den er klar og beklager reparationstiden.
Man skulle jo tro, at det var derfor de havde deres sms-system. Her kunne de med fordel have skrevet:
Kære kunde, malerarbejdet på din bil, levede desværre ikke op til vores kvalitetskontrol. Den er derfor sendt til omlakeringen – vi beklager den længere ventetid, men kun det bedste er godt nok for vores kunder.
Tilføjelsen af de to sms'er jeg nævner, ville have gjort en kæmpe forskel på min oplevelse, da jeg ville have fornemmelsen af, at der sker noget. Lidt ligesom uret, der tæller ned i en fodgængerovergang, også giver en fornemmelse af fremdrift.
Samtidig kunne de også bruges til at forklare evt forsinkelser, der skyldes underleverandører. På den måde ville min oplevelse af værkstedet måske blive bedre.
Så overvej, hvordan du kan give dine kunder, brugere eller medarbejdere (illusionen af?) kontrol over processer. Det gør os meget gladere!