Vi husker det negative bedre og længere end det positive. Det har Kahneman og Tversky forklaret via tabsaversion og den gælder ikke kun for tab af penge.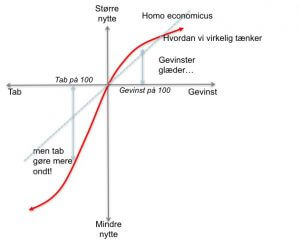 En væsentlig opdagelse i adfærdsøkonomien er tabsaversionen. Tanken om at tab gør dobbelt så ondt, som gevinster gør godt, cementerer vores irrationelle adfærd. For hvis vi var rationelle, ville det gøre lige så ondt som det gør godt.
Læs mere om tabsaversionen her.
Det er ikke kun omkring tab eller gevinst af penge, at tabsaversionen gør sig gældende. I servicesektoren har jeg tit hørt, at der skal ti gode oplevelser til at ophæve en negativ oplevelse hos kunderne.
Investeringsspecialisten Ben Carlson har fundet tre eksempler blandt kendte på deres oplevelse af tabsaversion:
Sejren glæder ikke så meget
Det første eksempel kommer fra Andre Agassi, der havde en prominent tenniskarriere, hvor han blandt andet vandt de fire Grand Slams i single. Så han har prøvet sejrens sødme. Men han har også prøvet at tabe. Det har han filosoferet lidt over i hans bog, Open: An Autobiography:
A win doesn't feel as good as a loss feels bad, and the good feeling doesn't last as long as the bad. Not even close.

The next person who phones is a reporter. I tell him that I'm happy about the ranking, that it feels good to be the best that I can be.

It's a lie. This isn't at all what I feel. It's what I want to feel. It's what I expected to feel, what I told myself to feel. But in fact I feel nothing.

Andre Agassi
Glæden ved at vinde Wimbledon var altså mindre, end ved at tabe. Og den varede kortere, mener Andre Agassi.
Vi har det med at huske fiasko bedre end succes og det påvirker os i længere tid.
De dårlige shows huskes
Amerikanske David Letterman havde gennem 33 år stor succes som talkshow-vært. Der var naturligvis også op- og nedture i så lang en karriere. Blandt andet kom han sig aldrig helt over ikke at blive Johnny Carsons efterfølger. Om succes og fiasko har han blandt andet sagt:
Maybe life is the hard way, I don't know. When the show was great, it was never as enjoyable as the misery of the show being bad.

Is that human nature?

David Letterman
Så selvom han var kendt og rost blev han ramt af de dårlige shows – og dem vil der være nogen af gennem 33 år – end han var glad for de gode shows.
Negativ omtale gør mere ondt
Det sidste eksempel har Ben Carlson fundet hos Zac Efron. Du ved måske ikke hvem han er, men har du børn – især døtre – mellem 12-20 år, ved de helt sikkert hvem Zac er. Slog igennem med High School Musical og er stadig skuespiller.
Om glæden og ubehaget ved de sociale medier har han i et interview i The Times sagt:
I lost my mind because of the internet. I'd read 30 positive things and one bad thing, then I'd harbour that bad thing.

It drove me crazy.

Zac Efron
Ifølge interviewet har Zac Efron løst problemet på en simpel måde: Han er ikke længere aktiv på de sociale medier. I stedet har han ansat en til at poste for sig.
Desværre har ikke alle råd til den løsning og der er ikke noget at sige til, at unge mennesker bliver kede af det de oplever på de sociale medier. For tonen er hård og det sætter spor.
Husk det gode
Det er ikke kun omkring penge at tabsaversionen er gældende. Også i dagligdagen, på sociale medier og i vores karrierer bliver vi ramt af det. Det negative gør mere ondt og mærkes i længere tid end det positive.
En måde at prøve at komme uden om dette, er at gøre en aktiv indsats for at huske det gode. Der findes forskellige metoder, men det handler om at sætte fokus på det positive.
Et eksempel er at notere 3-5 gode ting du har oplevet i løbet af dagen. Hvis du gør det inden du skal sove, kan det være med til at sætte fokus på det negative.
Det har jeg selv haft glæde af at gøre i flere perioder.
Du kan følge Ben Carlson og hans kommentarer omkring adfærdsøkonomi og investering her. Det kan varmt anbefales!