Som ud måske ved, er en af mine kæpheste at vi skal gøre det nemt for vore kunder. Hvis vi gerne vil have dem til at købe eller gøre noget, skal vi sikre, at det er nemt at gøre det. For ellers gider de ikke. Det har jeg blandt andet skrevet om her.
Det gælder også, hvis vi beder vore kunder om input. Det er vigtigt løbende at overveje, om de informationer man beder om, også er nødvendige. Eller om de er de rigtige. Og måske også, om vore kunder kan se, hvorfor vi beder om dem.
Tænk på at mange sidder i halvmørket i en sofa, foran fjernsynet og er på mobilen – der måske endda er tredje skærm! – når de møder dig! Der skal det være nemt, hvis du vil have dem i mål.
Uoverskueligt spørgeskema
Det havde Kolding Kommune ikke lige tænkt ind i et spørgeskema, jeg modtog forleden. Det er ellers en kommune, der bryster sig af at designe livet – men de designer åbenbart ikke spørgeskemaer.
Efter en række indledende spørgsmål rendte jeg ind i dette meget lidt overskuelige skema. Det viste sig, at jeg skulle svare på alle linjerne, for at kunne gå videre….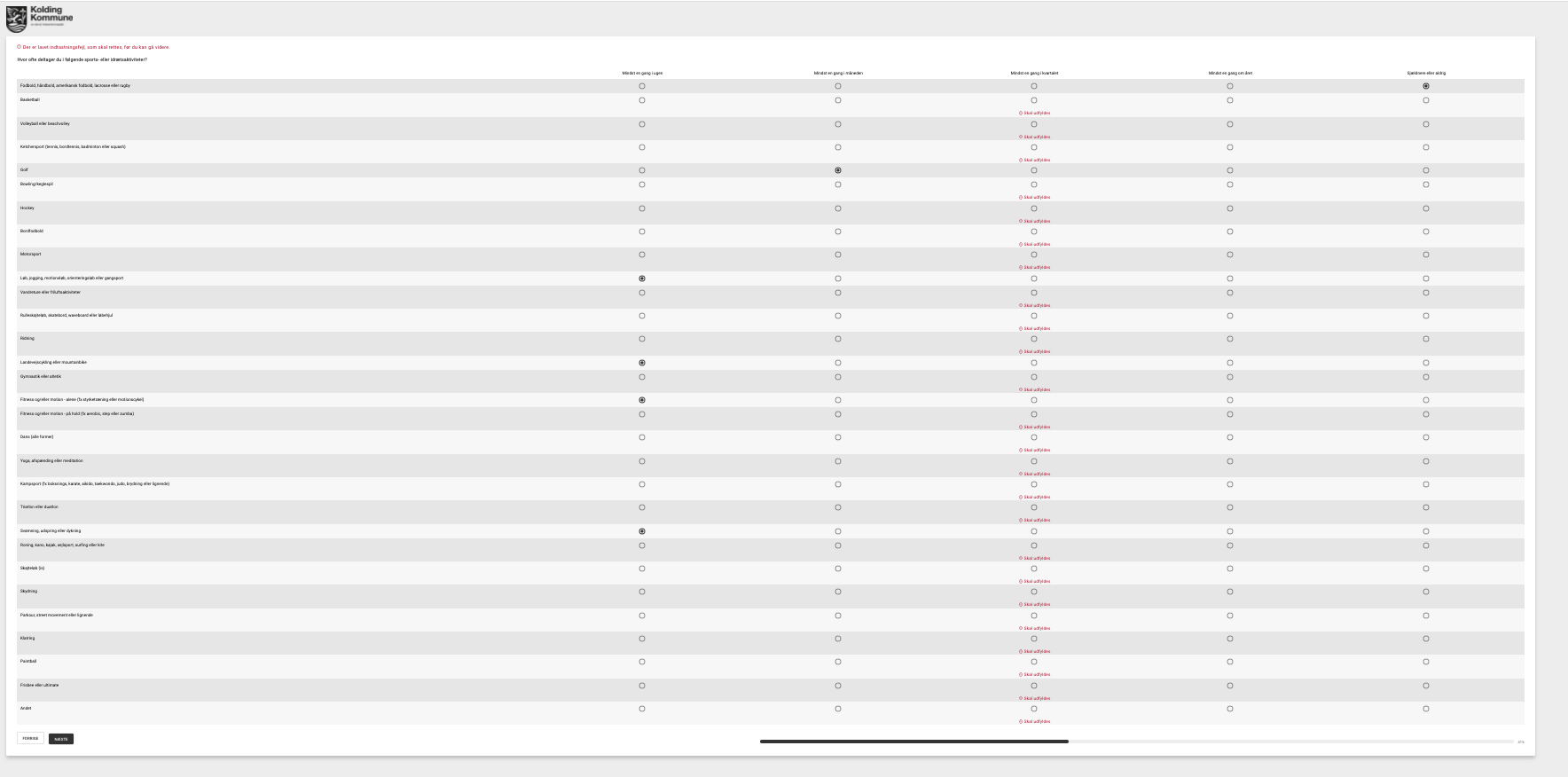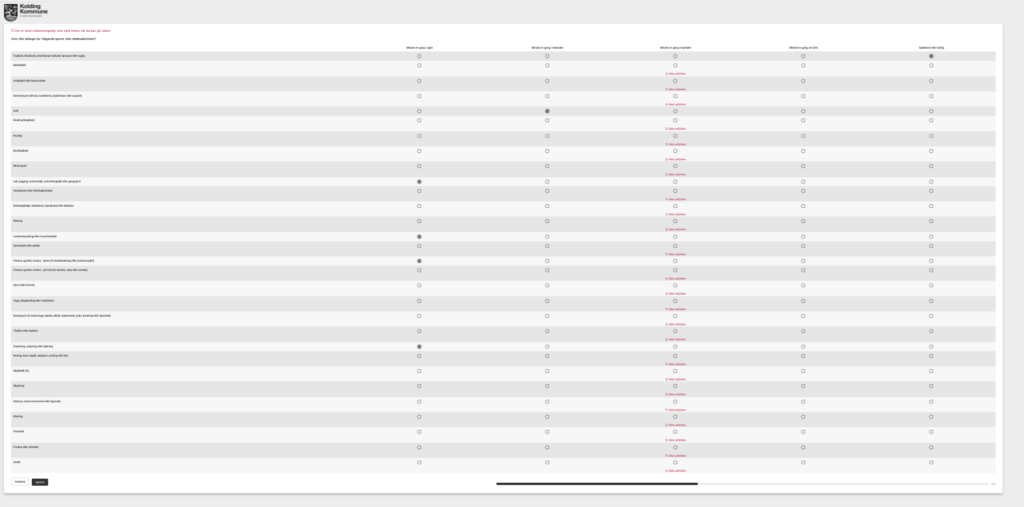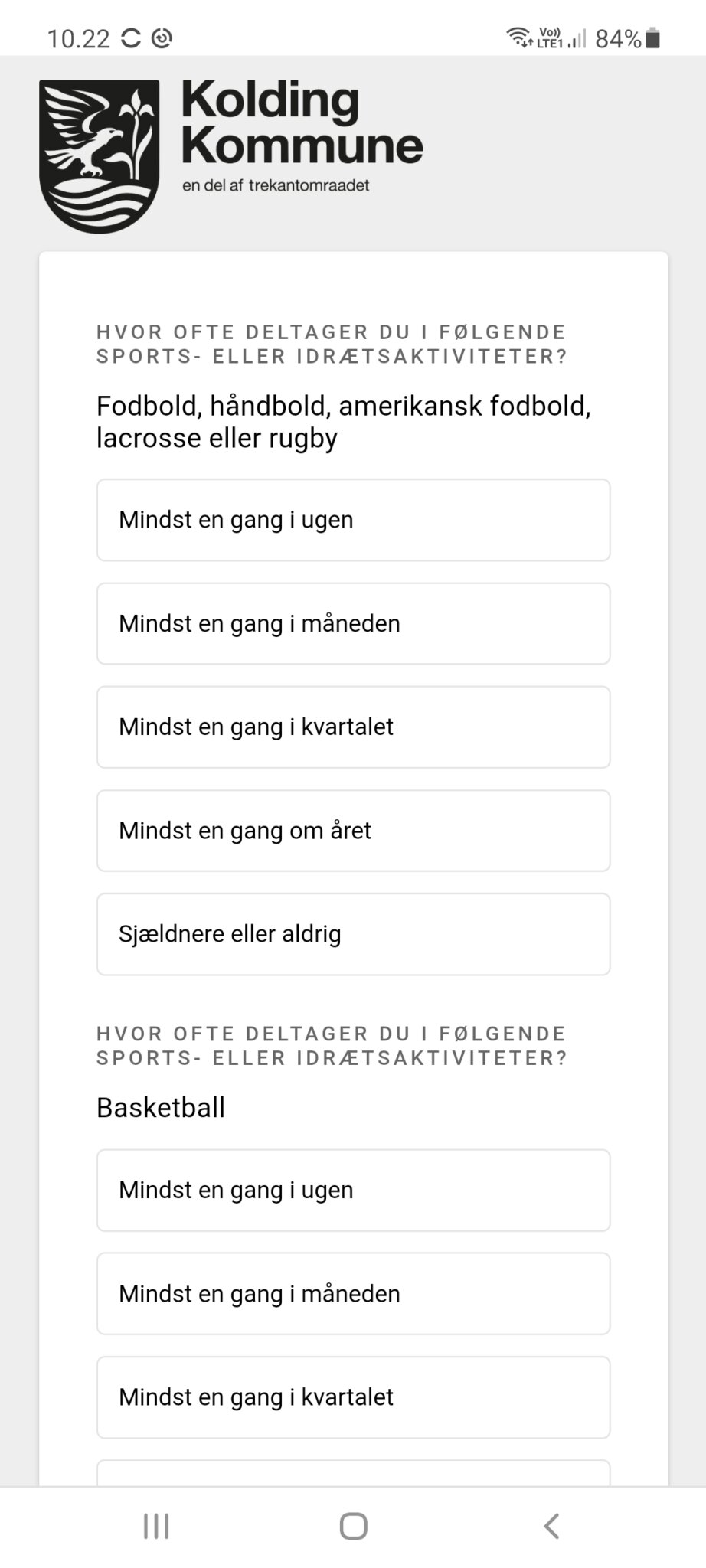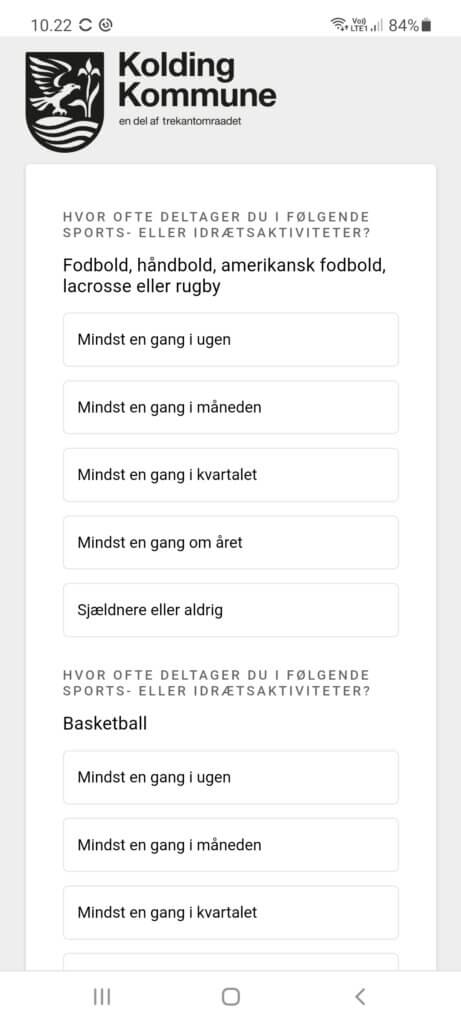 Mobile-first
Jeg havde åbnet spørgeskemaet på min computer og der var det ganske uoverskueligt.
I dag tjekkede jeg så spørgeskemaet på min mobil, og måske havde de tjekket designet eller måske endda arbejdet ud fra devisen mobile-first?
I hvert fald var det meget nemmere at gå til på mobilen, selvom det stadig var mange irrelevante spørgsmål, de havde valgt at jeg skulle svare på.
Til gengæld var progress-baren næsten usynlig på mobilen. Det kan være en god ide, at vise dine kunder, hvor langt de er i processen. For de hader nemlig at miste kontrollen – læs mere her.
Husk at tjekke!
Jeg tror eksemplet her, er et godt eksempel på en gængs problemstilling. Vi glemmer at afprøve inden vi sender til kunden. Eller vi glemmer løbende at afprøve – for noget kan godt ændre sig over tid.
Du skal huske at tjekke dit design på de mest gængse brugerflader (Chrome, Safari, OS og Android). Det skal du gøre løbende og du skal overveje om det stadig er tidssvarende.
---
P.S. At jeg vælger, at bruge computeren fremfor mobilen til at åbne e-boks, skyldes en generel opfattelse af, at det altid er svært at læse på mobil. Man finder tit en pdf i A4 format, som ikke kan læses uden forstørrelse på mobilen.
P.P.S. Ja jeg lyder måske som en sur gammel mand – men jeg tænker bare på brugernes interesse 🙂 Jeg er faktisk glad og lykkelig 😀