Kom til at se Guld i købstæderne på DR1 i går og det fik mig til at tænke på noget. Programmet har et segment, hvor tre skrammel-handlere (kaldes vist antikopkøbere af DR) skal byde på de fremmødtes varer. De fremmødte behøver ikke sælge, men de har muligheden for at sælge til den tilbudte pris. På et tidspunkt bliver tre Storm P tegninger budt op fra ca 15tkr til ca 20tkr – altså en stigning på på 33%. Alligevel kunne man se på den ene af byderne, at han følte han gik glip af noget. Tror faktisk at han overvejede at byde højere en gang til.
Det er formentlig loss aversion – det at vi ikke kan lide tab – der får antikopkøberen til at overveje at byde igen. Det betyder nemlig også, at vi ikke kan lide at gå glip af noget. Richard Thaler illustrerer det sådan i hans bog Misbehaving: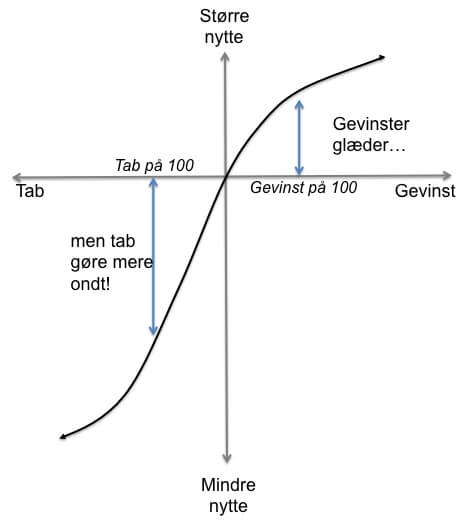 Det påvirker os naturligvis som investorer. For det får os til at tage små gevinster og store tab. De små gevinster tager vi for at indefryse gevinsten – tænk, hvis det nu var væk i morgen? Mens vi ikke bryder os om at realisere tab – tænk, hvis det nu var væk i morgen?
Daniel Kahneman har tilbudt folk at deltage i et spil plat og krone. Han spørger dem så: Hvis du risikerer at tabe $10, hvor meget skal præmien, hvis du vinder, så være?
Var vi ligeglade, skulle præmien være $10. Men det viser sig at vi skal højere op. Typisk omkring $20 viser hans – uvidenskabelige – undersøgelse. Det bliver ikke bedre, når han har spillet med velhavere. De skal typisk have en præmie på §20.000 hvis tabsrisikoen udgør $10.000.
Men det påvirker os også når vi shopper og butikkerne er klar over det. For eksempel ved de at vi har svært ved at ligge noget tilbage, hvis vi først har samlet det op. Derfor kan du i nogle tøjbutikker finde tasker du kan samle dine indkøb sammen i. Det fører til mersalg i butikken.
Det kan dog også have den modsatte effekt. Er der et stort udvalg kan det få nogen til slet ikke at købe noget. For de føler at de går glip af noget med alle de fravalg de tager, når de vælger en vare.
Vi møder det også på abonnementservices. Spotify, Netflix og HBO tilbyder typisk første måned gratis. Det gør de også fordi de ved, vil føle vi går glip af noget, hvis vi opsiger efter den gratis måned.
Det er også det der får os til at spise op – også selv om vi er mætte. Hellere skide det ud end smide det ud, som vi siger i Jylland.
Som med alt andet jeg skriver om, er der kun den vanskelige måde at undgå loss aversion: DU ER NØD TIL SELV AT GØRE NOGET! For eksempel:
Tag ikke noget op i tøjbutikker, med mindre du er ABSOLUT SIKKER på du vil købe det!
Sig ikke ja til abonnementer, der er gratis, med mindre du er sikker på du vil bruge det!
Hav en strategi for tab, hvis du investerer og OVERHOLD den!