Vi er vanedyr – og rigtig mange madvaner hænger sammen med andre vaner. Som børn lærer vi at hygge ofte hører sammen med mad eller især søde sager. Disse vaner og traditioner tilfører os et stort antal ekstra kalorier og bliver en del af en ond cirkel.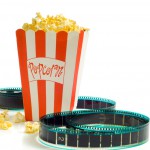 Når jeg skal i biografen med min kæreste, skal hun have en portion popcorn. HVER gang. Også selvom vi netop har spist og hun er mæt. For det hører med til hendes biograf-oplevelse. Du kender sikkert selv til denne sammenkædning – i hvert fald spiser mange flere popcorn i biografen end vi ellers gør.
Det har Brian Wansink blandt andet skrevet om i sin bog Mindless Eating. En anden ting han skriver om er hvordan næsten alle har en eller anden form for "comfort-food" – mad der får os til at have det rart. Ofte fordi det er forbundet med en god oplevelse i vores barndom. I hans bog kommer han med eksempler på nogen meget mærkelige former for "comfort food".
Du – eller nogen du kender – kender måske også til den hjemlige hygge med et tv, en sofa og noget sødt. Det tør jeg godt indrømme at jeg kender til. Dog i mindre grad end tidligere, da jeg har fået brudt den onde cirkel (indtil videre på tredje år, håber det holder længe endnu) – læs mere om det her.
Nu tyder ny forskning af Bonnie Spring fra Northwestern University Feinberg School of Medicine på at et vægttab måske bør starte med ændring af andre vaner end madvaner. Typisk har man fokus på madvanerne når et vægttab starter, men der skal tænkes i helheder i en sådan situation.
I en undersøgelse gav hun en gruppe couch-surfers en af fire forskellige "behandlinger" mod disse vaner:
Spise mere frugt/grønsager og fysisk aktivitet
Spise mindre fedt og udøve mindre stillesiddende aktivitet
Spise mindre fedt og fysisk aktivitet
Spise mere frugt/grønsager og mindre stillesiddende aktivitet
Det lyder sikkert som råd du har hørt om tidligere i forbindelse med vægttab. Men der var faktisk forskel i succesraten. Dem der spiste mere frugt/grønsager OG skar den stillesiddende aktivitet ned havde størst succes i forsøget. Læs mere om det her.
– Mindre tid foran fjernsynet betyder simpelthen færre kager/søde sager, konkluderer Bonnie Spring.
Det værste ved en sådan undersøgelse, er at det at ændre vaner faktisk kræver at man gør ting anderledes. Vore hjerner er programmeret til det modsatte – nemlig at gentage det der virkede i går. Så det tager tid.
Men har du en vane der indeholder for mange søde sager, er det tid til at agere nu. For undersøgelser viser, at for meget sukker kan føre til at du spiser for meget, har svært ved at huske og lære og depression (se her). Du kan også lære mere i 60 Minutes udsendelse om sukker (den viser lige lidt nyheder og en reklame først, beklager):
Eller se hans foredrag fra Youube: