Hvad vil du vælge? En lønstigning på 500, hvor din kollega også får 500 ekstra eller vil du vælge en lønstigning på 600 mod at din kollega får 800? Et umiddelbart simpelt spørgsmål – målt på økonomi, men der er stor forskel i hvad vi vælger.
Vi antager ofte at vi er økonomisk rationelle mennesker (se blandt andet Er vi rationelle). Dette betyder at vi vil optimere økonomisk, og derfor agerer rationelt. Men en række følelser inddrages og betyder ofte at vi agerer ganske irrationelt…
Et eksempel på et valg, der økonomisk rationelt burde være nemt, kunne være et valg mellem to mulige lønstigninger:
En stigning på 500 per måned, som betyder at din kollega også stiger 500
En stigning på 600 per måned, og en lønstigning til din kollega på 800
Hvad vil du vælge? Økonomisk rationelt, burde man vælge en lønstigning på 600 per måned, da det maksimerer DIN indtjening. Men det betyder at din kollega får 200 MERE end dig. Ofte betyder den relative løn og/eller lønudvikling mere, så for nogen vil et fravalg af de sidste 100 kroner være lettere at vælge.
En undersøgelse viste en meget jævn fordeling af valgene – altså at ca halvdelen valgte den "retfærdige" lønstigning fremfor den økonomisk rationelle.
Denne undersøgelse viste også at der er forskel på hvordan mænd og kvinder vurderer og tænker i en sådan situation: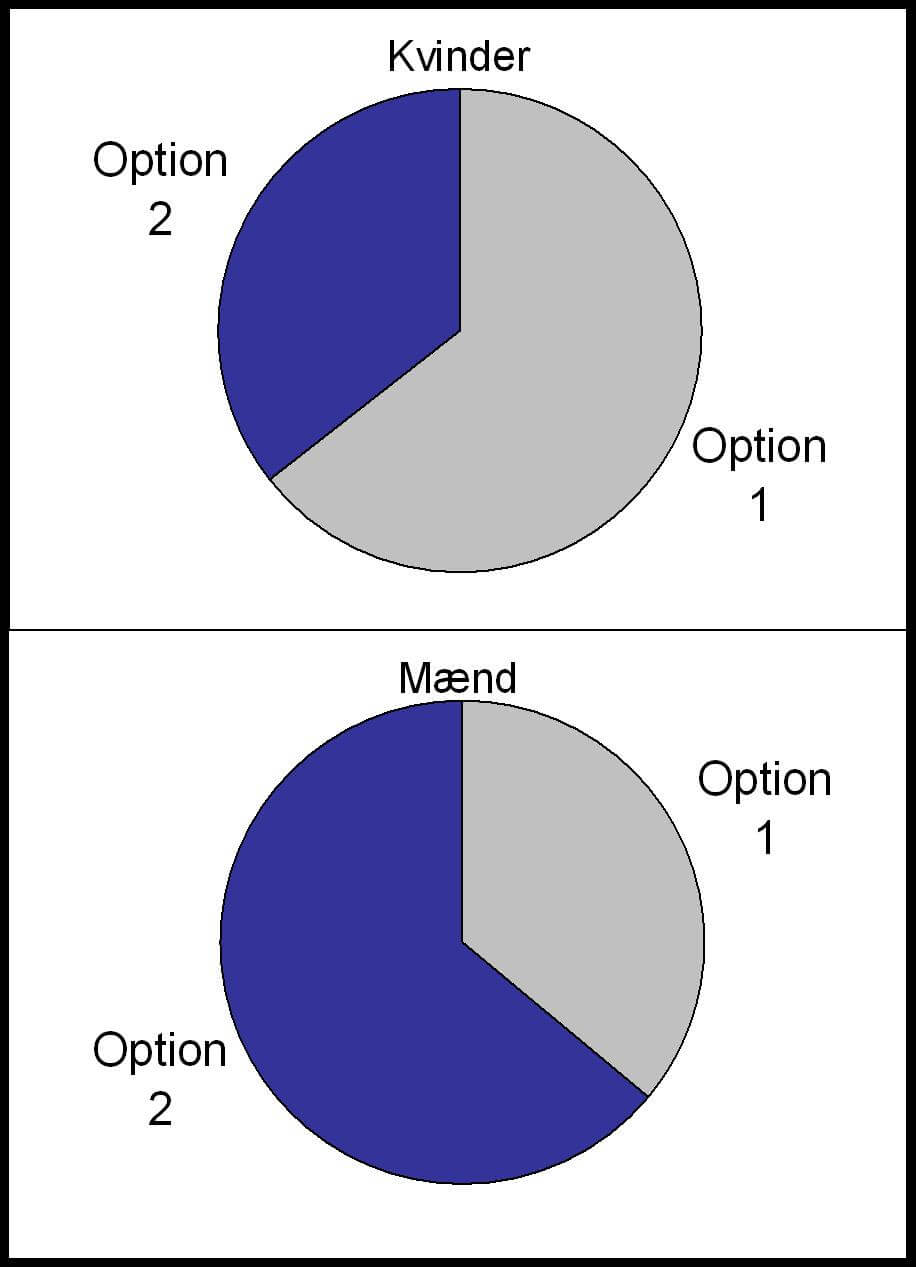 Som det fremgår er der en klar overvægt af kvinder, der vælger den fair løsning, mens vi mænd i større grad går efter "show me the money". Måske kan en del af lønforskellene mellem mænd og kvinder også forklares med dette? Hvis ovenstående er udtryk for vores mindset før en forhandling, vil det pege i retning af større stigninger til mænd end til kvinder.
Kilde: dr. Gad Saad og Tripat Gill, Gender differences when choosing between salary allocation options