Vi er kodet til at være negative for at overleve. Det er et instinkt, der via evolutionen er blevet nedarvet – dem, der ikke havde det, døde inden de gav deres gener videre.
Du kender sikkert også nogen, der altid er negative og kan se risici ved alt. De er ikke videre sjove at være sammen med, men faktisk er det et stærkt instinkt hos os alle.
Hvis man forestiller os som hulemænd, der går rundt på savannen, er det måske meget smart, at man er vagtsom fremfor nysgerrig. Der var mange farer og det gjaldt om at være på vagt. Var man ikke det, risikerede man måske at ens liv ikke blev så langt.
Derved blev dette instinkt givet videre og forstærket via evolutionen – survival of the fittest – idet, døde sjældent kan forplante sig. Sådan forklarer jeg det typisk, når jeg holder foredrag.
Desværre er den negative reaktion måske ikke helt så brugbart i vores moderne verden. Hvis man bruger den samme værktøjskasse til at vurdere i dag, kan man være for negativ. For det handler sjældent om at overleve i vores del af verden.
Forskere har også påvist dette i forsøg – for eksempel dette Bad Is Better Than Good.
Aktier er farlige – siger mange
Som investeringsrådgiver har jeg dog tit hørt reaktioner, der kan minde om savanne-reaktionen om de finansielle markeder. For eksempel er mange bange for aktier – de er farlige, siger de.
Det er fuldstændigt rigtigt at aktier kan svinge i værdi. Det er også rigtigt at aktier kan falde kraftigt. Det sker bare meget sjældent, som dette chart viser. Her vises de største fald i årene 1950-2016: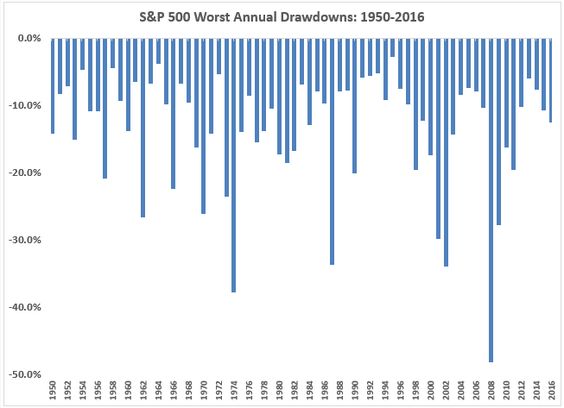 De store fald er sjældne – alligevel er det dem, vi frygter. Bare se denne kommentar om et kommende finanskrak.
Vi er også bange for at flyve, men kører gladeligt i bil (selvom det er meget farligere). Vi frygter hajer, selvom myg slår langt flere mennesker ihjel (dog er ingen af dem aktive i DK). I det hele taget bruger vi mange kræfter på irrationel frygt. Måske fordi vi er podet til at være negative på forhånd.
Vigtigt at tænke positivt
Det er dog vigtigt at vi forsøger at bekæmpe den negative bias. For ellers forhindrer vi nytænkning og fremdrift.
Vi skal ikke være lalleglade og urealistiske, men for meget sortsyn er ikke godt. Livet er farligt – 100 % dør faktisk af det!
Du kan læse mere om dette hos World Economic Forum eller i denne blog, der kæder det sammen med de finansielle markeder.