Så fik vi noteret Nets. Måske man skulle sig tillykke i den forbindelse – jeg er bare i tvivl om til hvem? For jeg tvivler på jeg vil sige tillykke til de mange nye aktionærer på nuværende tidspunkt.
Ingen tvivl om at jeg skal sige tillykke til blandt andet de to kapital fonde Advent og Bain, der er de største aktionærer i Nets. De har haft en ganske god forretning over en kort periode.
Jeg skal også sige tillykke til alle Nets' medarbejdere, der efter sigende får aktier for ca 25 tkr. Det kan bringe glæde i mange små hjem for de medarbejdere, der stadig er ansat. For Nets har skåret dybt siden kapitalfondenes indtog – se her eller her.
Og medarbejdere i lederstillinger har endnu mere at glæde sig over! De skal nemlig dele ca 70 mia i dag. Mest går til direktøren Bo Nilsson, der ifølge diverse medier har aktier i Nets for over 600 mio.
Men sikrer det højere afkast for investorerne med de høje lønninger?
Kvalitet og honorar går ikke hånd i hånd
Ikke nødvendigvis viser en undersøgelse fra MSCI. Her kiggede man på løn og afkast i 429 amerikanske selskaber fra 2006-2015. Direktørerne i disse selskaber tjente i alt 59 mia USD over disse ti år, så man må håbe de har sikret gode afkast.
Tallene viste at de højst lønnede IKKE genererede de bedste afkast til aktionærerne. Faktisk gav de selskaber med dårligst aflønning til direktøren 39 % mere i afkast!
Men hvorfor så give de høje lønninger? En væsentlig forklaring på hvorfor direktører skal have så høj løn, er ofte 'at markedsvilkårene fordrer høje lønninger, bonus og aktieoptions-ordninger'. Ellers kan man ikke få de bedst kvalificerede, hævder bestyrelser fra tid til anden.
Læs hele MSCI's rapport om høje lønninger og resultater her
Belønning motiverer ikke
Det kan blive svært at motivere ledelseslaget fremover. For som bekendt er nytte-kurven for gevinster eller tab ikke lineær. Jo mere man har, jo mere skal der til for at glæde – og dermed måske til at motivere.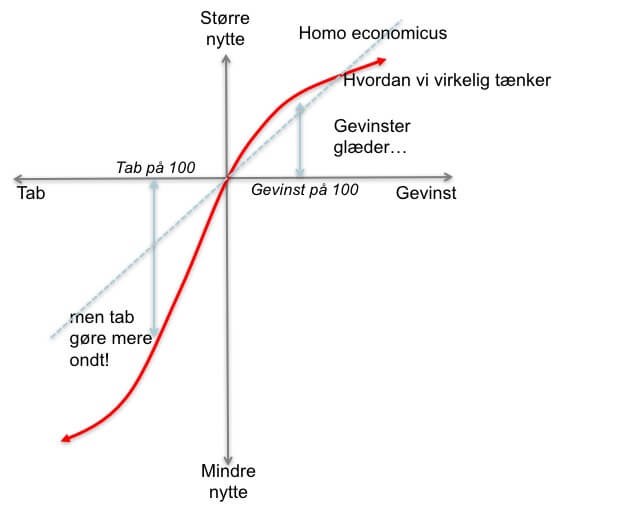 Og faktisk er penge ikke nødvendigvis en god motivator – det kan du læse mere om her, hvor man lavede et forsøg med børn, for at se på effekten af belønning.
Men belønning kan føre til bedre ideer (hvis man kan komme udenom tunnelsynet, som det også kan give).
Investorerne som vindere eller tabere?
Tilbage til lykønskningerne. Skal man sige tillykke til de mange nye investorer? Ikke i skrivende stund, hvor Nets handles under udbudskursen. Men det er jo alt for tidligt at gøre op.
Men man må jo håbe at de mange velhavende ledere kan holde fokus. At de ikke bliver for fokuserede på deres næste luksusrejse, den nye sportsbil, udskiftning eller renovering af hjemmet, det nye Rolex, de nye koner eller mænd og hvad man ellers kan bruge så mange millioner på. Nogle har hævdet at det for eksempel var det, der ramte Pandora efter noteringen.
Så måske man skal sige tillykke til ejendomsmæglere, bilforhandlere og forhandlere af andre forbrugsgoder i nærheden af Nets hovedkvarter?
Og mon ikke de fleste i ledelsen er udskiftet inden der er gået 24 mdr. Det er set før!