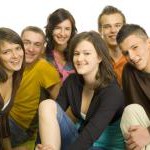 Det er i virkeligheden såre simple behov der driver mange af vore beslutninger. Det kan være vi skal have dækket et behov for mad. Eller også skal vi have dækket et behov for at føre arten videre. Det første får os til at handle mere når vi er sultne. Det sidste får kvinder til at være kvindelige og mænd til at være mandlige (eller måske snarere drengerøve).
Mange af vores forbrugsbeslutninger tager sit udgangspunkt i ren og skær biologi. Det ved markedsføringsfolk og derfor er det ofte disse kontakter de prøver at slutte i deres kommunikation til os.
Vi kender det fra dyrearter, hvor for eksempel en påfuglehan er et strålende eksempel på mænds behov for at markere sig og virke mandig. For os mennesker kan en lækker bil gøre det samme, har man målt i forskellige undersøgelser. En mand i en Porsche har for eksempel et højere testosteron-niveau mens han sidder i bilen. Det gælder dog kun hvis han sidder i bilen i et befærdet område – kan ingen se ham er testosteron-niveauet det samme. Så vi er også en slags påfugle.
Måske sidder der nu nogen kvinder og tænker "Ja mænd er bare så simple" – men det gælder desværre også Jer. Det har forfatteren Gad Saad skrevet meget om i bogen The Consuming Instinct.
Hør forfatteren Gad Saad tale om dette emne på reason.tv her:
Eller hør hans tale fra TEDx her: