Får du taget de trælse men vigtige beslutninger? Rigtig mange af os får dem ikke taget – derfor er det måske nødvendigt med nogen til at hjælpe os?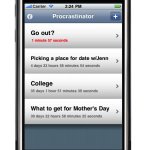 Dan Ariely – manden bag bogen Predictably Irrational – har lavet et værktøj, der kan hjælpe os alle med at få taget de trælse beslutninger. The Procrastinator hedder den og du kan købe den her. Værktøjet – som formentlig mest er en gimmick – tvinger dig til at træffe beslutninger og hjælper dig på vej. For ofte handler det jo bare om, at få tingene gjort i stedet for, at foretage overspringshandlinger og udskyde (procrastinate).
Men det ligger naturligt til os. Når jeg skal have gæster en lørdag, bruger jeg 6 timer på at udskyde at gøre rent, og en time på at gøre rent. Desværre starter jeg på rengøringen en halv time for sent, så jeg gør også rent den første halve time, gæsterne er til stede. Det kan mange gæster (og min ekskone) bekræfte. Samtidig er det næsten pinligt at indrømme, at jeg også godt selv ved hvor latterligt det er. Men jeg gør det igen på lørdag!
Og sådan gør vi også med vitale og vigtige beslutninger omkring økonomi. Professor David Laibson fra Harvard University ser blandt andet på dette emne. Mange mener at vi skal have mange valgmuligheder – en liberal tankegang, der er skyllet ind over den vestlige verden de seneste 20-30 år – men i virkeligheden kan vi ikke – eller vi får det ikke gjort – træffe alle disse beslutninger. Det kan du høre lidt om her:
David Laibson, der blandt andet kigger på, hvorfor så mange af os er medlem af et fitness-center, og alligevel aldrig bruger det, mener altså, at vi ofte har brug for, at nogen tager beslutningen for os. Det har jeg prøvet af i det virkelige liv i en bank. Vi tilbød forskellige placeringsmuligheder for pensionskunder, men mange lod midlerne stå kontant som var den såkaldte "default". Så skiftede vi procedure og gav de samme valgmuligheder, men nu var defaulten en investering tilpasset kundens alder og risiko. Rigtig mange holdt fast i dette og valgte altså ikke at gå kontant.
Men er det så rigtigt sådan at hjælpe folk på rette vej? Hvis man tager det rigtigste valg er det vel OK. Hvis man i stedet udnytter folks passivitet for egen vindings skyld, er det ikke OK. Man skal nøje overveje det og sikre at default-en er den rigtigste.
Det kan du læse meget mere om i Richard H. Thaler og Cass R. Sunstein's meget velskrevne og underholdende bog: Nudge.
Og hvis du ikke har tid eller lyst til at læse den, burde du måske lige gennemgå din pensionsopsparing? Og din finansiering? Og dine andre aftaler? Måske er der noget at spare, ved ikke at foretage default-valgene?
Det er jo ikke sikkert alle produktejere er så flinke og rare som mig, der sikrede det rigtigste valg i eksemplet ovenfor……
PostScript:
Baseret på min sekretærs smågrinen da hun læste korrektur på ovennævnte, tror jeg også der er nogle opgaver på jobbet jeg udsætter og finder på overspringshandlinger for. Måske noget jeg bør kigge lidt på? Nå, det tror jeg at jeg gør næste år……