Bolden ruller i Rusland og med indførelsen af VAR har det været en turnering med mange straffespark. Straffesparket er måske mere et psykologisk spil end en sportslig præstation. Der er meget på spil og afstanden fra helt til skurk er kort.
Hos statistikbureauet OPTA har man kigget på alle straffesparkskonkurrencer til VM. Det giver følgende statistik over placeringer, scoringer og redninger: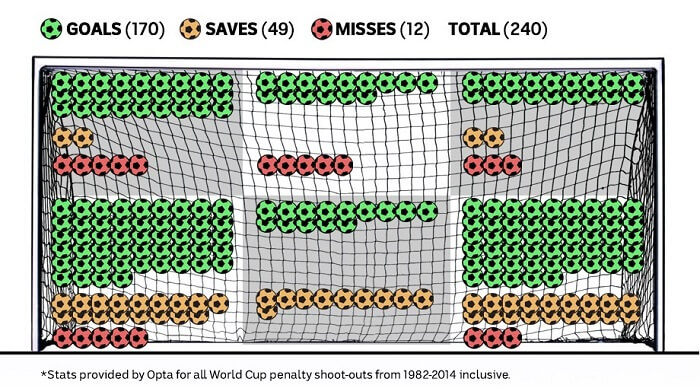 Hvordan udnytter man bedst et straffespark? Og hvordan redder man et straffespark? Fakta omkring et straffespark er: To spillere er aktive – målmanden og den der skyder straffespark. Mano-a-mano som man siger. Bolden skal sparkes fra 11 meters afstand ind i et mål der ca er 7 meter bredt. Eneste forhindring er målmanden. Med en hastighed på 90-100 km/t har målmanden meget lidt tid at reagere i – faktisk skal han beslutte sig for handlingen inden der sparkes.
Det er dog ikke altid kun to mand, der er i spil – se blot dette straffespark af Messi. Det er sjældent det foregår på den måde og i øvrigt er der her tale om en kopi af et straffespark fra 1982, hvor Johan Cruyff og Jesper Olsen fik et mål med hjem.
På nuværende tidspunkt har der været dømt 28 straffespark. Der er scoret på 21 af disse. En scoringsstatistik på 75 % på straffespark er ifølge mine oplysninger meget normalt. For der er masser af data på den slags og jeg har her kigget på data fra to undersøgelser – en set fra straffesparkerens og en fra målmandens synspunkt. Der er ikke helt overensstemmelse mellem datasættene, men undersøgelserne kan alligevel kombineres.
Statistisk bedste placering af bolden
Langt de fleste placerer bolden i nederste halvdel af målet – det er dog også her, målmanden – logisk nok – har bedst chancer for at redde. Sportintelligence har tidligere målt at den bedste placering er øverste højre hjørne. Men det er ikke uden risiko, for bolden kan jo ryge forbi målet.
Målmandens rolle
Men hvordan ser det så ud fra målmandens synspunkt? Det har Ofer Azar kigget på via data for de bedste målmænd i verden. Han indsamlede information for 311 straffe hvor der scores på 7 af 8 straffespark – altså en scoringstatistik på 87,5%.
Hans data viste, at målmanden har 33,3 procent sandsynlighed for at redde, ved at blive stående midt i målet. Chancen for at rede ved at gå til venstre var kun 14,2 procent og chancen til højre var lidt lavere på 12,6 procent. Selvom chancen er væsentligt større ved at blive stående blev kun 6,3 procent stående.
Mere end statistik
Azar og hans team kiggede på hvorfor målmænd kastede sig, frem for at blive stående og fandt at en væsentlig begrundelse skal findes i følelserne, der omgiver situationen. Det at målmanden agerer føles bedre når der scores, end hvis målmanden var blevet stående. Blev man stående ville tilskuerne og resten af holdet – uden kendskab til statistikken bag – sikkert tænke "Hvorfor gik han ikke efter den?".
Så når en målmand kaster sig til venstre eller højre, er det ligeså meget for fans, journalisters, medspillere og tv-seernes skyld. De bedste odds får målmanden ved at blive stående.
Der er talrige eksempler på at disse følelser og måden at tænke på også går igen i det virkelige liv. Der kan mange også opleve at det er bedre at gøre noget end ikke at gøre noget. Også selvom data og viden taler for det modsatte.
Det samme gør sig gældende for den der skyder straffesparket. Odds for at score i den nederste del af målet er 43 procent mens odds er hele 70 procent i den øverste del af målet. Alligevel skyder de fleste i den nederste del af målet – igen fordi det mentale spiller ind.
Det er altså – igen – ikke rationalitet og viden der spiller ind, men i langt højere grad følelser.