Øjet ser ikke alt og hjernen ser slet ikke alt. Det kunne være overskriften for meget omkring adfærdsdesign og kunne også være overskriften for dette indlæg, hvor jeg vil komme med tre eksempler vi skal tænke på, når vi vil sælge til vores kunder.
Afstand kan være afgørende
Som kommunikator forsøger jeg at være opmærksom på værdien af pauser. Vi er ofte næsten bange for pauser. Det samme kan gælde design, hvor mange for eksempel kan være bange for at have uudfyldt plads på deres web.
Men pauser og afstand kan være afgørende. Hvilken af disse to tror du virker bedst:
Du har sikkert bemærket at det er nøjagtig det samme faktuelle indhold i de to opslag. Men afstanden mellem "Normal pris" og "Udsalgspris" er ikke den samme og forsøg indikerer at Eksempel B virker bedst.
Vertikal afstand mellem priserne har en effekt på modtagerens oplevelse af besparelsen. Horisontal afstand har ikke den samme betydning.
Du kan læse mere om afstands betydning her.
I øvrigt er oplysningerne ganske sande – man kan faktisk få Hulemænd i habitter for 195 incl levering i øjeblikket!
Samme pris – forskellig opfattelse
Det er heller ikke ligegyldigt, hvordan vi skriver priserne på vores varer. De fleste kender til begrebet "psykologiske priser", hvor 1.195 virker væsentligt lavere end 1.200, men den måde vi viser priserne på kan også påvirke.
Hvilken af disse tre priser finder du billigst?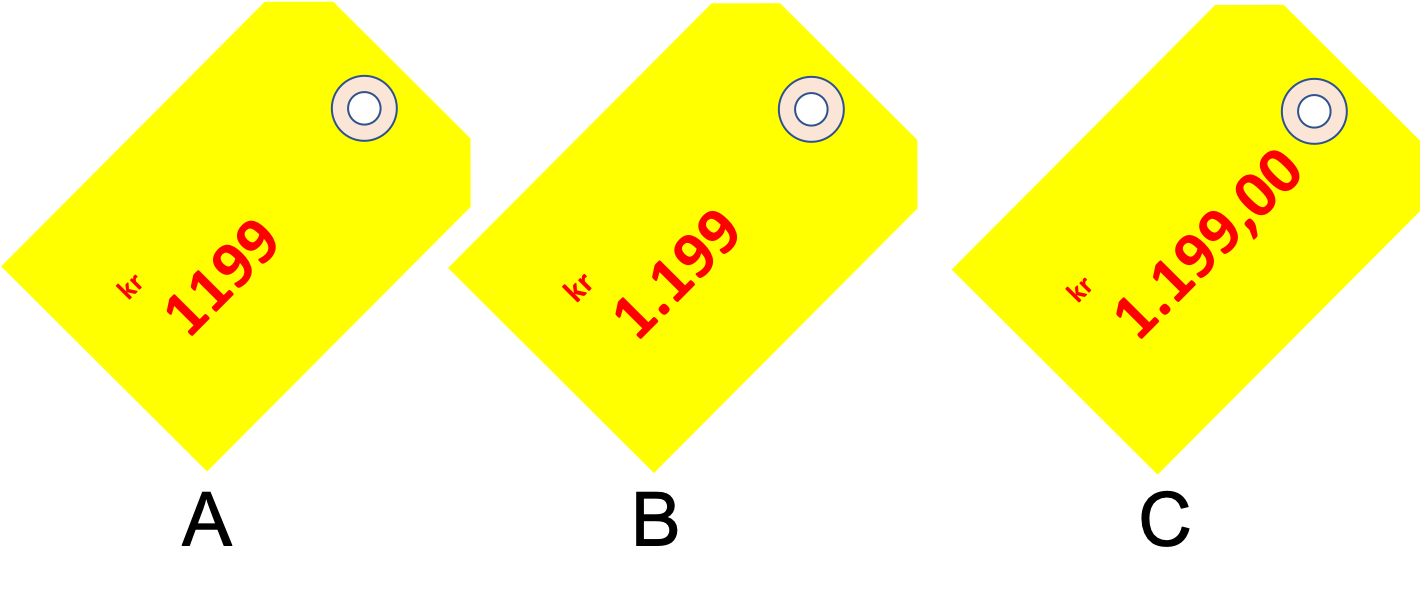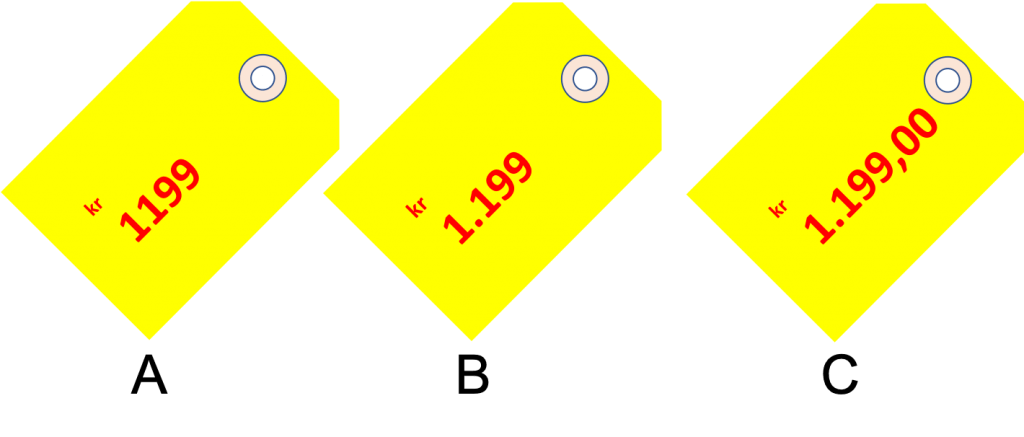 Ja monetarisk er der tale om samme pris. Og retteligt bør den skrives 1.199,00 for det illustrerer tydeligst prisen. Men det er ikke den måde vore hjerne bearbejder priserne på. Faktisk virker prisen A lavere end C for de fleste forbrugere.
Du kan læse mere om visningen af priser og dets effekter i dette studie.
Jeg kan også varmt anbefale bogen Prispsykologi af Sally Khallash og Ulrik Lehrskov-Schmidt
Kan jeg bruge det?
En anden faktor, der kan have betydning for om vi køber eller ej, er hvorvidt vi kan visualiserer at vi bruger varen. Kan vi forestille os at vi bruger varen eller ej og her kan detaljer også spille ind. Hvilken af disse kopper foretrækker du?
Ja, der er tale om det samme billede jeg blot har spejlet. Men er du venstrehåndet vil du formentlig foretrække det, hvor hanken sidder til venstre og omvendt.
Derfor er det vigtigt at overveje hvordan vi viser produkter og hvordan vi opstiller produktbilleder. Det skal være muligt for forbrugerne at forestille sig at de bruger det. Derfor er det også vigtigt at overveje evt model man bruger – de skal gerne kunne svare til dine kunder (eller i hvert fald deres selvopfattelse).
Du kan læse mere om forskningen bag i dette studie.
Dette indlæg er inspireret af podcasten Behavioral Groove, som er en af mine favoritter. I dette afsnit tog de udgangspunkt i et foredrag med Jonathan Mann, som arbejder med UX design for bl a PayPal. Lyt med her: