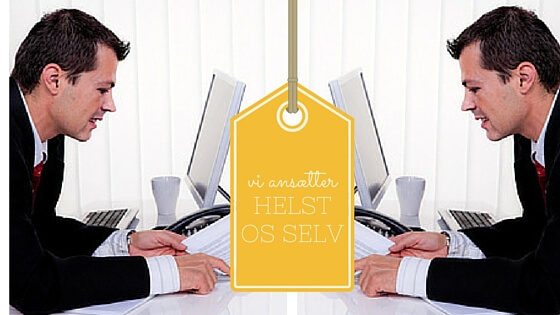 Ofte lader vi vore forventninger spille ind, når vi skal træffe beslutninger om andre. Forskellige faggrupper skal helst se ud på en speciel måde – ellers tror vi ikke kvaliteten er i orden.
Anne Sophie Hermansen skrev forleden et blog-indlæg om medarbejderpolitikker. Hun sluttede blandt andet med denne opfordring.
Måske skulle virksomhederne ansætte nogle lidt mere spændende mennesker med røv i bukserne fremfor at udvikle flere åndsbollede HR-politikker, der skal lindre stress, fedme, laster og belære voksne mennesker om at gå i seng kl. 22
Men det der med at ansætte spændende mennesker, kan være svært, da vi begår en række typiske fejl når vi ansætter. Fejl, der kan være dyre, fordi vi enten går glip af nye ideer og tanker eller fordi det simpelthen er dyrt at fejlansætte.
Er måden vi ansætter på forkert?
I langt de fleste ansættelsesforløb indgår en samtale. Denne er ofte ustruktureret og forløber som en dialog frem og tilbage over bordet. Men siger det noget om kvalifikationer og styrker det udvælgelsen af den bedste kandidat?
Det fik man mulighed for at teste IRL (moderne for In Real Life) på University of Texas Medical School for nogle år siden. Staten Texas ville gerne have flere læger og bad derfor skolen om at optage flere på studiet – faktisk var der tale om en stigning fra 150 studerende til 200.
En del af optagelsesprocessen er et interview og man gik nu i gang med at vælge blandt tidligere afviste. Men da kravet blev stillet sent i studieåret, hvilket betød at mange studerende allerede havde valt universitet. Skolen skulle derfor ret langt ned i bunken for at finde nogle, der stadig var interesserede i at blive optaget.
Det viste sig dog efterfølgende at de først optagne IKKE klarede sig bedre end de sidst optagne.
Det kan måske forklare hvorfor en større dansk headhunter skriver således på deres jobportal:
Vi ønsker at behandle vores kandidater ens. Både de, der selv reflekterer på en stillingsannonce og de, som vi aktivt henvender os til. Derfor beder vi alle vores kandidater om et opdateret CV, når vi skal vurdere et kandidatur. Vi vil derfor bede dig om kun at fremsende dit CV, når du søger en stilling gennem os, da en ansøgning ikke er afgørende i vores vurdering.
På den måde kan de måske undgå at blive påvirket af en subjektiv vurdering via ansøgningen. Til gengæld bliver det formentlig sværere for ansøgere at lave brancheskift og vil måske også føre til ansættelse af same-same.
Vi ansætter som os selv
En amerikansk undersøgelse viste at arbejdsgivere i høj grad ansatte kandidater, der mindede om dem selv. Ikke kun med hensyn til uddannelse/kvalifikationer, men også når det kom til fritidsinteresser, erfaring og udseende.
Det kan naturligvis forklare hvorfor det er svært for artiklens langhårede og til tider outrere klædte forfatter, at finde et job i den finansielle sektor…….
Det kan også forklare, hvorfor det kan være vanskeligt for kvinder at bryde igennem i mands-dominerede erhverv.
'Blind-tasting' ved ansættelser
Hvordan kan man så undgå disse faldgruber? For amerikanske symfoniorkestre var anonyme auditions løsningen. Søger man optagelse i et orkester skal man naturligvis afgive en prøve på sin  kunnen.
I slut 70'erne lancerede Boston Symphony Orchestra såkaldte blind-auditions. De foregår på den måde at udvælgelsesudvalget ikke kan se ansøgerne, da de spiller bag et forhæng.
Denne procedure har siden bredt sig til andre orkestre og det har ført til en markant forøgelse i antallet af kvinder i disse orkestre!
Det vil naturligvis være svært at føre ud i livet ved almindelige samtaler. Det vil jo næsten kræve et set-up som vi kender fra Voice på TV2, hvor deltagerne er anonyme og alene bedømmes på stemmen. Men et vil gøre proceduren mere fair og give et mere diversificeret arbejdsmarked. For vi lader os påvirke af mange irrelevante faktorer når vi ansætter.
https://hulemaendihabitter.dk/hardt-at-vaere-laekker/
https://hulemaendihabitter.dk/det_vigtige_foerstehaandsindtryk/