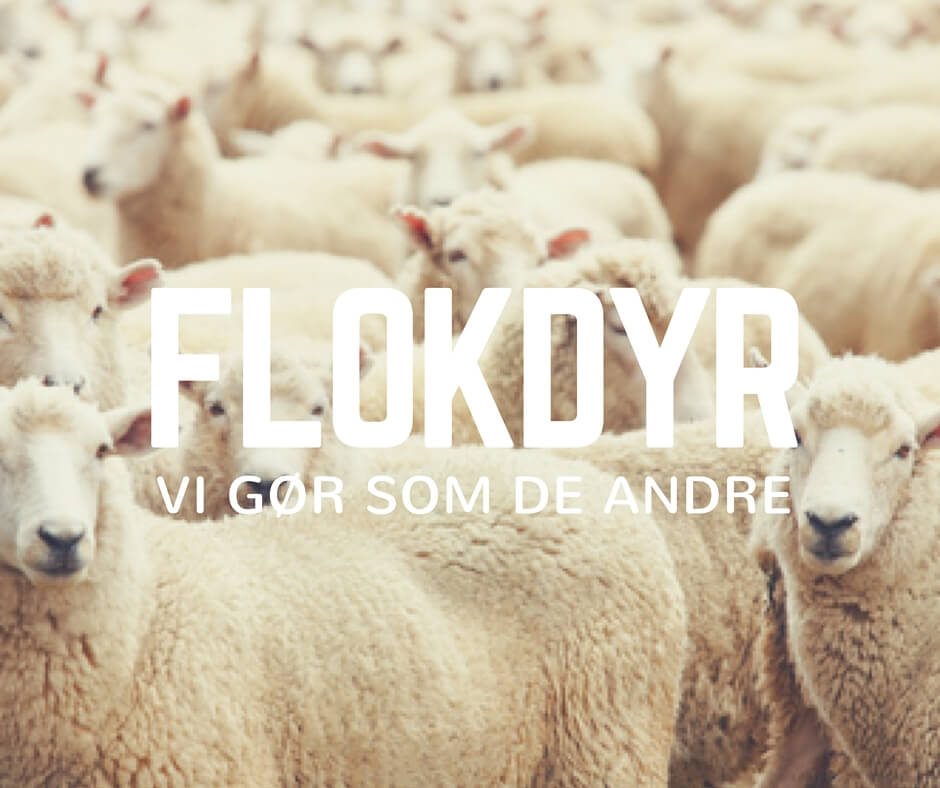 En af vore dybe drifter handler om at høre til flokken. Vi vil gerne være en del af fællesskabet og vi vil gå rigtig langt for at høre til.
Jeg kan huske et badge fra min ungdom med teksten:
Eat Shit! 50 billion flies can't be wrong
Og sådan er vi nogen gange. Hvis bare nok gør noget, er vi tilbøjelige til at springe med på det. Forestil dig du skal svare på spørgsmålet her: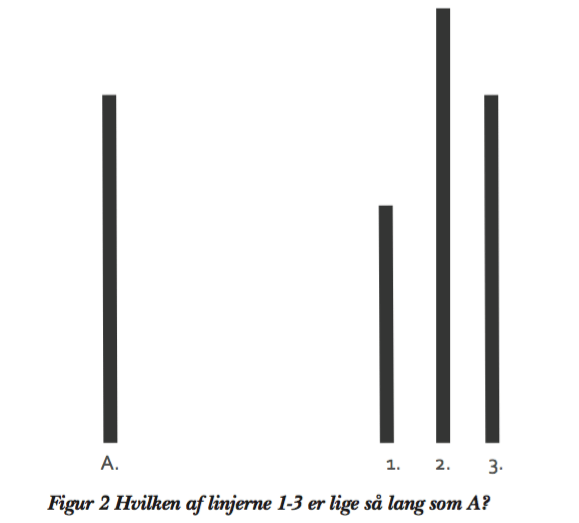 Det er ikke videre vanskeligt. Men forestil dig du sidder i en gruppe med 7-8 andre og de vælger alle linje 2, vil du så stadig vælge svare linje 3?
De fleste vil – selvom de kan se det er forkert – vælge at svare det samme som gruppen. Det viste Solomon Asch i 1950'erne, hvor helt op til 75 % valgte at svare forkert sammen med gruppen.
Flokdyr
Vi er i høj grad flokdyr og vil gå langt for at gøre som de andre. Det kan man bruge på mange forskellige måder. For eksempel kan hoteller bruge det i deres miljøindsats. Du har måske også oplevet de små skilte om at genbruge håndklædet på hoteller. I et forsøg lavede man to forskellige skilte:
et der bad om at genbruge håndklædet af miljø hensyn
et der fortalte at de fleste tidligere gæster genbrugte deres håndklæde
Hvilket tror du klarede sig bedst? Det gjorde 2'eren, hvor 26 % flere genbrugte deres håndklæde.
Social proof
For vi vil så gerne høre til. Derfor oplever man også reklamer der angiver "nu brugt af 1,4 mio" og lignende. Det kaldes social proof når man forsøger at retfærdiggøre sit produkt med en fortælling om, at mange bruger det i forvejen.
Vi møder det tit på sociale medier, hvor antallet af likes er med til at kvalitetsstemple et opslag. Eller hvor anmeldelserne i TripAdvisor eller TrustPilot er med til at blåstemple.
Mange vil hævde at de ikke gør som andre, men hvor tit gør du ikke som andre i hverdagen? Ofte uden at tænke over det?
Vælger en restaurant

med

gæster fremfor en tom
Vi ser de samme TV-shows som andre (hvorfor kanalerne stolt fortæller om antallet af seere til programmer)
Vi går i det samme tøj som kolleger/omgangskreds (tænk på hvor mange bankfolk og revisorer, der efterhånden har taget slipset af)
Vi bestiller det samme som andre på restaurant
Vi tjekker egen mobil når andre tjekker deres
Der findes en mere avanceret udgave, hvor man tager eksperter til indtægt for et produkts kvaliteter. "Tandlæger anbefaler Zendium" er ekspertbaseret social proof.
Du kan faktisk også bruge denne viden i hverdagen. For eksempel kan det være en stor fordel at være den første, der siger noget på et møde. Der er nemlig tit den første ytring, der ender med at blive den toneangivende og du kan nå samme effekt som i Asch's forsøg.
Du kan se en video med Asch's forsøg her:
https://hulemaendihabitter.dk/vi-vil-saa-gerne-hoere-til/
Du kan læse Solomon Asch's undersøgelse her eller læse om forsøget på hotellet her.