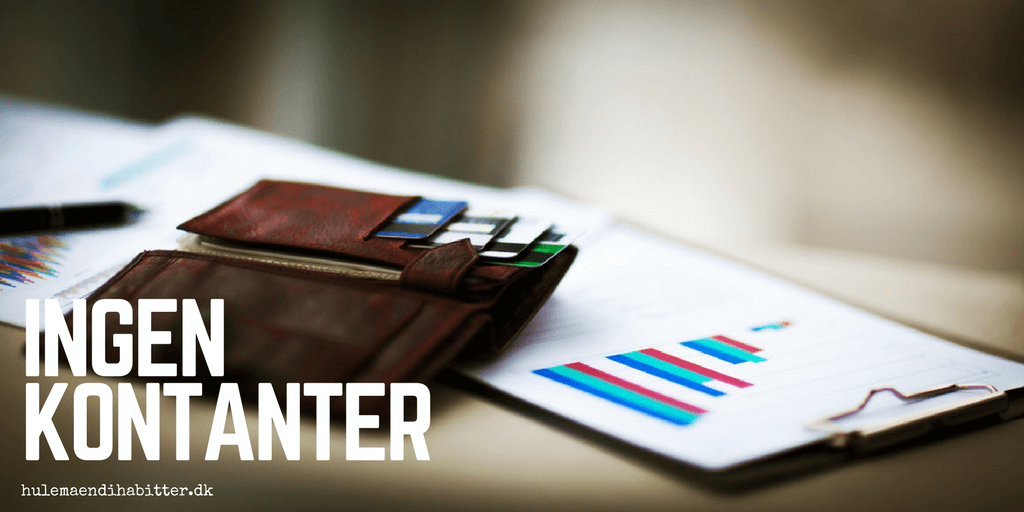 Det kontantløse samfund nærmer sig med raketfart i Danmark. Lanceringen af MobilePay var kun første step på vejen mod et liv uden kontanter. Flere og flere danskere har generelt ingen kontanter på sig og det er ikke bitcoins skyld.
Danmark er med langt fremme, når det gælder om at tage imod de nye betalingsformer. Færre og færre transkationer i Danmark foregår med kontanter og derfor har vi generelt færre og færre kontanter på os.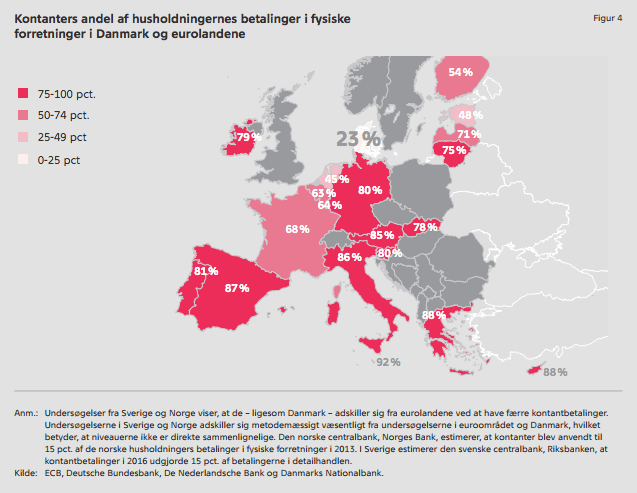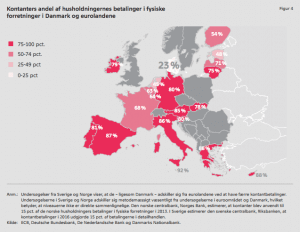 Det kan der være mange fordele ved. For eksempel slipper man for risikoen for at tabe et stort beløb i kontanter (selvom man også kan tabe elektroniske penge som bitcoins, som Lars Seier oplevede). Det bliver også lidt sværere med sorte penge, da der vil være et digitalt spor på elektroniske betalinger. Men der kan også være nogle ulemper ved ikke at bruge kontanter.
Fjerner Pain of Paying yderligere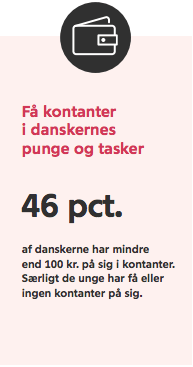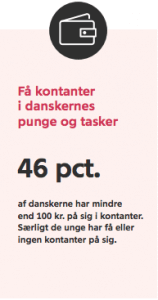 Du har sikkert ikke problemer med irrationelle handlinger – du læser jo med på min blog og har måske også læst min bog, så du har styr på det. Men rigtig mange kender til Pain of Paying når de skal betale med kontanter.
Forestil dig du lige har haft fødselsdag og har modtaget kontanter fra ældre familiemedlemmer. Det har måske betydet at du har en 500 kroneseddel i tegnebogen. Det kan være vanskeligt at "slå den i stykker" når man skal betale og man kan sågar overveje at bruge et kort i stedet for.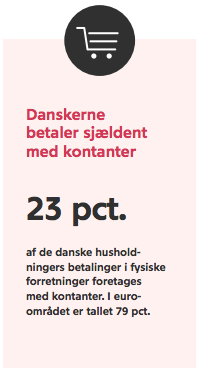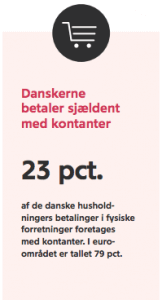 Undersøgelser har vist at at betalingskort kan forøge forbrug og at vi er villige til at betale mere, hvis vi kan betale med kort. Tjenere ved også at de får større drikkepenge, hvis gæsterne kan betale med kort. For det er ikke så slemt at indtaste et tal på en terminal som det er at aflevere kontanter. Og har man lavet forslag til drikkepengenes størrelse på forhånd, er der endnu større payout til modtageren.
Faktisk er effekten af Pain of Paying så stor, at eksperter mener at det er bedre for modtageren at man giver gavekort fremfor kontanter, som i eksemplet ovenfor. For med gavekort er der ikke den samme smerte ved at betale. Desværre er der en anden ulempe: rigtig mange gavekort bliver aldrig indløst.
Jeg er ikke bange for at indrømme at jeg kender til disse følelser og jeg har endda skrevet en hel bog om hvor irrationelt vi kan agere. Men forleden købte jeg noget med det samme fordi jeg kunne betale med MobilePay. Det er nemlig meget nemmere end at skulle indtaste kort-oplysninger (det har jeg blogget om for Mindthemedia her)
Grafikken i dette indlæg er fra Danmarks Nationalbanks rapport Danske husholdninger fravælger kontanter
Læs mere
Du kan naturligvis læse mere om Pain of Paying i Hulemænd i habitter eller du kan finde disse kilder:
Richard A. Feinberg: Credit Cards as Spending Facilitating Stimuli: A Conditioning Interpretation, Journal of Consumer Research
Drazen Prelec og Duncan Simester: Always Leave Home Without It: A Further Investigation of the Credit-Card Effect on Willingness to Pay