Ved at tænke ude af boksen – eller måske snarere udenpå boksen – oplevede to hollandske brødre massivt fald i transportskader.
Jeg bliver tit spurgt hvad man egentlig kan bruge adfærdsøkonomi til i dagligdagen. Der er masser af textbook-eksempler. Som for eksempel at have mindre tallerkner for at spise mindre eller mindske madspild. Eller når butikker ændrer på indretningen – hvad enten det er en fysisk eller en online butik – for at øge salget.
Men i dag faldt jeg over en interessant løsning på et problem.
Mange transportskader
Den hollandske cykelproducent VanMoos har planer om at sælge 90 % af deres cykler online. Det betyder naturligvis, at de har brug for, at sende de fleste cykler de sælger.
Desværre oplevede de, at alt for mange fik transportskader inden de nåede frem. Det gav både dårlige oplevelser og var dyrt i reparationer/udskiftninger.
Når man har en mission-statement om at lave cykler, der kan komme fra A til B, så er det naturligvis irriterende, når cyklerne ikke selv kan komme fra A til B uden skader:
VanMoof was started by two Dutch brothers who wanted to develop the kinds of bikes that got people from A to B, without the fuss.
Derfor satte man fokus på problemet. De prøvede først andre papkasser uden held. Større. Mere solide. Men lige lidt hjalp det.
Indtil en dag hvor de fik en god idé. Størrelsen, på de kasser cyklerne blev sendt i, svarede stort set til de kasser fladskærms-tv bliver sendt i. Men mærkeligt nok kommer de fleste fladskærms-tv frem uden skader. Hvorfor?
Det fik VanMoos til at ændre designet på kasserne, så de indikerer, at indholdet var en fladskærm: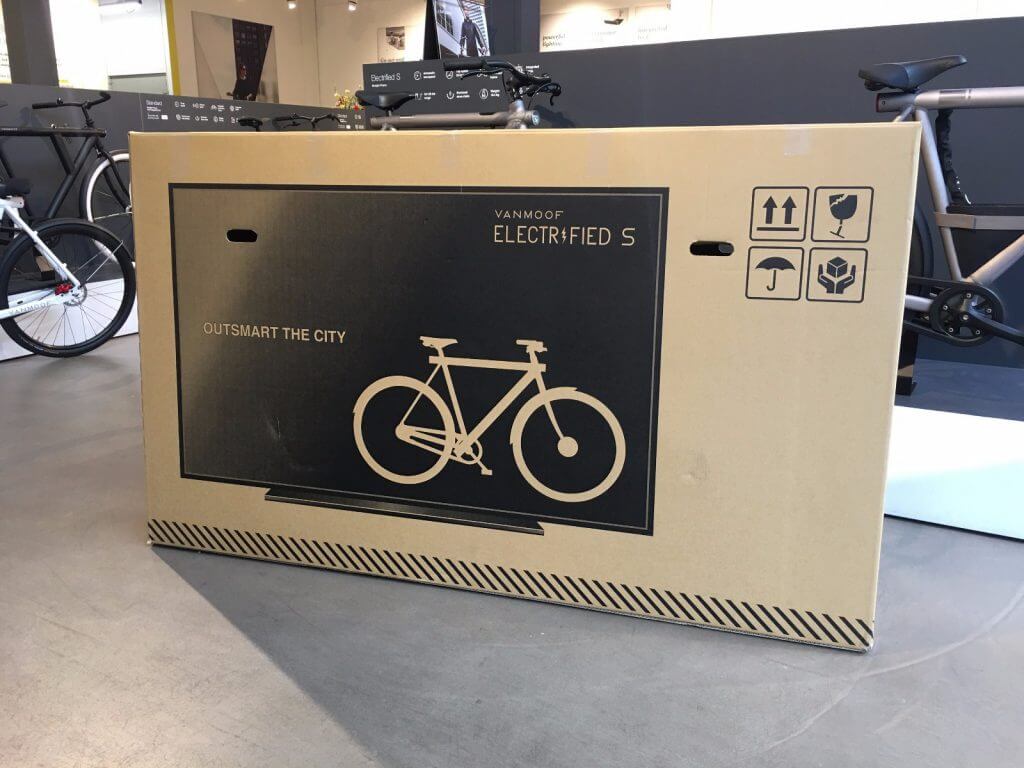 Effekten var til at føle på. Transportskaderne faldt med 70 – 80 % efter denne ændring af kassen.
Er det et nudge?
Kasserne med cykler fik altså en mindre hårdhændet behandling undervejs. Ved at indikere at der var tale om et stykke dyrt elektronik, behandlede pakkeposten cyklen mindre hårdhændet. Det vil måske kunne betegnes som et nudge, men nudges skal leve op til nogle regler:
Være en fordel for begge parter
Al nudging skal være transparent og aldrig vildledende
Det skal være let at fravælge at følge et nudge
Der skal være god grund til at tro, at den tilskyndede adfærd, vil forbedre velfærden for de, der nudges
Det er en fordel for begge parter – især hvis nogle transportskader skal dækkes af transportøren. Men det er jo vildledende og det er ikke sikkert det forbedrer noget for de der nudges (pakkeposten, der håndterer pakken). Selvom de måske kan undgå fyring i modsætning til dette GLS-bud fra Sønderborg.
For mig er det egentlig ikke så vigtigt, for vi kan jo bare kalde det adfærdsdesign! Design, der ændrer folks adfær.
Kilde: The VanMoof Revolution