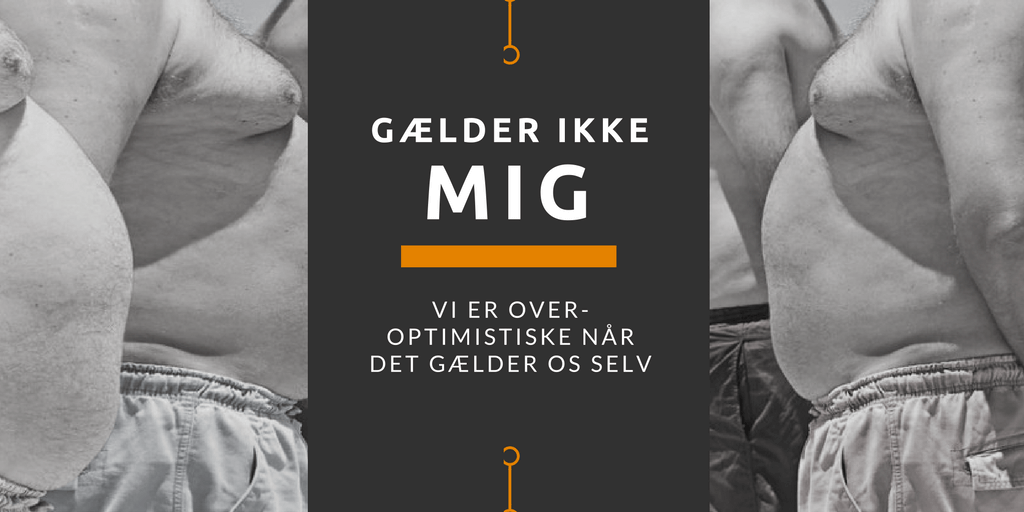 Enhver der har været gift, ved at det er nemt at se fejl ved andre. Det er faktisk noget, der falder os helt naturligt. Så mens vi godt ved at mange i den vestlige verden bliver federe, er vi overbeviste om at det ikke gælder os selv.
Der har i mange år været fokus på at amerikanerne bliver federe. Det gælder ikke kun dem – vi danskere bliver også federe. Men, som i mange andre situationer, vedkender amerikanerne ikke at de bliver federe. Som grafen her viser, bliver flere overvægtige men færre ser sig selv som overvægtige. Det hænger ikke rigtig sammen.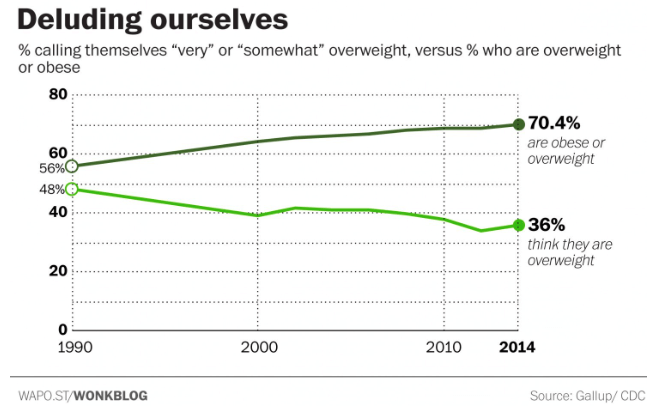 Der kan være flere grunde til at amerikanerne har det sådan i dag. I denne situation kan det skyldes, at amerikanerens opfattelse af normal-vægt er ændret som følge af ændring i gadebilledet. For vi ser alt relativt og når der er flere i overvægtige ændrer opfattelsen sig.
En anden grund kan findes i vores over-optimisme, hvor vi tror vi vil klare os bedre end andre.
Alt er relativt
I verdens bedste scorebog (ifølge min søn), The Game, advokerer Neil Strauss for at man skal sørge for at tage "mindre pæne" venner med, når man går i byen. Det vil nemlig gøre at man selv kommer til at virke mere attraktiv.
Der er  noget om snakken for alt er relativt. Som med denne grafiske illusion. Hvilken af de sorte cirkler er størst?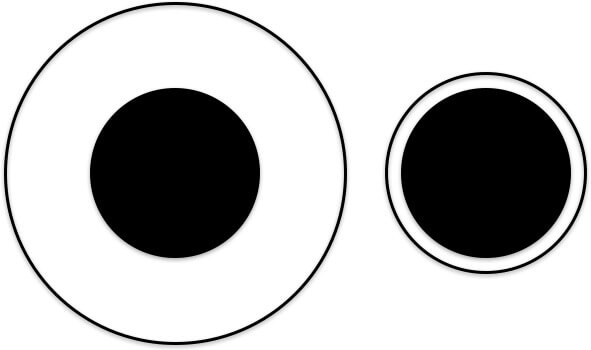 For de fleste vil den sorte cirkel til højre virke størst, fordi vi automatisk sammenligner med den sorte kant. Men det var ikke opgaven. Faktisk er de to sorte cirkler lige store, men den til højre virker større for de fleste.
På samme måde vil flere overvægtige i samfundet, være med til at rykke ved vores opfattelse af normalen for udseende og det kan forklare hvorfor amerikanerne ikke ser sig selv som overvægtige.
Optimisme-bias
Men vi er også bygget til at være optimistiske. Især omkring egne evner. For eksempel troede 72 % af engelske finansanalytikere, at de var bedre end gennemsnittet. Det kan 72 % ikke være, så nogen af dem må have overvurderet egne evner.
På samme måde kan vi have det omkring risikoen for, at vi selv bliver ramt af noget negativt. For eksempel tror rygere ofte ikke selv at de får kræft (så ville de formentlig stoppe med at ryge?). Og måske er det også med til at påvirke vores opfattelse af vores vægt?