Så er det igen blevet den store skatte-lotteri-weekend. Det er nemlig tid til at SKAT offentliggør resultatet af vores mellemværende med dem for 2018. Det kan føles som at vinde. Men det er vores egne penge.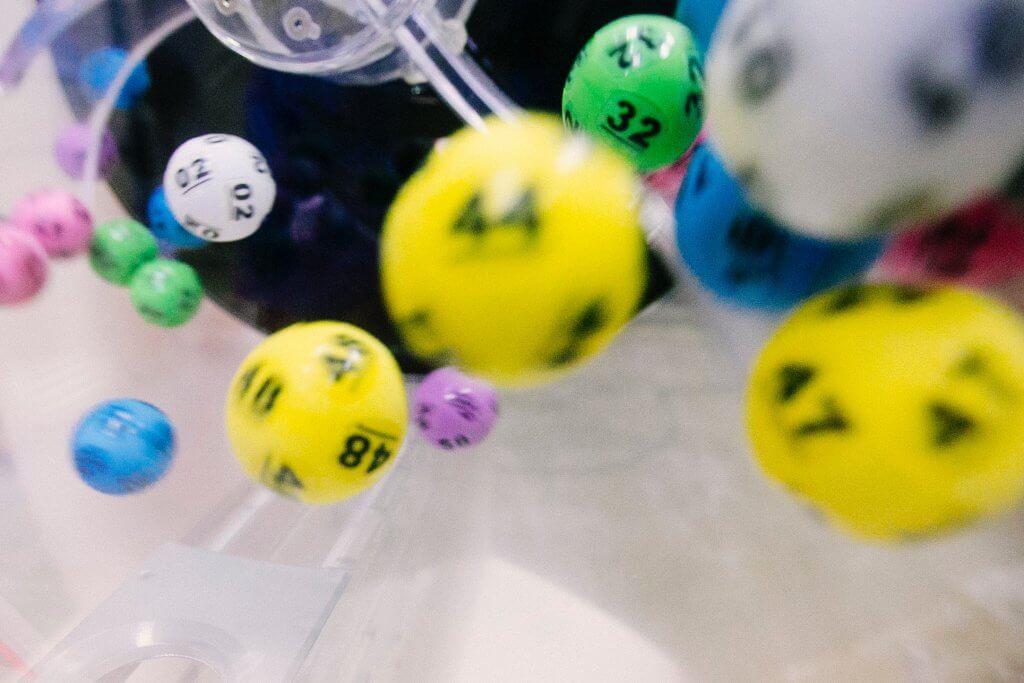 Jeg tør godt indrømme, at jeg er en af dem, der helst deltager med for mange lodder i det årlige skatte-lotteri. Jeg undlader helt bevidst, at forskudsregistrere alle de poster, der kan give fradrag. På den måde er jeg rimelig sikker på, at det er SKAT, der ender med at skylde mig penge og ikke omvendt.
Økonomer vil hævde, at det ville være bedre, at forskudsregistrere mere korrekt, for så kunne jeg selv spare pengene op i stedet. Det vil være det økonomisk mest optimale.
Men vi er ikke altid så rationelle, og jeg vil hellere være sikker på ikke at skulle indbetale ekstra skat, end jeg vil have det mere ud hver måned.
Tab gør dobbelt så ondt
For har jeg indbetalt for lidt sidste år, skal jeg jo aflevere nogle penge i år. Her er jeg altså ikke rationel nok til at tænke, at jeg fik for meget udbetalt i 2018, men vil ærgre mig over at jeg mister penge i 2019.
Og den ærgrelse er altså større end den glæde jeg oplever ved at få penge tilbage.
Det kender man fra mange andre situationer og også fra andre end mig. Sådan har de fleste det nemlig og det kalder man tabsaversion. En teori og et begreb Daniel Kahneman og Amos Tversky står bag.
Deres undersøgelser har vist, at tab typisk gør dobbelt så ondt, som en gevinst glæder. Var vi rationelle burde det emotionelle udsving ved en gevinst på 100 eller et tab på 100 være lige stort. Men det er det ikke.
Man kan illustrere tabsaversion på denne måde: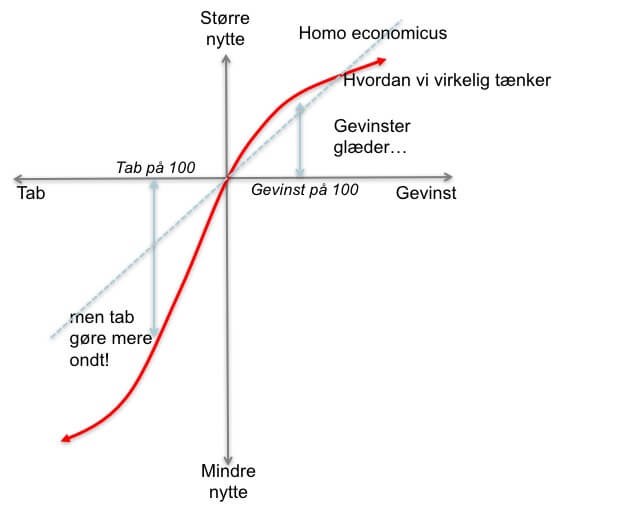 Tab gør mere ondt, end gevinster gør godt, men der er også forskel på, hvordan gevinsten eller tabets størrelse påvirker os. Glæden ved en gevinst vokser ikke eksponentielt med gevinstens størrelse. Går man fra nul til 1.000 kroner, føles det godt. Men går man fra 10.000 til 11.000 kroner, giver mer-gevinsten – selvom den også er på 1.000 kroner – ikke den samme glæde. Omvendt med tab, der fortsætter med at gøre ondt, jo mere man taber.
Hvorfor det forholder sig sådan, har hjerneforskere forsøgt at undersøge via hjernescanninger. Her viser resultaterne større aktivitet i belønningscentret, når vi vinder, mens der ingen aktivitet er, når vi taber.
Så det er ikke rationelt, men alligevel vil jeg håbe jeg skal have penge tilbage i skat. Også selvom det bare er mine egne penge, jeg får tilbage.