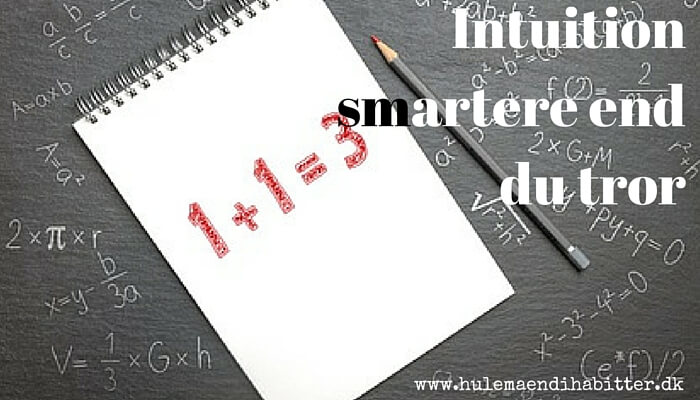 Du har måske hørt om System 1 og System 2 før? De er som regel med i mine foredrag og Daniel Kahneman skriver også om dem i hans bog Thinking fast and slow. Det handler om at vore hjerner er bygget til at spare energi og derfor behandler vi ikke alle inputs eller opgaver fuldt ud. Vi kører dem lige gennem System 1 først og hvis svaret virker plausibelt bruger vi ikke mere energi på det. For eksempel tænder vi ikke den store regnemaskine, hvis vi skal regne dette ud:
1+3

Mens du formentlig får brug for System 2, hvis du skal løse dette:
13*27

Og de fleste kan også hurtigt besvare dette:
Hvor mange af hver art havde Moses med på arken?

System 1 er altså impulsivt mens System 2 er reflektorisk:
Forskel mellem System 1 og 2


| System 1 – impulsivt | System 2 – reflektorisk |
| --- | --- |
| Baserer sig på det første hjernen tænker på (Tunnelsyn) | Overvejer flere muligheder (Vidvinkel) |
| Ubesværet | Kræver en indsats |
| Anvendelse af regler | Baseret på ræsonnement |
| Intuitiv | Ræsonnerende |
Det smarte er at System 1 fungerer helt uden at vi tænker over det og måske er det også smartere end vi tror. Det gælder også for dig, med mindre du har besvaret spørgsmålet om arken ovenfor med to af hver art. For ham der Moses havde IKKE nogen ark. Han havde en sivkurv mens det var Noah, der byggede en ark. Det er ulempen ved System 1 – det ser ikke nødvendigvis alle detaljerne.
Men hvor meget fanger vi egentlig underbevidst? Det ville man teste i et forsøg, hvor man viste deltagerne en række regnestykker uden at de var opmærksomme på dem via metoden Continuous Flash Suppression. Her er det kun underbevistheden, der fanger inputtet. Metoden er så effektiv, at den er ulovlig at bruge i markedsføring.
Deltagerne kunne for eksempel få vist regnestykket:
9-3-4

Husk det blev vist uden at man reelt var opmærksom på det, så kun underbevistheden opfangede det. Kort efter eksponeringen mod regnestykket skulle deltageren læse et tal op. Det kunne være det rigtige facit – i dette tilfælde 2 – eller det kunne være forkert – for eksempel 3. Der var ingen bevidst sammenhæng mellem visningen eller oplæsningen af tallet.
Alligevel var der forskel i reaktionen hos deltagerne, når man skulle oplæse et forkert eller et rigtigt tal. Det viste sig nemlig at de fleste tøvede lidt, når de skulle læse et forkert tal (eks 3 i forsøget ovenfor) mens oplæsningen var mere flydende ved rigtigt facit (eksempelvis 2 ovenfor).
Underbevidstheden er meget stærk og når den har et svar er det svært at overrule det.
Du kan læse mere om undersøgelsen her.