Selvom julen 2020 bliver anderledes end andre år, tror jeg nogen ting vil være de samme. Der bliver trods alt tid til lidt familiehygge og mad for de fleste. Formentlig i mindre omfang, når vi nu kun må ses med ti andre, men så kompenseres måske på andre områder.
Derfor kan julen være en farlig tid for mange af os. For trods corona og dens ubehageligheder, er vi stadig de samme mennesker. Faktisk er der mange ting med os, der ikke har ændret sig siden vi var hulemænd, så det ændrer et enkelt år heller ikke ved.
Jeg kommer her med et par tips omkring julegaver, julegavindpakning og julemad – der er et par ekstra inputs om julemaden nedenfor:
Julemaden er også en potentiel fælde!
Du tænker måske, at du tager gode beslutninger omkring mad. Det kan godt være, men da vi ca tager 200 beslutninger omkring mad dagligt, kan de ikke alle være lige gode. Nogen af dem træffer vi i højere grad med øjnene og maven end med hjernen.
Vi spiser mere når vi er sammen med andre. Det kan der være mange gode grunde til – for eksempel spiser vi ofte længere, når vi spiser sammen med andre. Her er et par andre ting, du kan være opmærksom på i den kommende juletid:
Mænd spiser for at imponere kvinder
Den amerikanske professor Brian Wansink forsker i, hvordan vi reagerer på mad i forskellige situationer på The Food and Brand Lab. Han har blandt andet skrevet bogen Mindless Eating som jeg varmt anbefaler – måske en ide til et julegaveønske? (Der står dog også noget om vores uheldige omgang med mad i Hulemænd i habitter).
Han har blandt andet kigget på de sociale effekter af et måltid og blandt kunnet konstatere, at mænd spiser mere, når de spiser sammen med kvinder. I et forsøg spiste mændende 93 % mere end de mænd, der spiste uden kvindeligt selskab.
Den forklaring forskerne hælder mest til er, at mænd spiser for at imponere kvinder.
Lys og lyd
Lyden og lyset kan også påvirke vores indtag. Hvis din familie er af den støjende slags kan det få dig til at drikke mere. Det har franskmanden George Prochnik kigget på i hans bog In Poursuit of Silence. Han fandt ud af, at mere larm fik folk til at drikke næsten 4 genstande mere i timen.
Skarpt lys får os til at spise hurtigere og hyggelys det modsatte. I denne undersøgelse førte det til at deltagerne spiste for meget i stærkt lys og spiste mindre i hyggebelysning.
Du spiser mere af en stor tallerken
De fleste vil hævde at de spiser en portion. Men hvor meget er en portion? Det ender i ofte med at handle om tallerkenens størrelse. Prøv blot at se på de to sorte cirkler i denne illustration. Hvilken er størst?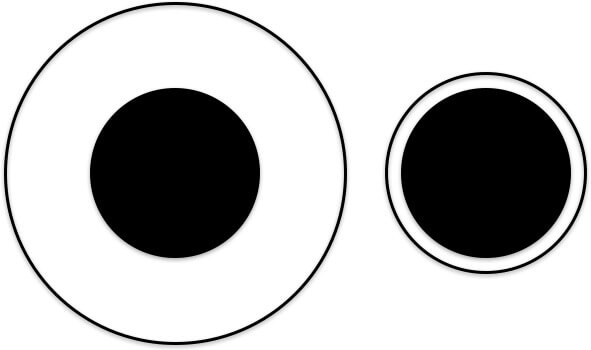 Mange vil hævde at den til højre er størst, men faktum er at de er lige store. Det kaldes Delboeufs illusion (er i familie med Ebbenhaus' illustration). Noget tyder på at vi spiser en del mere når vi bruger store tallerkener. En undersøgelse peger på 56 % mere!
Glædelig jul og godt nytår! P.S. Husk der er gratis fragt på Hulemænd i habitter frem til 24. december 2020! Find den her!