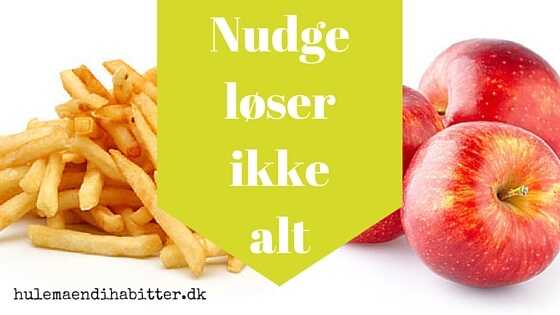 Nudge får stor opmærksomhed og udlægges fra tid til anden som løsningen på mange problemer. Men det kan ikke løse alt. Vi vil fortsat foretrække usunde valg i nogle situationer.
I weekenden fortalte min kæreste sine børn, at de skulle have burgere til aftensmad. Deres respons var: "Kan det ikke nok være købe-burgere?" Børnene ville altså hellere have burgere fra en af de store internationale kæder end de hjemmelavede med gode råvarer. De er ikke de eneste der foretrækker usunde valg fremfor sunde.
Via nudge har man fået folk til at spise sundere, vaske hænder, smide affald i skraldespanden, tisse præcist og meget andet. De mange succeshistorier har udbredt interessen for nudge og der findes i dag mange rådgivere, der rådgiver om anvendelsen af nudge.
Nudge handler om at få folk til at foretage bedre valg uden regler eller lovgivning. Generelt skal nudge leve op til disse tre regler:
Al nudging skal være transparent og aldrig vildledende
Det skal være let at fravælge at følge et nudge
Der skal være god grund til at tro, at den tilskyndede adfærd, vil forbedre velfærden for de, der nudges
Præferencer kan overrule det bedste nudge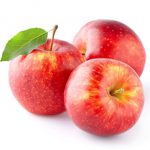 Et område, der er foretaget mange forsøg på, handler om vore spisevaner. Man har indrettet supermarkeder, kantiner, kaffeborde og køkkener anderledes, for at få os til at spise sundere. Forsøg har også vist en effekt. Men noget tyder på at en præference kan overrule de gode intentioner.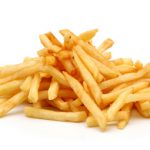 Det har et netop offentliggjort forsøg fra Cornell Food & Brand Lab vist. Her lod man en gruppe børn få et typisk burgerkæde-måltid med tilbehør af enten pomfritter eller æbler. Den ene halvdel fik et måltid med forvalgt pomfritter, men fik mulighed for at skifte til æbler. Den anden halvdel fik et måltid med forvalgt æbler som tilbehør, men fik mulighed for at skifte til pomfritter. Over de følgende dage gentog man forsøget men lod børnene skifte grupper, så de løbende blev tilbudt forskellige kombinationer.
De fleste foretrak at få et måltid med pomfritter. Faktisk valgte 86,7 % at skifte til pomfritter når æbler var standard.
The researchers conclude that strongly preferred foods, like fries at fast food restaurants or red meat at buffets, are so standard that it can be difficult to get people – especially children – to opt for healthier options, even if the healthy option is the default
Jeg har set andre eksempler, hvor man i kantiner byttede rundt på brødets placering for at få gæsterne til at spise grovere brød. Det virkede på kort sigt, men det varede ikke længe før mange igen valgte det lyse brød.
Du kan læse mere om Cornells forsøg med pomfritter og æbler her.
I øvrigt faldt jeg over McDonalds egen beskrivelse af deres Happy Meal i forbindelse med denne artikel. Prøv at se billederne de viser – ingen cola eller fritter men i stedet mælk og gulerødder.
Læs mere om nudge her:
https://hulemaendihabitter.dk/hvad-er-nudging/