Nudging bliver i større og større grad taget i brug af regeringer/myndigheder verden over. Nu også i Danmark, hvor sundhedsmyndighederne vil søge at få flere af os til at donere organer.
Nudgings "folkelige" udbredelse startede med Cass Sunstein og Richard Thalers bog Nudge. Siden har medierne fortalt historier om nudges, der har forsøgt at øge drikkepenge i taxier, få os til at køre lovligt, få mænd til at ramme, når de tisser og – ikke mindst – at få os til ikke at ryge (hvilket måske har ringe effekt).
Der er stor forskel på deltagelsesgraden i organdonation i Danmark og Sverige. I Sverige vil næsten 86% donere mens kun 4% vil donere i Danmark. Den store forskel i deltagelsen skyldes ikke nødvendigvis større samfundssind blandt svenskere, men måske snarere den måde de to lande har valgt at finde organdonorere. I Danmark skal vi selv melde os til mens man i Sverige skal melde fra, hvis man ikke ønsker at donere. Dette er blandt andet omtalt i Dan Arielys Predictably Irrational, hvor han viser denne grafik: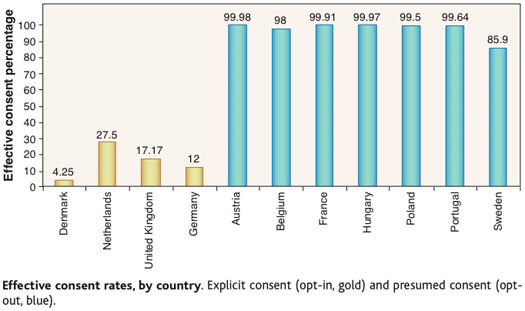 Den lave deltagelse i Danmark skal vi have gjort noget ved. Derfor lancerer sundhed.dk en kampagne, hvor man bliver bedt om at tage stilling. Kampagnen er udviklet sammen med Dansk Nudging Network og Pelle Guldborg Hansen.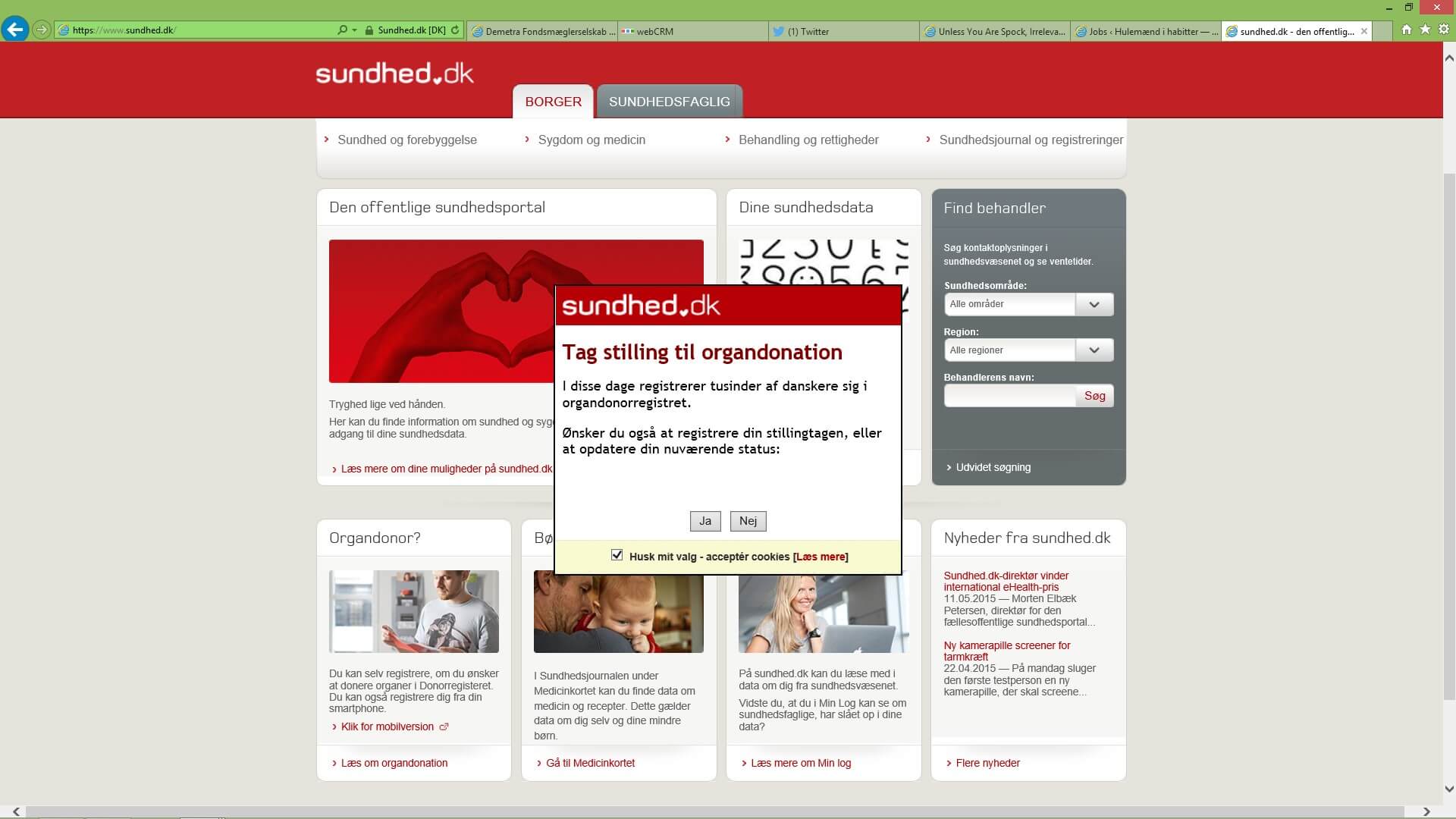 Du tilmelder dig i øvrigt organdonation her – eller rettere, du tager stilling. Du kan nemlig også meddele at du ikke vil donere. Tag stilling – så slipper dine pårørende for det!
Richard Thaler har i øvrigt netop udgivet en ny bog. Misbehaving hedder den og handler naturligvis om behavioral economics. De omtaler den blandt andet sådan:
Misbehaving is his arresting, frequently hilarious account of the struggle to bring an academic discipline back down to earth—and change the way we think about economics, ourselves, and our world.
Tahler har også skrevet et indlæg til NY Times om vore irrationelle måde at tage beslutninger på. Læs det her.
Jeg har bestilt bogen og glæder mig til at modtage den en af dagene.