Forleden gjorde jeg noget – for mig – utroligt. Jeg kørte med min kæreste i Rema, med det formål at købe noget snolder. Fremme på gerningsstedet fik den rationelle del af mig dog overtaget og jeg undlod at købe noget! Så fornuftig/standhaftig har jeg ikke for vane at være – og måske er der en god forklaring på at det kan være svært at modstå trang til noget sødt?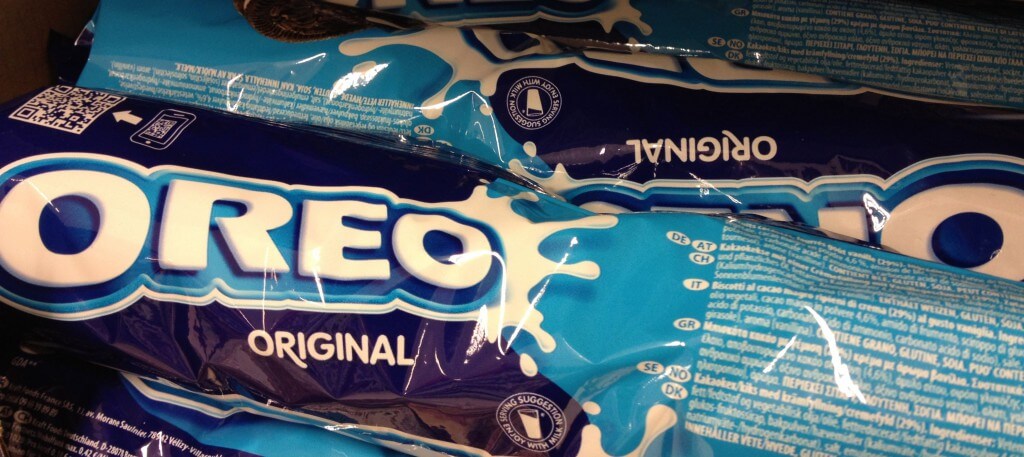 Amerikansk forskning peger nemlig på at Oreos – som i øvrigt fyldte 100 år sidste år – kan være afhængighedsskabende på samme niveau som kokain. Og det gælder ikke kun for Oreos. Vore hjerner reagerer nemlig på samme måde overfor fødevarer med højt indhold af fedt eller sukker som når man indtager narkotika.
Hvad vil du helst have? En Oreo eller en riskage? Det spørgsmål stillede man en gruppe sultne rotter på Connecticut College. Ikke overaskende valgte de fleste rotter Oreos (tror jeg havde gjort det samme). I et andet forsøg kunne rotter vælge mellem indsprøjtning af saltvand eller med kokain/morfin. Her valgte rotterne en indsprøjtning med kokain/morfin. Det er disse reaktioner fra rotterne, der får forskerne til at konkludere at fede/søde madvarer kan have den samme effekt i hjernen som narkotika og derfor føre til afhængighed.
Som en del af forsøget målte man aktiviteten i rotternes hjerner ved indtagelse af Oreos eller kokain/morfin. Forskerne blev overraskede over at Oreos aktiverede flere neuroner end kokain/morfin i forsøget.
Hvorvidt man så kan konkludere at mennesker gør det samme, fordi rotter i dette forsøg viste disse tendenser, vil mange sikkert diskutere. Men rotterne minder på mange områder om mennesker – for eksempel startede de også med at spise cremen i Oreos som de fleste mennesker også gør. (Statistik viser at det mest er kvinder (se fact 9 i denne artikel), der skiller Oreos ad – lidt sjovt at se at den kvindelige nyhedsvært så gør det i indslaget mens manden ikke gør.)
At hjernen "belønner" ved indtagelse af fedt og sukker stammer formentlig fra en tid hvor fedt og sukker var en knap faktor. Så var det vigtigt at indtage når det var muligt. Men i dag, hvor det næsten er svært at undgå, er det ikke smart med den reaktion i hjernen.
– Jeg har ikke rørt en Oreo siden vi lavede disse forsøg, fortæller professor Joseph Schroeder fra Connecticut College.
Møder modstand

Det er dog ikke alle der er lige begejstrede eller enige i undersøgelsens konklusioner. For eksempel Edythe London fra University of California, der har forsket i narkomani i mange år. Hun fremhæver, at man måske burde have undersøgt, hvor meget rotterne ville arbejde for at få hhv Oreos eller kokain/morfin, for at undersøge om de er lige afhængighedsskabende.
For selvom det tricker de samme steder i hjernen, er det ikke sikkert fede og søde fødevarer fører til afhængighed, siger Gabriel Harris fra North Carolina State University. Han har lavet et forsøg, hvor rotter har fået usund mad igennem en periode. Tager man den usunde mad fra dem og giver dem sunde madvarer foretrækker rotterne at sulte. Giver man dem stød når de spiser usund mad, fortsætter de med at spise det usunde mad. Så måske er det ikke narkomani, men et eller andet er der da galt med de rotter?!?!?!
Alligevel vil jeg anbefale at prøve en Oreo-shake – den kan man blandt andet få på The Diner i Aarhus, eller man kan lave den selv med denne opskrift.
I øvrigt har jeg altid forbundet cremen i midten med mælk, men Oreos er veganske ifølge PETA. Men rigtige veganere advarer dog om at der kan være (sporadiske) animalske rester i.
P.S. Min kæreste købte naturligvis chokolade i Rema – hun har åbenbart sværere ved at styre hjernens signaler 🙂