I en travl hverdag med mange ting at tage stilling til, er System 1 en uvurderlig hjælper. Det skal vi huske, når vi designer eller udvikler!
Du er måske en af dem, der har læst Kahnemans Tinking Fast and Slow, og kender derfor til System 1 og System 2.
Ifølge Daniel Kahneman har vi to systemer i hjernen, System 1 og System 2. System 2 er det kontrollerende hvor vi behandler oplysninger og informationer inden vi giver et svar. Men ofte når vi blot at bruge System 1, der i højere grad tager udgangspunkt i erfaringer, når det behandler.
Man siger også at System 2 er reflekterende, mens System 1 er impulsivt.
Megen adfærdsdesign og nudge tager udgangspunkt i denne viden og taler direkte til System 1.
Nogen gange betegnes System 1 som fejl eller noget irrationelt, men i mange andre situationer er System 1 en uvurderlig hjælp.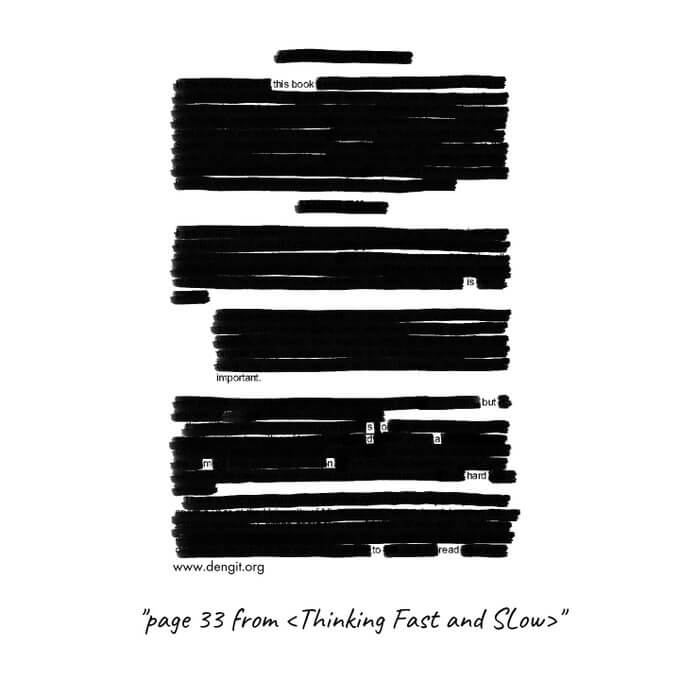 Tal til System 1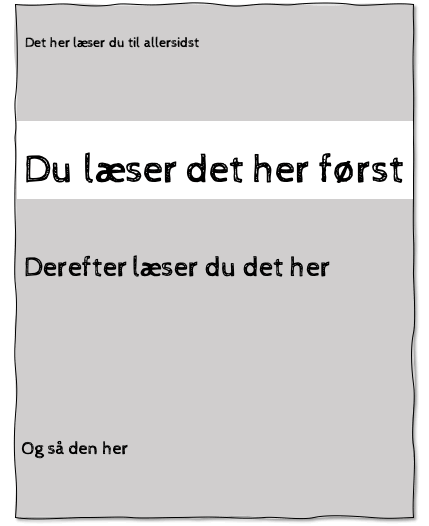 System 1 hjælper os som sagt i hverdagen og som designer eller produktudvikler, kan du opnå gode resultater ved, at designe til system 1. Det er det man gør brug af i adfærdsdesign og nudging.
For man sparer en række informationer, hvis man ved hvordan vi tænker og behandler information.
For eksempel vil de fleste (i den vestlige verden) ikke have problemer med at læse figuren ovenfor. For vi har lært at indtage information i den rækkefølge.
Derfor må det betegnes som en designmæssig brøler, da den engelske sundhedsstyrelse (NHS) lavede en guide til at mindske spredningen af COVID19.
Boris Johnson tweetede glad det gode budskab, men desværre er det ikke så nemt at afkode, som de syntes.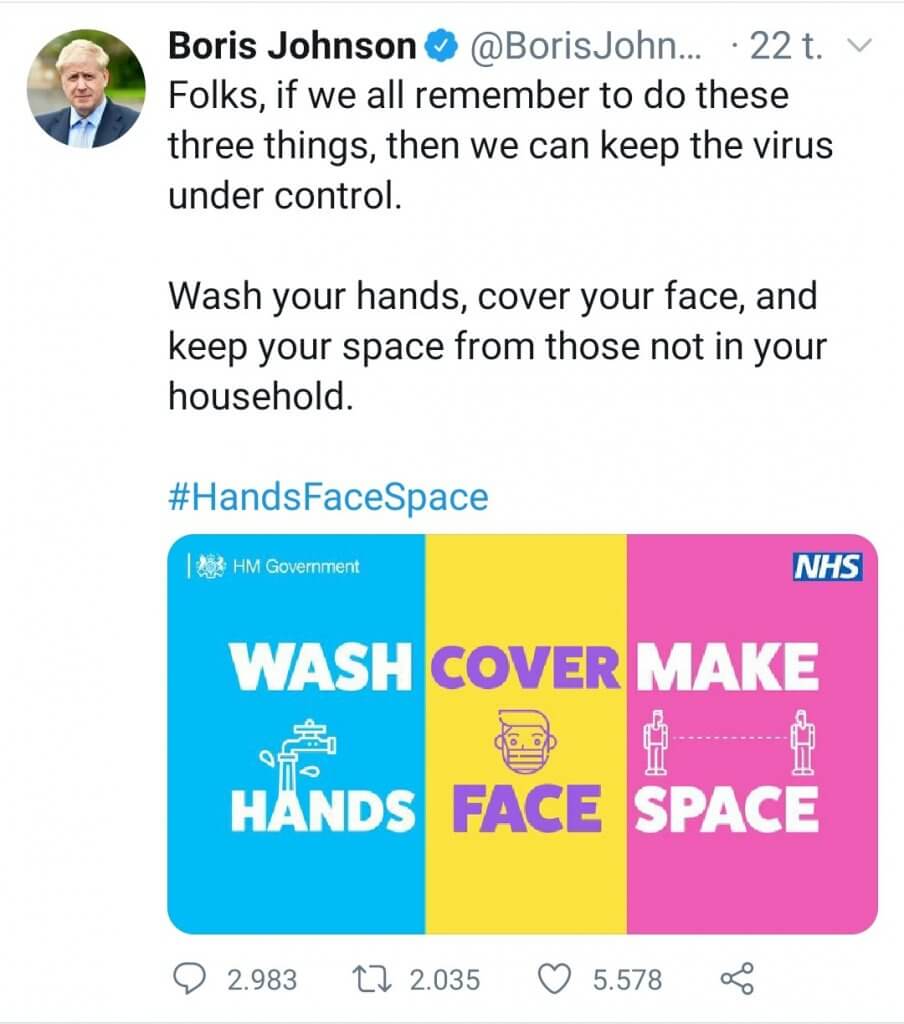 Hvordan gik det for dig? Læste du det, de ønskede, eller læste du Wash Cover Make Hands Face Space?
Alle jeg har testet grafikken på, læste det forkert. Det har noget at gøre med, hvordan vi har lært at læse/afkode skriftlige budskaber. Vi har lært at læse fra venstre mod højre og derfor bevæger vi øjnene, som jeg har tegnet til venstre, mens designeren gerne vil have, at vi gør som til venstre.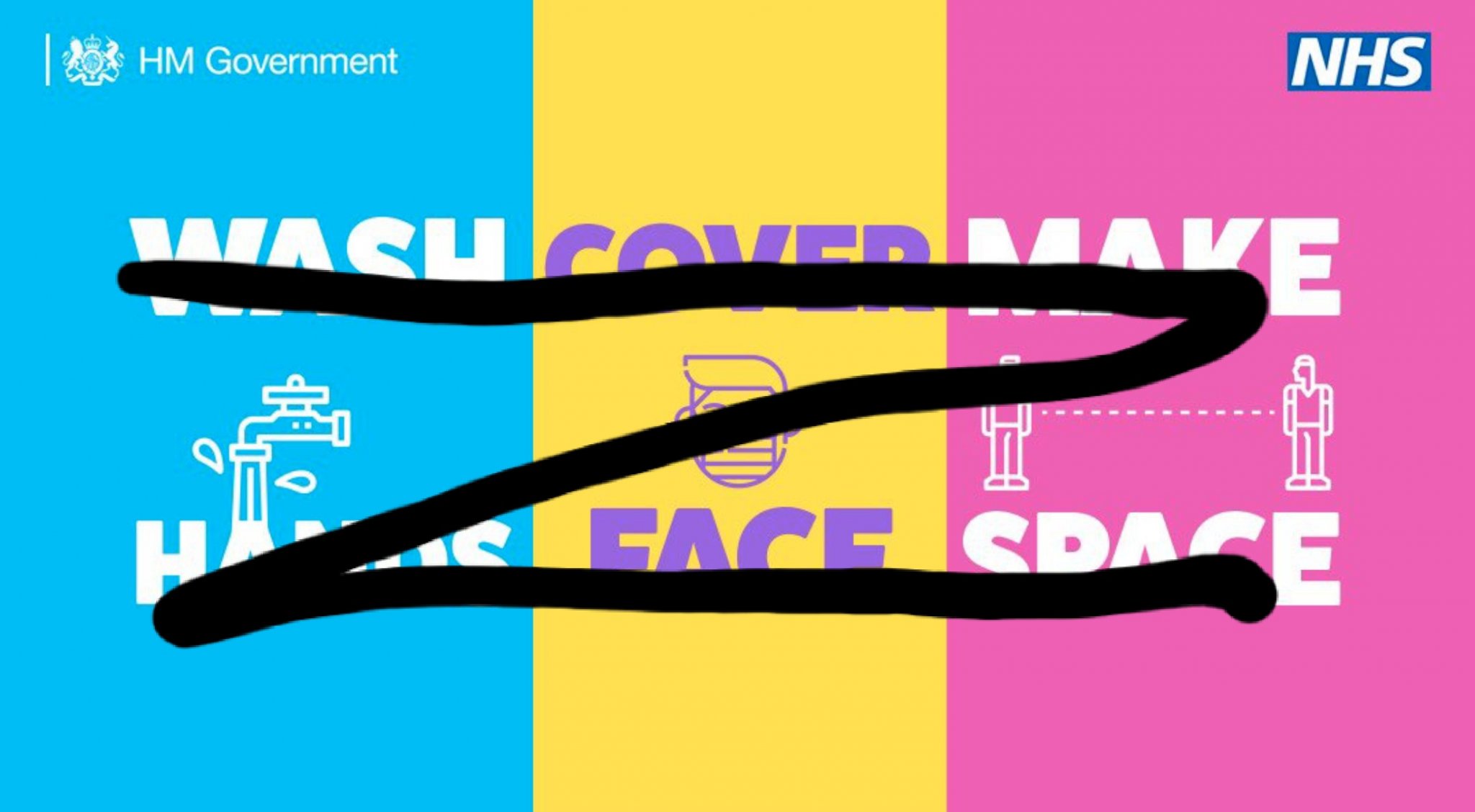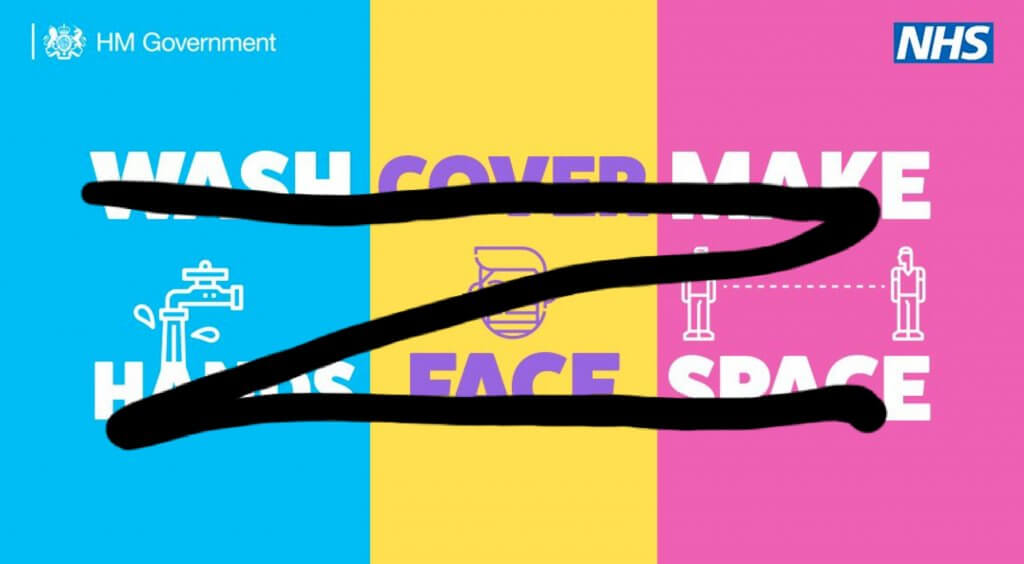 Det er bare for indviklet af os, og vi prøver først at gøre som vi plejer. Så opdager vi, at det ikke giver mening og prøver i stedet, at afkode hvordan det så skal læses. Men det flytter desværre fokus fra budskabet.
Design og udvikl til System 1 – så er du godt på vej!