Vi lever næsten i et kontantløst samfund – det er i hvert fald sjældent, jeg har kontanter på mig – men er vi blevet bedre til digitale betalinger?
En artikel på Finans.dk fortæller i dag, at kontanter fylder mindre og mindre i vores hverdag. Corona-krisen har påvirket udviklingen kraftigt, med stor fokus på håndfrie betalinger. Mon det vil påvirke vores forbrug, som man har set tidligere?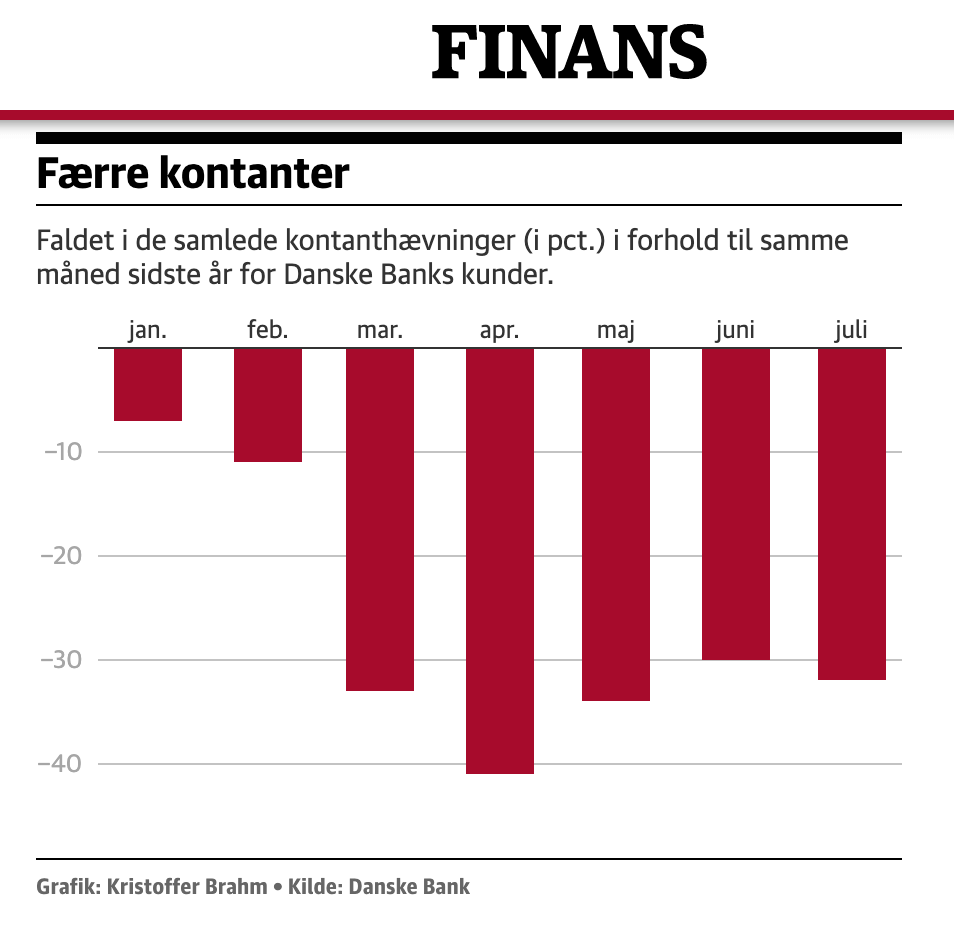 I 80'erne, hvor betaling med kort vandt frem, viste amerikanske undersøgelser, at vi er villige til at betale mere, hvis vi kan betale med kort. Man kaldte begrebet for Pain of Paying, fordi man næsten oplevede et tab, når man skulle aflevere kontanter fra pungen. Og vi kan jo ikke lide tab.
Men hvordan så i dag, hvor betaling med kort og digitale penge er normen?
Det har jeg set to undersøgelser af. Der er godt nok tale om interviews og ikke studie af adfærd. Desværre er det ikke altid, vi gør det vi siger, eller vi siger det vi gør. Men undersøgelserne indikerer, vi er ikke blevet bedre.
Den finansielle dannelsesrejse
Sydbank har lavet en undersøgelse – er desværre ikke offentlig endnu – af børns forhold til økonomi. De har talt med børn og forældre for at afdække en række spørgsmål.
Heraf fremgår det, at børn stadig starter med at lære om økonomi via mønter og sedler. De får dem som gave, belønning eller på anden vis fra forældre og andre relationer. De kan finde ud af at spare op, og kender også de forskellige mønter og sedlers værdi.
Mønter kalder de "børnepenge" mens sedler er "voksenpenge".
I ca 10-12 års alderen overgår de fleste til digitale penge og for flere går det desværre galt. De kommer til at købe for mere end de har.
De oplever altså stadig Pain of Paying.
Mobile betalinger – succesfaktorer og adfærdsmæssige konsekvenser
På CBS skrev Mia Olsen i 2019 en PhD om mobile betalinger og hvordan det påvirker vores adfærd. Her kigger hun på udbredelsen af blandt andet MobilePay og interviewer en gruppe mødre om deres anvendelse af MobilePay.
Hun kigger på unge mødre, da de blandt andet foretager en række køb af brugt babyudstyr fra andre forbrugere, hvor betaling nemt sker med MobilePay.
Og mødrenes oplevelse med MobilePay er delt i to. Den ene gruppe oplever øget selvkontrol og kun køber det de har brug for. Den anden gruppe oplever derimod, at de bruger flere penge end tidligere.
De fleste oplever altså fortsat stor forskel mellem betaling med kontanter eller kort/digitalt. Kontanter kan stadig gøre det nemmere at "tøjle forbrug".
Du kan læse Mia Olsens PhD her.