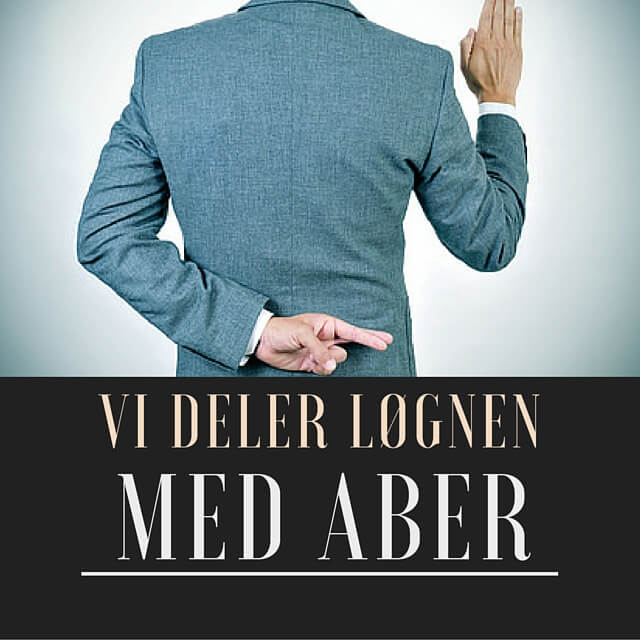 Vi lever alle med løgnen i hverdagen. Enten fordi vi selv lyver eller også fordi vi er udsat for at andre lyver for os. Løgn er dybt indarbejdet i os og måske er det også med til at gøre det nemmere at samarbejde.
VW gør det. De fleste af os har gjort det (se f eks En lille løgn). Noget tyder også på at vi ikke er ene om det – løgnen finder man nemlig også hos mange dyr.
En undersøgelse foretaget af professorerne Luke McNally og Andrew L. Jackson, har kigget på løgnen hos dyr og fundet nogle interessante kendetegn. Blandt andet tyder noget på, at jo mere samarbejde de forskellige dyr lever med, jo hyppigere finder man løgnen.
The more cooperation you find in a species, the more deception you're going to find
Så muligvis er løgnen en arv fra evolutionen og hænger sammen med vores evne og lyst til at samarbejde. Forstået på den måde at evolutionært har vi arvet evne og lyst til at samarbejde og en som en negativ sideeffekt har vi fået løgnen. Den giver nemlig nogle fordele – især for den der lyver.
De har undersøgt 24 forskellige racer fra lemurer til chimpanser og det viser at dyrene aktivt lyver. Løgnen bruger dyrene (og vi mennesker) til at dække nogle af de basale behov. De lyver for at få mad og sex men de lyver også for at bedre status i gruppen. Det kender vi også for mennesker – tænk blot på deltagerne i Robinson Ekspeditionen eller Paradise Hotel.
Men også i en mere udviklet verden er løgn en del af dagligdagen. Derfor er det måske smart at blive bedre til at se signaler på en løgn – det kan du lære mere om her.
Dan Ariely har også kigget nærmere på hvorfor vi lyver – det kan du høre ham fortælle mere om her.
Du kan læse deres undersøgelse af løgne blandt dyr fra 2013 her.