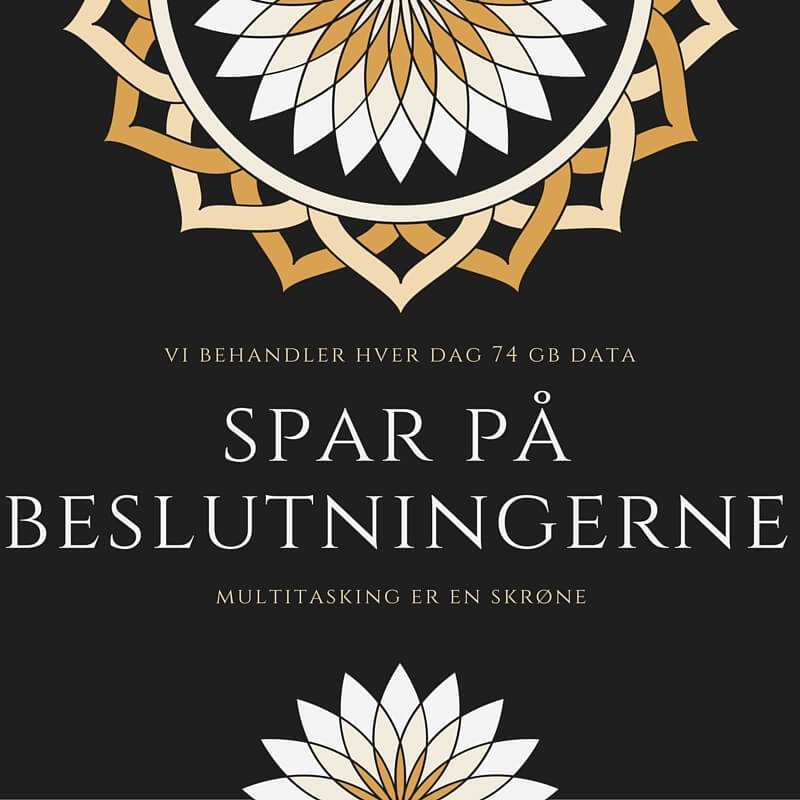 Vi bombarderes løbende med informationer vi skal tage stilling til. Hvad skal du have til morgenmad? Hvad skal du have på? Hvilken vej vil du køre på job? Hvad skal du have til frokost? Hvor skal du sidde til frokost? Skal jeg svare på den e-mail nu eller senere? Hvad skal jeg svare? Hvad skal du have til aftensmad? Hvad skal du lave om aftenen? For bare at nævne et par stykker.
Faktisk udsættes vi for informationer vi skal tage stilling til, der svarer til 74 GB data har University of Southern California regnet ud. Det svarer til datamængden på ni DVD'er.
Med et sådant dataflow er det kun naturligt at vi reducerer en stor del af disse beslutninger til vaner eller daglige rutiner. Der er jo ikke nogen god grund til at starte forfra hver dag. For eksempel hævdes det at Einstein, Steve Jobs og Zuckerberg, der alle er kendte for en meget simpel garderobe, har valgt at bære det samme tøj hver dag, for netop at slippe for at tage beslutninger om det.
Det har neurolog og psykolog Daniel Levitin forsket i og han har blandt andet skrevet bogen The Organized Mind. "Information overload" kalder han det, når vi skal behandle alle de data. Vi kan ikke kapere det og vi kan slet ikke multitaske på det niveau vi tror.
LÆS OGSÅ: Vi kan nu fokusere mindre end en guldfisk
Vi bliver simpelthen trætte i hjernen af alle de beslutninger vi skal tage. Derfor er det nødvendigt at opbygge en række rutiner, vi kan udføre på autopilot.
Du kan se Dr. Sanjay Gupta fra CNN kigge nærmere på dette i Vital Signs her:
Personligt har jeg nu ingen planer om at simplificere min garderobe på den måde. Det kan være jeg så aldrig bliver genial, men til gengæld ser da godt ud imens.