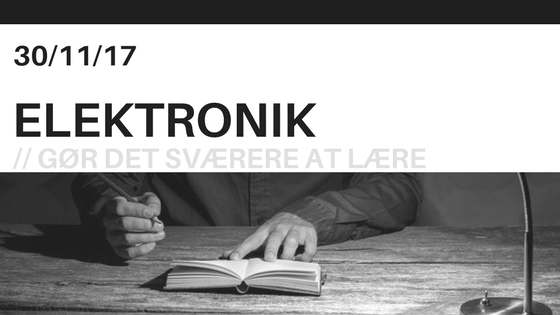 Smartphones, iPad's og laptops har vundet indpas på mange uddannelsesinstitutioner. Det er nemt at tage notater (og nemt at lade sig forstyrre). Mange skoler vil arbejde proaktivt med redskaberne "for det er jo det nye" men er det overhovedet frugtbart at inddrage i undervisningen? Ikke nødvendigvis peger et par undersøgelser på.
At den moderne elektronik påvirker os i hverdagen har meget peget på. Vi bliver måske ligefrem afhængige af smartphones og SoMe og det er ikke muligt at debatere længere da fakta hurtigt kan googles. En undersøgelse fra McCombs School of Business i Texas indikerer at den blotte tilstedeværelse af din smartphone gør dig lidt dummere.
Håndskrevne notater virker bedre
Hvis man ser et auditorium fra underviserens plads, vil billedet formentlig være domineret af bagsiden af laptops. De fleste studerende bruger nemlig laptops til at tage notater (og/eller til at være ajour på SoMe). Men er det fornuftigt at bruge tastaturet frem for papir og blyant?
For at teste om der var en forskel, gav man på Princeton University og University of California Los Angeles enten studende lov til at tage notater på en laptop eller på den gammeldaws facon med pen og papir. En test efter kurset viste, at de, der brugte laptop, havde en markant lavere forståelse for pensum på det pågældende kursus. Du kan læse mere om resultaterne her.
På York University og McMasterUniversity i Canada har man også kigget nærmere på laptops påvirkning af de studerende. Eller rettere kiggede de på hvordan det påvirkede andre i rummet. I stil med undersøgelsen fra McCombs School of Business viste det sig, at teknikken i rummet påvirkede de andre studerendes indlæring. Man bad studerende bruge deres laptop til ikke-studierelaterede opgaver i et klasselokale. Ikke overraskende påvirkede det deres egen indlæring men det påvirkede også de øvrige studerendes indlæring.
På United States Military Academy – også kaldet Westpoint –  lavede nogle professorer et forsøg på et kursusforløb. Der var tale om et økonomikursus, hvor man underviste i mindre grupper. Det udnyttede professorerne til at lave et forsøg, idet
et hold ikke måtte bruge elektronik under kurset
et andet hold kun måtte bruge elektronik der var på bordet hele tiden
det sidste hold ikke måtte bruge elektronik overhovedet
Da forløbet var slut viste resultaterne at deltagerne i det sidste kursus havde klaret sig markant dårligere end deltagerne i den første gruppe. Deltagerne i den anden gruppe havde også dårligere resultater. Du kan læse mere om resultaterne her.
https://hulemaendihabitter.dk/vore-teenagere-er-blevet-screenagere/