Julen nærmer sig og det er tid til at udfærdige ønskesedler og købe julegaver. Jeg har efterhånden nået den alder, hvor jeg ikke rigtig ønsker mig noget. Jeg er næsten havnet i "underbukser eller bælte" kategorien. Og så alligevel ikke for jeg er meget kræsen (de fleste kan faktisk bedst lide at få det på ønskesedlen).
Men måske skyldes det ikke kun min fantasiløshed men snarere en lyst til at få bløde pakker? Det kan et dansk forsøg tyde på da det netop viser at mænd foretrækker bløde pakker.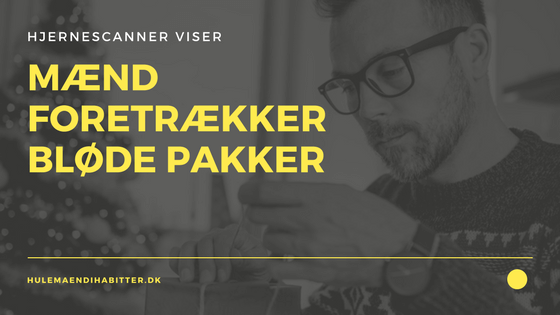 I et samarbejde med professor Jesper Clement fra CBS har Trendhim.dk prøvet at undersøge, om mænd foretrækker bløde eller hårde pakker. Jesper Clement forsker og underviser i neuromarketing og borger for kvaliteten af undersøgelsen. Man skal nemlig passe på, når en undersøgelse foretages af nogen, der har interesse i en bestemt adfærd (som da InterFlora sammen med Dr Love viste at vi blev glade af at give).
Trendhim og Jesper Clement har testet ni mænd mellem 22-34 år med mobil EEG-scanner, der placeres på hovedet. 66 % af deltagerne troede de ville foretrække hårde pakker, men hjernescanningen indikerer at 88 % foretrak bløde pakker. Udslagene i forsøget var simpelthen større på de bløde pakker.
Så måske Anders Hemmingens opslag på Instagram slet ikke er så skidt endda: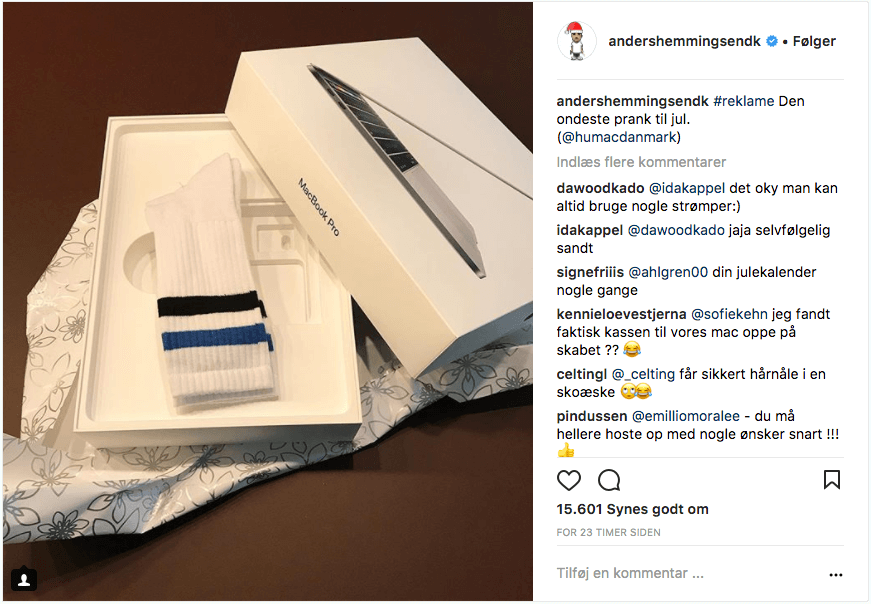 Mere om undersøgelsen fra Trendhim.dk:
Ni personer deltog i undersøgelsen. De mødte op til testen uden at vide, hvad der skulle ske, bortset fra at de skulle deltage i en undersøgelse omkring hjernebølger.
Undersøgelsen var kvalitativ og havde til formål at undersøge, hvorvidt der forelå indikationer for, at personer siger én ting, mens hjernen udsender signaler, der giver udtryk for det modsatte. På grund af den kvalitative tilgang kan testresultaterne ikke defineres som endegyldige beviser, men skal snarere ses som påviste tendenser eller stærke indikatorer. Selvom adskillige af deltagerne i testen kommer fra forskellige lande, og derfor har forskellige kulturelle baggrunde, så har vi valgt at ignorere den indflydelse, det måske kan have haft på resultatet.
Målet med undersøgelsen var at studere dét faktum, at mennesker kan sige én ting, selvom hjernen indikerer, at de mener det modsatte. Deltagerne i testen var i aldersgruppen 22 – 34 år. Alle testpersonerne var mænd. Testpersonerne blev alle stillet de samme spørgsmål. For at undgå bias, på grund af den rækkefølge testpersoner modtog gaverne på, fik fem deltagere først de hårde pakker, mens de resterende fire testpersoner fik de bløde pakker først. Testen blev foretaget i et miljø med så få tilstedeværende stimuli som muligt for at undgå, at udefrakommende stimuli ville påvirke resultaterne.
Testen blev foretaget i et lokale med 3 kameraer, 6 lamper og 1 mikrofon. Vi er opmærksomme på, selvom det er usandsynligt, at setuppet til en vis grad kan have indflydelse på nøjagtigheden af de indsamlede data. At filme undersøgelser, hvor udfaldet helst skal være underholdende at se på, vil, på grund af de udefrakommende stimuli, altid øge risikoen for unøjagtige resultater.
Testene blev optaget ved brug af Emotiv's software – EmotivPRO. Trendhim er klar over, at de ikke selv har tilstrækkelige ressourcer til at opnå en dybere forståelse af de registrerede data, eller indsigt i hvordan de helt præcist skal tolkes. Derfor benyttede de en app, MyEmotiv, som tolker alle data, og gør dem mere forståelige.