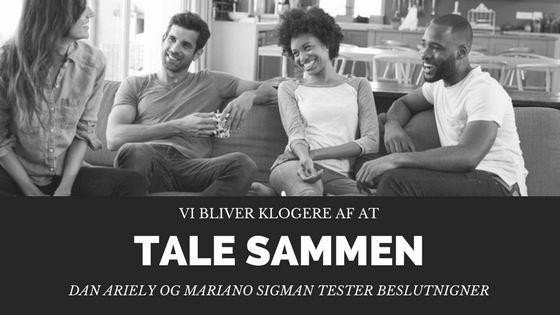 Efter et veloverstået kommunalvalg er det relevant med et indlæg om gruppers evne til at tage beslutninger. For er grupper klogere end individer? Nogle vil måske mene at valget af Trump i USA indikerer, at det ikke er tilfældet.
Meget bygger på at "sammen er vi klogere". Det kan godt være nogle har rabiate holdninger eller tager fejl, men sammen med mange andre udvandes disse og kompromis og bedre valg opstår.
Men er det sådan i virkeligheden? Er gennemsnittet af vore handlinger bedre kvalitet? Ikke nødvendigvis viser mange eksempler. Jeg kan nævne i flæng boligpriserne op til finanskrisen, internetboblen, hipster-bølgen (der jo netop handlede om individualitet, men som forskere har påvist, fører jagten på individualitet til konformitet) og South Sea boblen i 1720'erne. Allesammen eksempler på individers ageren, der ikke førte til noget godt samlet set.
Det har forfatter og adfærdsøkonomen Dan Ariely fra Duke University og forfatteren til  bogen The Secret Life of the Mind, Mariano Sigman, kigget nærmere på. Ved flere TED-events har de lavet forsøg med deltagerne – både individuelt og i grupper.
Blandt andet skulle deltagerne tage stilling til nogle faktuelle spørgsmål som hvor højt er Eiffeltårnet? Derefter skulle de i små grupper blive enige om et samlet svar. Her viste det sig at forsamlingens samlede svar blev bedre af dialogen i små grupper.
I et andet forsøg skulle deltagerne tage stilling til mere moralske dilemmaer. Her blev svarene også bedre under visse forudsætninger.
Det tyder altså på at vi bliver klogere og bedre til at træffe beslutninger af at tale med hinanden. Det er så desværre ikke det vi gør mest af i den tid vi lever i, for jeg er ikke sikker på at debatten på sociale medier er med til at gøre os bedre til at træffe beslutninger.