Nu nærmer juletiden sig med alle dens fristelser. Det er tradition for hygge og samvær – og det betyder ofte at vi mødes over et fyldt bord. Det er en situation forbundet med stor risiko for at indtage FOR mange kalorier. Få indblik i et par af de fejl vi begår.
Du tænker måske, at du tager gode beslutninger omkring mad. Det kan godt være, men da vi ca tager 200 beslutninger omkring mad dagligt, kan de ikke alle være lige gode. Nogen af dem træffer vi i højere grad med øjnene og maven end med hjernen.
Vi spiser mere når vi er sammen med andre. Det kan der være mange gode grunde til – for eksempel spiser vi ofte længere, når vi spiser sammen med andre. I det hele taget varer måltider meget længere i dag – hør Martin Lindstrøm fortælle om det i denne video (lidt et sidespring, men jeg synes det er interessant):
Som Martin Lindstrøm fortæller ovenfor, er de sociale medier blevet en integreret del af mange måltider. Det kan være farligt, for det kan også få os til at spise mere!
Mænd spiser for at imponere kvinder
Den amerikanske professor Brian Wansink forsker i, hvordan vi reagerer på mad i forskellige situationer på The Food and Brand Lab. Han har blandt andet skrevet bogen Mindless Eating som jeg varmt anbefaler – måske en ide til et julegaveønske? (Der står dog også noget om vores uheldige omgang med mad i Hulemænd i habitter).
Han har blandt andet kigget på de sociale effekter af et måltid og blandt kunnet konstatere, at mænd spiser mere, når de spiser sammen med kvinder. I et forsøg spiste mændende 93 % mere end de mænd, der spiste uden kvindeligt selskab.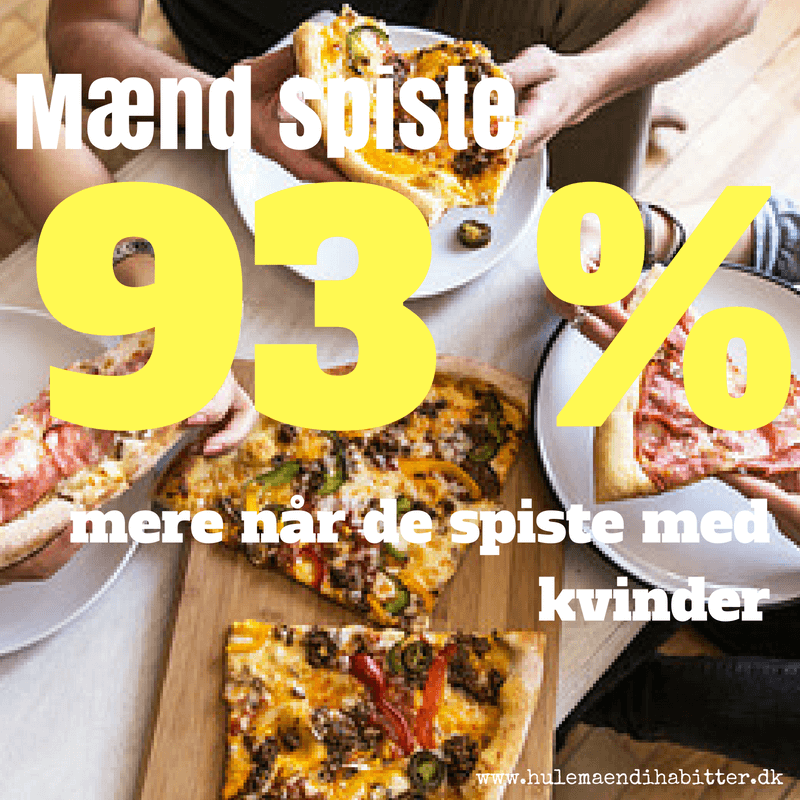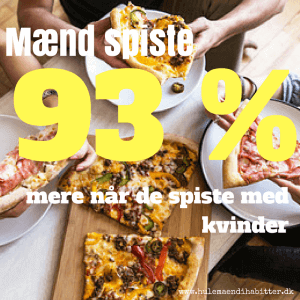 Den forklaring forskerne hælder mest til er, at mænd spiser for at imponere kvinder.
Lys og lyd
Lyden og lyset kan også påvirke vores indtag. Hvis din familie er af den støjende slags kan det få dig til at drikke mere. Det har franskmanden George Prochnik kigget på i hans bog In Poursuit of Silence. Han fandt ud af, at mere larm fik folk til at drikke næsten 4 genstande mere i timen.
Skarpt lys får os til at spise hurtigere og hyggelys det modsatte. I denne undersøgelse førte det til at deltagerne spiste for meget i stærkt lys og spiste mindre i hyggebelysning.
Store tallerkner = flere kalorier
De fleste vil hævde at de spiser en portion. Men hvor meget er en portion? Det ender i ofte med at handle om tallerkenens størrelse. Prøv blot at se på de to sorte cirkler i denne illustration. Hvilken er størst?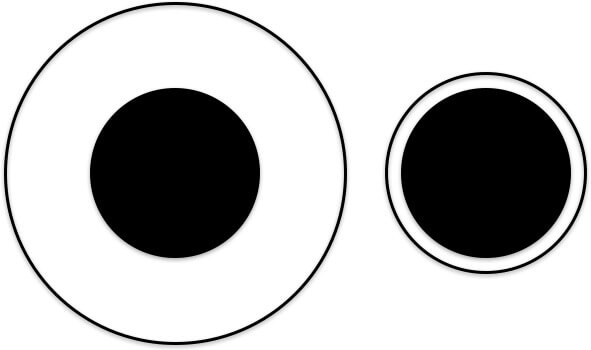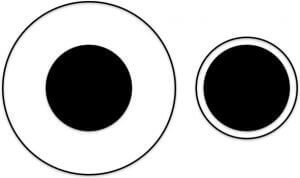 Mange vil hævde at den til højre er størst, men faktum er at de er lige store. Det kaldes Delboeufs illusion (er i familie med Ebbenhaus' illustration). Noget tyder på at vi spiser en del mere når vi bruger store tallerkener. En undersøgelse peger på 56 % mere!
At det også passer i virkeligheden har Brian Warsink også forsket i. Se et par eksempler om hans forskning i tallerkenstørrelse her:
Farven påvirker
Det er ikke kun størrelsen på tallerkenen, der påvirker. Farven på tallerkenen gør også!
Har maden vi spiser samme farve som tallerkenen, tager vi større portioner. Det skyldes igen den optiske illusion, for maden syner jo ikke af ret meget på tallerkenen, når farven er den samme!
Farver kan også påvirke selve smagen. Det måtte CocaCola sande da de i en kampagne solgte deres drik i en hvid dåse. Folk klagede over smagen, selv om det var den samme drik den indeholdt!
Så der er mange forhold at tage højde for. Noget tyder på at det perfekte måltid – kaloriemæssigt – spises alene, af en lille tallerken i en grim farve i et rum uden larm og i skæret fra et stearinlys.
Men det lyder også kedeligt, så måske man bare skal give los og i stedet ændre levevaner til januar?