Investorer er ofte dårlige til at time køb og salg. En analyse fra Morningstar, viser at det også gælder for investeringsforeninger – især for aktive investeringsforeninger.
Morningstar har siden 2005 analyseret på investorers faktiske afkast i investeringsfonde. De officielle markedsafkast måler afkastet, hvis man har den samme investering i hele perioden mens Morningstar måler afkastet med de faktiske formueforhold. De tager højde for hvornår investorerne køber og sælger ved at måle det formuevægtede afkast.
Tallene viser – ikke overraskende – at investorerne er dårlige til at time deres investeringer. De faktiske afkast er nemlig lavere end de officielle afkast.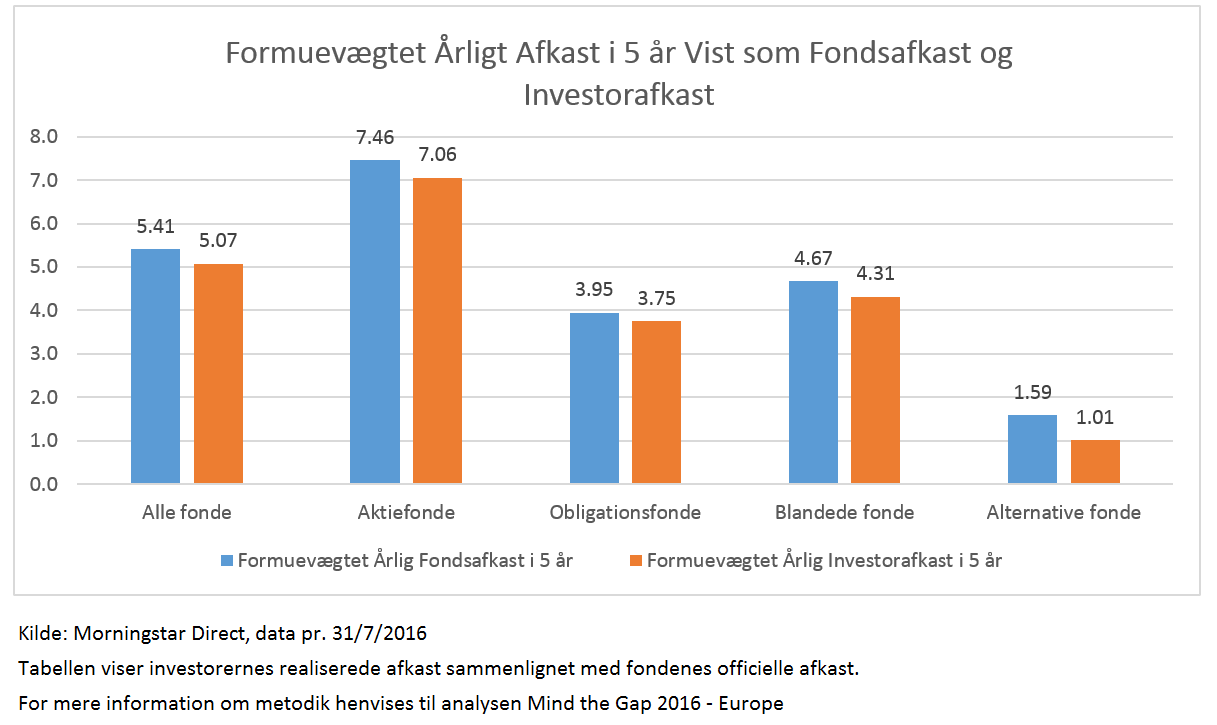 I aktiefonde har investorerne altså fået 0,40 %-point mindre i afkast end de officielle tal viser.
Løber efter vindere
En interessant detalje i analysen, er at forskellen i afkast er størst på aktive investeringer. På indeks-baserede produkter er de to afkast mere ens.
De indeks-baserede er typisk køb-og-behold, mens mange investorer handler mere med de såkaldte aktive investeringsforeninger. Man forsøger måske at købe, når man synes det er billigt og sælge, når man synes det er dyrt. Eller man læser om en fond, der har givet gode afkast og vil være med.
Mange investorer løber efter vindere. Investeringsforeninger, der har klaret sig godt, oplever tit inflow fra nye investorer. Folk vil med på succesen. Men – som der også står på alt materiale fra investeringsforeninger – historisk performance er ikke lig fremtidig performance.
Læs om fire fejl typiske investorer gør ved at klikke her.
Pas på markettiming
Det er ikke den første analyse, der viser problemer med markettimingen. Det er svært at forudsige fremtiden og derfor er det svært at time sine køb eller salg.
For eksempel kan sådan noget som følelser komme i vejen for de rigtige beslutninger. De gør nemlig, at vi tit har lyst til at købe når det er steget. Omvendt har vi meget lidt lyst til at købe når det er faldet (hvilket ellers kan være en god ide!).

Mit råd er at fokusere på en køb-og-behold strategi. På basis af ens risikoprofil skal man have en aktiv-allokering (fordeling mellem aktier og obligationer) som man følger. Med jævne mellemrum – f eks en gang årligt – skal porteføljen rebalanceres. En rebalancering bringer porteføljen tilbage til udgangspunktet:
Har aktier klaret sig bedre end obligationer, har man for mange aktier i sin portefølje. Man skal derfor sælge lidt aktier og købe obligationer.
Har aktier klaret sig dårligere end obligationer, har man for få aktier i sin portefølje, Man skal derfor sælge lidt obligationer og købe aktier.
Mange tests har vist at dette både sikrer bedre afkast og lavere risiko.
Du kan læse hele Morningstars rapport, Mind the Gap her.