Du har sikkert også hørt at konkurrence er godt, for det får os til at yde mere. Yde mere for at blive bedre end dem der er bedre end os. Desværre forholder det sig ikke helt sådan når man tester os.
Konkurrence fremhæves ofte som godt for performance på mange områder. Fordi det skulle få os til at yde det bedste og søge at blive bedre. Desværre er det ikke altid sådan det gør. En gruppe forskere har undersøgt hvordan vi reagerer i konkurrencesituationer – og resultatet er ganske overraskende!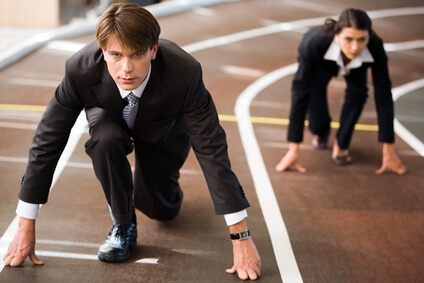 Nathan C. Pettit og Robert B. Lount Jr. har kigget på hvordan grupper reagerer i en konkurrencesituation. En gruppe frivillge studerende skulle løse opgaver i konkurrence med andre lignende grupper. Det var i hvert fald det de fik at vide, for i virkeligheden var de ikke i konkurrence med andre, undersøgelseslederne lod bare som om.
Opgaven der skulle løses var meget simpel – gruppen skulle finde anvendelsesmuligheder for en kniv. Ikke en opgave der kræver høj IQ eller boglig indsigt, hvilket man også gjorde grupperne opmærksomme på. De enkelte grupper blev så forklaret at de enten konkurrede mod lignende grupper fra universiteter med højere status eller fra universiteter med lavere status.
Undersøgelsen viste, at vi yder mere når vi konkurrerer. Det overraskende er at vi ikke yder mere, når vi konkurrerer mod nogen der er bedre. I den situation fandt grupperne det samme antal anvendelsesmuligheder som kontrolgruppen, der ikke konkurrede mod nogen.
De grupper, der konkurrede mod en gruppe fra et universitet med lavere status, performede derimod ca 33% bedre!
Hvorfor der er denne forskel vides ikke konkret, men der er formentlig tale om noget man kalder "conservation of effort" involveret. Hvorfor yde sit bedste når man skal konkurrere med nogen man ved er bedre? Faktorer der dagligt spiller ind i sportsverdenen, og eksempelvis Tiger Woods kunne en overgang få andre spillere til at give op på forhånd.
En anden mulighed kunne være en sammenhæng til vores aversion mod tab som man kender fra investorpsykologien. Vi kan lide at vinde, men vi HADER at tabe.Når man konkurrerer mod nogen man tror er bedre, er det ikke så slemt at tabe. Men det er ganske forfærdeligt at tabe til nogen man tror er dårligere.
Konkurrence får altså ikke alle til at performe bedre. Dem der i forvejen er dårlige – eller tror de er dårlige – giver ikke deres bedste og øger derfor ikke deres performance. Dem der i forvejen er gode – eller tror de er gode – performer til gengæld bedre for at mindske risikoen for at miste status.
Bare hvis du skulle undre dig og måske have lyst til at konkurrere mod disse grupper, så fandt kontrolgruppen 31 anvendelsesmuligheder (31!) for en kniv, mens de bedste grupper fandt 41!
Undersøgelsen er lavet af Nathan C. Pettit fra Cornell og Robert B. Lount Jr. fra Ohio State University og er offentliggjort i Journal of Experimental Social Psychology.
Du kan finde hele undersøgelsen her.