Hvilken sodavand vælger du på en menu? Formentlig ikke den, der svarer til din tørst. Forskning viser nemlig, at de flestes valg påvirkes af hvordan valget opstilles.
Det er ikke lige meget, hvordan vi viser valgmuligheder overfor vore kunder. Vi kan faktisk påvirke valget i stor grad.
Det så man blandt andet i et forsøg hvor deltagerne skulle vælge mellem forskellige kameraer fra Minolta. I første omgang skulle de vælge mellem disse to:
Et kamera til 170 USD
Et lidt bedre til 240 USD


Med to valgmuligheder fordelte deltagernes valg sig nogenlunde ligeligt mellem de to kameraer. Sådan bør det – statistisk set – også være.
Men så introducerede de et nyt og bedre kamera til en pris på 470 USD. Deltagerne skulle nu vælge mellem:
Et kamera til 170 USD
Et lidt bedre til 240 USD
Høj kvalitet til 470 USD


Statistisk set burde deltagernes valg være ligeligt fordelt mellem de tre valgmuligheder ligesom man så i første runde. Men sådan gik det ikke. Cirka 57 % købte kamera 2 mens de to andre kameraer hver blev valgt i hhv 22 % og 21 % af tilfældene.
Det nye kamera skubbede altså deltagernes valg ind mod den midterste mulighed og det skyldes, at vi ikke kan lide at vælge de yderste valgmuligheder.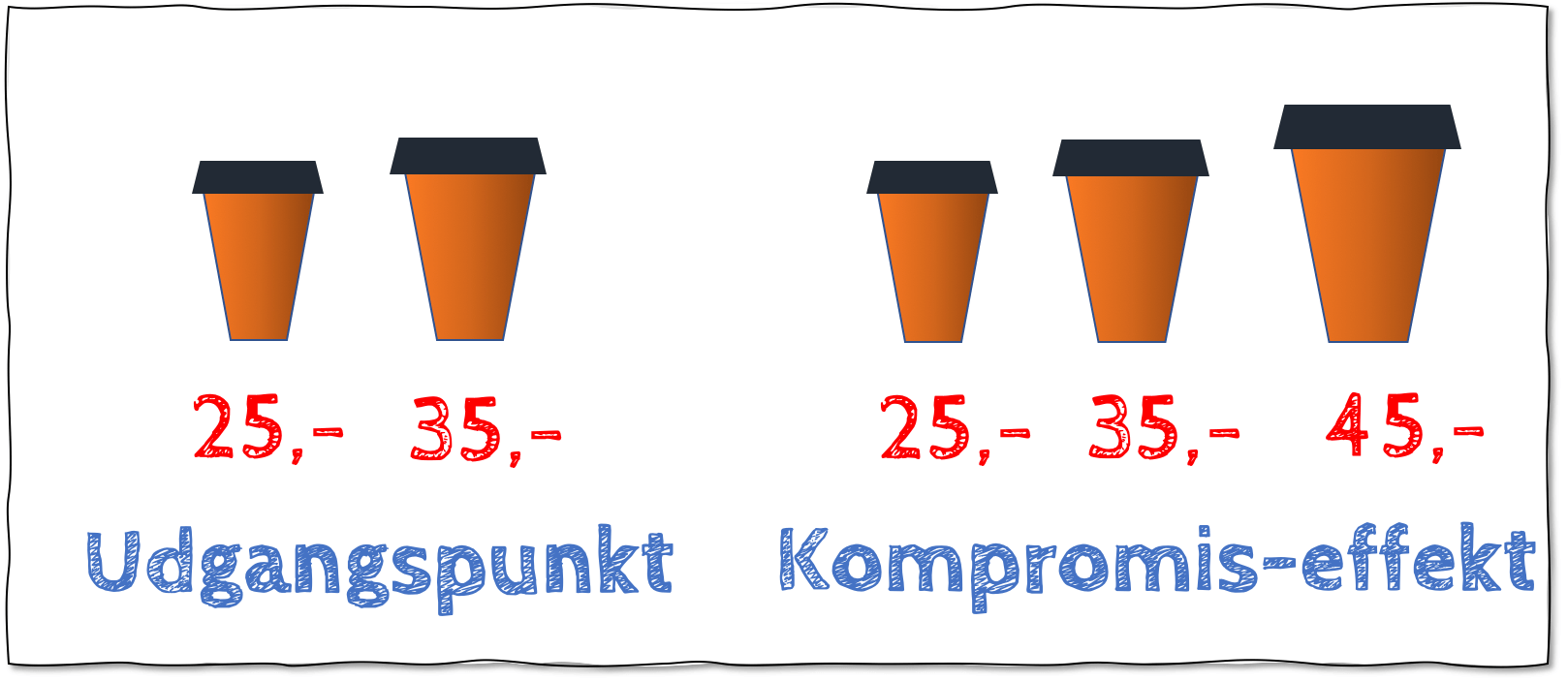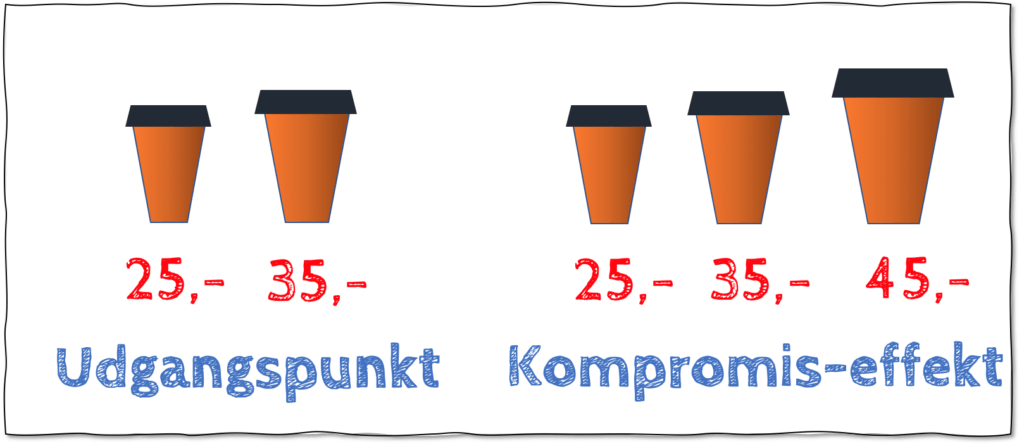 Tabsaversion på banen
Hvorfor vi vælger sådan, kan blandt andet forklares med vores tabsaversion. Tabsaversion handler om, at vi oplever at tab gør mere ondt end gevinster gavner os. Her er der ikke direkte tale om tab og gevinster, til gengæld er der tale om, at man kan gå glip af eller få muligheder på et kamera.
I det opstillede valg er vi bange for at miste noget, ved at vælge den billigste version, og samtidig oplever vi ikke stor nok gevinst ved de ekstra muligheder i det dyreste kamera.
Sælg mere
Du kan påvirke dine kunders valg, ved at tilbyde dem flere valgmuligheder. I andre forsøg har man fået deltagerne til at vælge dyrere øl, ved at tilføje en tredje dyrere øl. Man solgte ikke mange af de dyre øl, men til gengæld valgte kunderne generelt dyrere øl og øgede dermed virksomhedens omsætning.
Giv referencerammer
Nogen varer og services har de fleste en ide om prisen på. Mens andre varer og services køber vi så sjældent, så vi ikke aner hvad de koster. Hvad koster en hjemmeside for eksempel? Det er svært at besvare og svarer næsten til at spørge "hvor lang er en elastik" for det afhænger jo af valg.
Sælger du en af den slags varer eller serviceydelser, som mange ikke kender prisen på kan du gøre som HTH.
I HTH kan du købe mange køkkener og en række af dem kan du tilmed få i tre priskategorier:
HTH Go
HTH du monterer
HTH monterer
Ved at give tre muligheder for service, kan HTH hjælpe med at fastsætte kundernes referenceramme for et køkken. Så kan kunderne selv vælge til og fra på service-niveauet.
Måske du skulle overveje at tilføje en valgmulighed i dit udbud? Men husk, at den du helst vil sælge skal være i midten!
Du kan læse mere om forsøget med Minolta her.