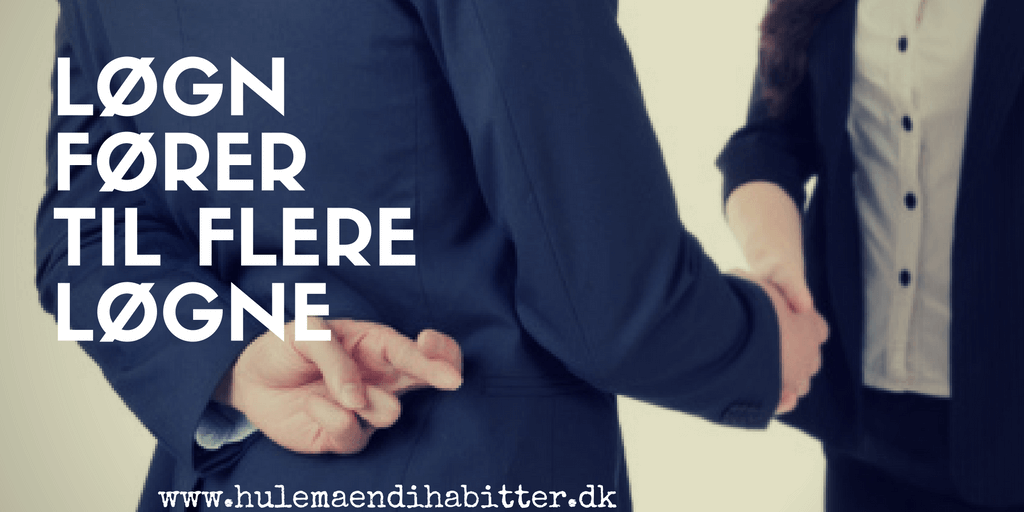 De fleste af os lyver lidt hver dag. Ofte små løgne, men ny forskning indikerer, at det kan være farligt. For jo oftere man lyver, jo mindre lægger man selv mærke til det.
Undersøgelser peger på, at de fleste lyver ti gange ugentligt. Det kan være ganske små løgne, men et udsagn, der ikke er sandt, er en løgn i denne sammenhæng – uanset størrelsen af bedraget! Nogen gange lyver vi for egen vindings skyld, andre gange for at hjælpe vore omgivelser. "Nej vi har ikke noget chokolade", siger min kæreste nogen gang, selvom vi har. Men hun vil hjælpe mig til ikke at spise det.
Men måske man skal passe lidt på med de løgne? For vi kan vænne os til dem og så lægger vi ikke selv mærke til når det sker. Så har man måske lige pludselig fået en masse penge fra EU på baggrund af falske programmer for nogle møder, eller lavet nogle falske leasingkontrakter på noget software.
For flere indlæg om løgnen – se her.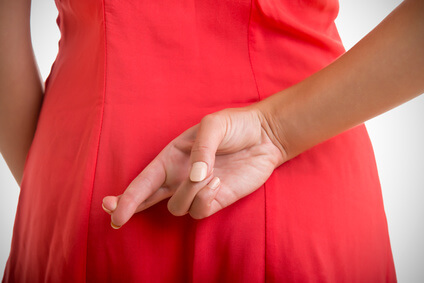 Tilbage til den nye undersøgelse, der indikerer at vi kan vænne os til at lyve.
Belønning fører til løgn
Når man lyver giver det udslag i hjernen i noget, der hedder amygdala. Det er det samme sted, der giver udslag når vi ser nuttede kattebilleder på internettet.
Men selv de nuttede kattebilleder kan vi få nok af og det skyldes at amygdala stopper med at reagere på dem. Og på samme måde stopper amygdala med at reagere når vi lyver, hvis vi lyver igen og igen.
Det har forskere fra University College London og Duke University fundet ud af i et projekt, der har fået titlen The brain adapts to dishonesty.
Forsøget var en udvidet version af det kendte Løgn eller Tænkeboks. I forsøget skulle testpersonerne, hjælpe andre med at gætte, hvor mange mønter et syltetøjsglas indeholdt. Testpersonerne fik oplyst beløbet og skulle så hjælpe den anden på vej, under forskellige scenarier, hvor løgn blev belønnet. For eksempel kunne:
Testpersonen blive belønnet, hvis den anden gættede forkert
Begge blive belønnet, hvis de gættede forkert
Testpersonen blev straffet, mens den anden blev belønnet for at lyve
Undersøgelsen viste klart, at deltagerne løj, når de blev belønnet for at gøre det. Det viste også at løgnen blev større i løbet af forsøget.
Løgnene var størst, når begge parter havde glæde af løgnen. Når kun den anden person blev belønnet, var løgnen konstant igennem hele forsøget.
Vi er altså villige til at lyve for egen vindings skyld – men også for andres.
Hjernescanning viser aftagende reaktion
Nogle af testpersonerne fik desuden foretaget en fMRI-scanning af hjerneaktiviteten, mens de deltog i forsøget.
Scanningerne viste at aktivitet i amygdala i starten. Men i løbet af spillet blev aktiviteten mindre og mindre. Amygdala reagerede altså mindre på løgnen efterhånden som deltagerne havde løjet nogle gange.
Løgnen udløste en negativ reaktion i hjernen, men denne negative reaktion aftog når man fortsatte med at lyve.
We show that signal reduction in the amygdala is sensitive to the history of dishonest behaviour, consistent with adaptation
Faktisk mener forskerne at kunne påvise en sammenhæng mellem reduktionen af aktivitet i amygdala og den efterfølgende løgn. Jo større reaktion i aktiviteten jo større var den efterfølgende løgn.

Noget tyder på at der tale om det man kalder en 'glidebane', når man først går i gang med at lyve. Det bliver nemmere at lyve hen ad vejen. Første gang du lyver eller snyder holder aktiviteten i amygdala lidt igen på størrelsen. Men næste gang og næste gang igen…..
https://hulemaendihabitter.dk/forskellig-moral-over-dagen/
Du kan læse mere om undersøgelsen her eller finde selve undersøgelsen her.