Kan man motivere rygere til ikke at ryge debateres i disse dage. Men kan man motivere med belønning?
Det ville psykologerne Mark Lepper, Stanford University, og David Greene, University of Michigan, undersøge ved at kigge på børn på 3-4 år.
Børnene var alle glade for at tegne og man ville se om de kunne motiveres til at tegne mere via belønning. De blev inddelt i tre grupper, der belønnedes forskelligt:
Forventet belønning – børnene blev stillet en belønning i udsigt.
Ingen belønning
Overraskende belønning
Alle børnene skulle tegne i seks minutter og blev belønnet som ovenfor. Derefter målte man hvor meget de tegnede de følgende dage, for derved at se på om de blev motiverede til at tegne af at få en belønning. Det viste følgende resultat: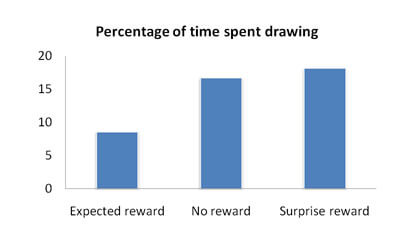 Forventede børnene en belønning tegnede de mindre. Faktisk vurderedes deres tegninger også til at være mindre pæne. Derimod tegnede de to andre grupper mere.
Læs også: Bonus giver tunnelsyn
Man kan altså ikke sådan lige motivere med belønning. Undersøgelsen er også lavet med rygere. S. Curry lavede eksperimenter med rygestop. En gruppe fik belønning mens en anden ikke fik. Resultatet var, at rygere der belønnedes havde større tendens til at begynde at ryge igen.
En anden undersøgelse peger på at det kan virke for nogen rygere. Andre rygere har så stor trang at udsigten til belønning ingen effekt har. Her lavede de blandt andet scanninger af hjerner, for at kigge på udslag i hjernens belønningscenter.
Økonomisk belønning har ikke vist sig at have overbevisende effekt som motivator. Faktisk tværtimod, da opgaven kan skifte fra noget sjovt til at være mere arbejds-agtig.
Læs også: Skræmmebilleder uden effekt
Du kan læse undersøgelsen om tegnende børn her og undersøgelsen af rygere her.