Fra tid til anden udråbes finansfolk til eksperter og næsten orakler. Men det kan være et spinkelt grundlag! Husk at vurdere historien bag overskriften.
I min tid på de finansielle markeder er jeg stødt på flere, der af medier udråbes til eksperter. Enten forudså de et krak eller købte på bunden. Fakta er dog, at det er sjældent at de kan gentage succesen. Eller at deres forudsigelse måske kom meget tidligt.
Avisen skal ud og sensationshistorier sælger – eller giver klik i vore dage. Derfor kan det være interessant at komme med sådanne overskrifter. Det giver også en blåstempling af udsagnet.
Et eksempel på det kunne man opleve på TV2 i ultimo oktober 2016.
Han forudså nedturen
En af de populære danske aktier, Novo, har haft et miserabelt 2016. Aktien er gået fra kæledægge til årets børsfiasko (måske bortset fra Nets) på rekordtid og har mistet 40 % af sin værdi.
Det valgte TV2 Nyhederne at sætte fokus på med denne overskrift:
Han forudså nedturen hos Novo Nordisk: – Bunden er slet ikke nået
Manden bag overskriften var analytiker Dominick Beskos. I en historie i Børsen den 29. oktober 2014 blev han citeret for at forudsige store kursfald i Novo-aktien. Novo er vildt overvurderet var overskriften på den artikel.
Nu fulgte TV2 Nyhederne op med en artikel og et indslag i deres nye satsning, Business. De skrev blandt andet:
Og dét er netop, hvad der er sket for Novo Nordisk, der har oplevet stor konkurrence på markedet i USA, hvor priserne på Novos insulin er blevet presset ned.
Så må Dominick jo være en helt, da han forudså nedturen?
Eller måske ikke. For kursen var ca 255, da han forudså de store kursfald. Siden da har aktien været i 410 – en stigning på over 60 % – og er nu faldet til ca 240, som du kan se af denne graf fra Nasdaq OMX: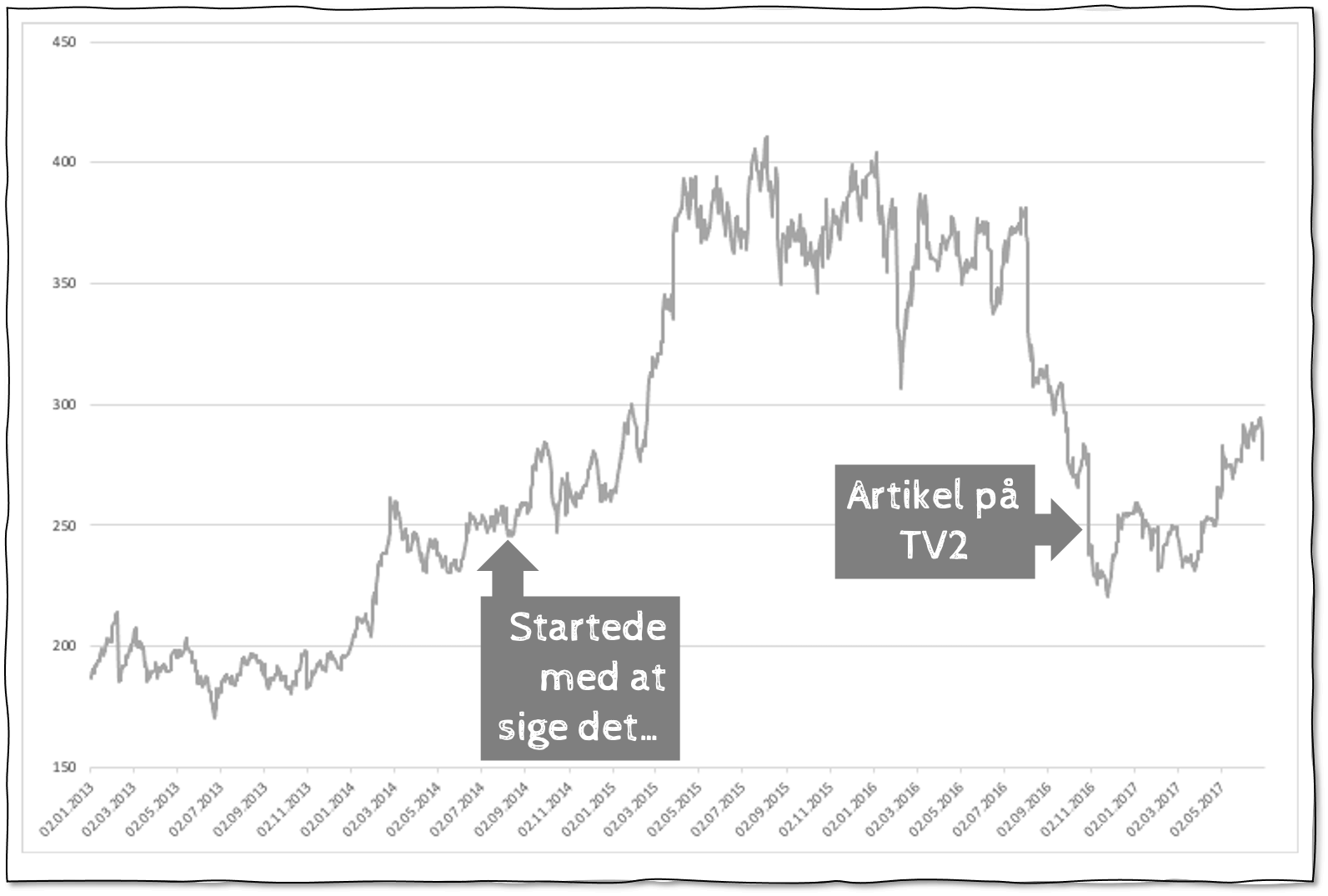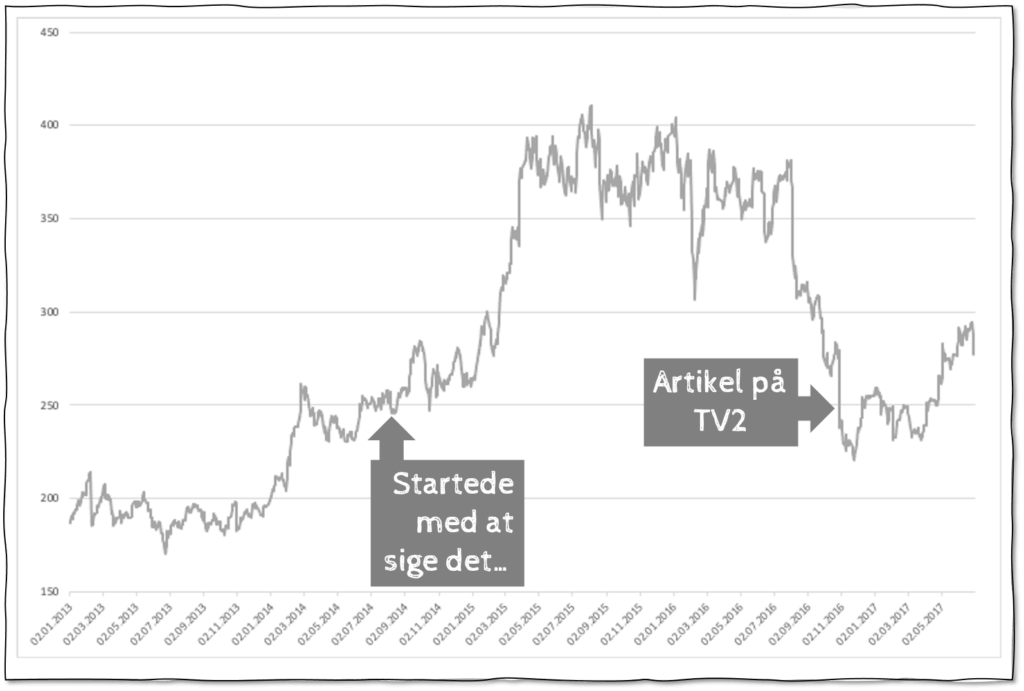 Det må have været rigtig svært at følge hans råd hele tiden siden oktober 2014. Og gevinsten er – indtil nu – ganske begrænset.
Hvorvidt Novo skal længere ned eller vil begynde at stige skal jeg ikke udtale mig om. Men at hævde, at Dominick Beskos forudså nedturen, er at stramme den.
Timing er vigtig for analytikere
Da jeg var en ung og håbefuld investeringsrådgiver i Sydbank (faktisk sad Dominik Beskos på samme tid i Sydbank i København og var meget optaget af græske aktier), oplevede jeg et andet godt eksempel på vigtigheden af timing. Især for analytikere.
En kollega havde forelsket sig i en amerikansk landbrugsvirksomhed, Allied Products. Han havde kontakt til direktøren og fulgte den meget nøje.
Så vidt jeg husker anbefalede han køb på kurs ca $25. Kort efter faldt den kraftigt til under $10.
Kollegaen rejste til Jyske Bank, hvor en af mine gode venner arbejdede. Efter nogle måneder fortalte han om en fantastisk analytiker, de havde fået i banken. Han havde anbefalet en amerikansk aktie på ca kurs $5 og den var nu steget med over 100 %! En fantastisk analytiker mente min kammerat.
Det viste sig at det var samme Allied Products han havde anbefalet.
Mine kolleger (og deres kunder) i Sydbank delte ikke helt entusiasmen – de havde jo stadig tabt over halvdelen af deres investering.
Timing betyder meget – han var helt det ene sted og skurk det andet.
(Analytikeren her er reelt en dygtig fyr og han har efterfølgende opbygget og solgt et investeringsfirma med en stor fortjeneste. Hans nuværende investeringsforeningen fremhæves fra tid til anden for sin gode performance.)
Timing svær for investorer
De to historier er gode eksempler på det velkendte udsagn: Det er svært at spå – specielt om fremtiden.
Derfor skal man som investor passe på med at lade sådanne udtalelser og anbefalinger få for stor betydning for sine investeringer.
Jeg er varm fortaler for at anvende en langsigtet passiv strategi, hvor man har en bred portefølje. Så skal man ikke handle så tit og blot med jævne mellemrum rebalancere porteføljen.
Rebalancering betyder at man bringer porteføljen tilbage til sit udgangspunkt. Er aktier steget meget et år, vil man have for mange aktier i sin portefølje. Derfor skal man sælge og bringe porteføljen tilbage til udgangspunktet. Er aktier derimod faldet skal man købe aktier.
Resten af tiden behøver man ikke følge med i markedet.
Vil man derimod have en aktiv strategi, mener jeg det er meget vigtigt at have defineret strategien på forhånd. Hvornår vil man købe og hvornår vil man sælge. Man skal nemlig ikke lade følelserne – eller medierne – påvirke den slags beslutninger.
For begge gælder at et vigtigste er at følge strategien. For man vil altid være fristet til at bryde den, hvis der for eksempel kommer et stort fald i en folkekær aktie som Novo. Så kan man jo lige købe lidt…..