Det er ikke ligegyldigt, hvordan alternativer placeres i en menu. Placeres sund mad til venstre, vælger flere at spise sundt.
Det er blevet mere normalt at virksomheder blander sig i ansattes helbred. Min søns arbejdsplads har netop tilbudt rygestop til deres medarbejdere og andre steder forsøger man at få medarbejdere til at dyrke mere motion.
Belønning virker ikke
I nogle situationer belønner man økonomisk for at få en ønsket ændring i adfærd. Belønning er dog ikke altid god som motivation, hvilket blandt andet fremgår af en undersøgelse fra University of Pennsylvania Center for Behavioral Economics and Health Incentives.
Her deltog 200 personer i et forsøg omkring vægttab. Halvdelen fik mulighed for en gevinst på $550, hvis de tabte sig. Den mulige gevinst havde dog ingen effekt, da deltagerne tabte det samme som den halvdel, der ikke fik økonomisk gevinst.
Til gengæld virker det at true med tab. Det kan du læse mere om her.
Det er svært at komme udenom nudge eller nudging, hvis man vil påvirke til bedre valg. Nudging er forsøg på at komme frem til en ønsket adfærd uden at komme med forbud, forhindre valg eller på anden måde tvinge nogen. (Du kan læse mere om nudging her.)
Sund mad til venstre
I en undersøgelse offentliggjort i Journal of Consumer Research har man kigget på effekten af sund mads placering i restauranters menuer. Mange forsøg med nudging har vist, at fysisk placering af mad har betydning for kunders/gæsters valg.
Gør det samme sig gældende i restauranters menuer?
Det gør det! Det er konklusionen på undersøgelsen fra Journal of Consumer Resarch.
I forsøget lavede man to menuer til en restaurant. I menu A placerede man det sunde valg (i dette tilfælde en salat) til venstre for den usunde mulighed (en hamburger) og menu B placerede man dem omvendt.
Forskellen var til at få øje på. Præsenteret for menu A valgte dobbelt så mange en salat (58,3 % af deltagerne mod 28,16 %).
Overvejer du nu, om vi har en tendens til at foretrække det til venstre, er forskernes svar på det, at det gør vi ikke. Forsøget viste at det kun gør sig gældende for det sunde valg. Vi kategoriserer mentalt i højre og venstre og forskerne mener, at placeringen til venstre, gør det nemt for deltagerne at vælge det sunde.
Husk det er ikke altid nudge virker. For eksempel kan præferencer overrule selv det bedste nudge: (Artiklen fortsætter under opslaget)
Brian Warsink fra Cornell Food and Brand Lab har også kigget nærmere på, hvordan man kan indrette menuer mere hensigtsmæssigt. Læs om det her: (Artiklen fortsætter under opslaget)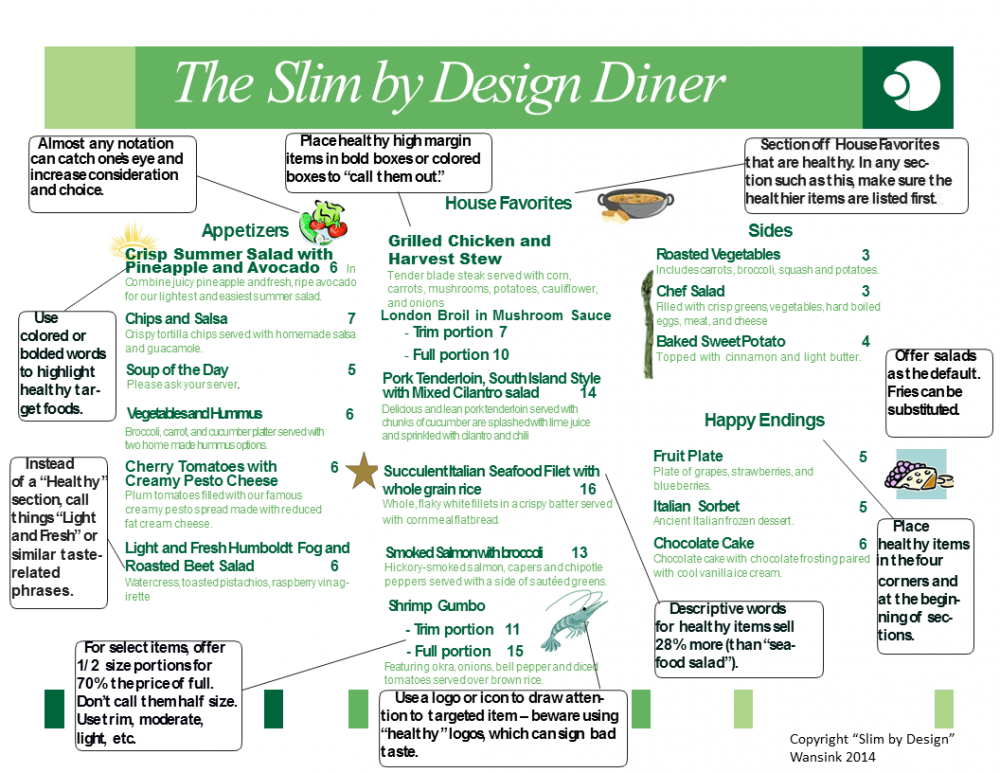 Vil du have flere eksempler på nudge, der virker på arbejdspladser? Så kan du downloade en guide fra Irrational Labs her.
Du kan læse mere om undersøgelsen fra University of Pennsylvania Center for Behavioral Economics and Health Incentives her.
Du kan læse mere om placeringen i menuen i Journal of Consumer Research her.