Hvordan motiverer man sine medarbejdere. For mange er svaret "penge" men måske er det ikke det medarbejderne reelt vil have?
Kan penge motivere os? Det mener mange og for blandt andet Liberal Alliance er det et vigtigt delargument i deres forsøg på at få mindsket topskatten. Lavere skat og dermed flere penge, vil motivere højtlønnede til at arbejde mere, er deres tese.
Men måske forholder det sig ikke kun sådan?
Dan Ariely og hans kolleger på Duke har lavet et forsøg på en Intel fabrik, hvor de netop kiggede nærmere på, hvordan man kunne motivere arbejderne til at producere mere.
Her tilbød man arbejderne tre forskellige belønninger for at øge produktionen:
Penge (ca $30)
Værdibevis til en pizza
Ros fra chefen
Endelig havde man også en kontrolgruppe, der ikke modtog bonus. Alle tre havde en positiv effekt på produktionen. Dog var 2 og 3 bedst til at motivere. Det var dog marginale forskelle.
Bonusudbetalingen udløste produktivitetsfremgang på ca 5 % mens værdibeviset og rosen fik produktiviteten til at stige med 6,7 %.
Noget interessant skete dog de følgende dage, hvor arbejderne igen ikke modtog bonus. Her faldt produktiviteten for gruppe 1 ed 6,5 % sammenlignet med kontrolgruppen. Man så ikke den samme forskel for arbejderne i gruppe 2 og 3.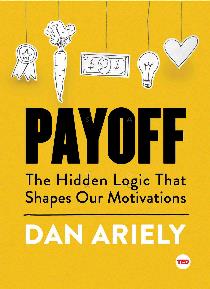 Man så dog ikke lignende tilbagegang, hvis man lod deltagerne selv vælge mellem bonus 1, 2 eller 3. Havde deltagerne selv valgt at få penge for at producere mere, var der ikke tilbagegang bagefter.
Det skulle blandt andet være indholdet i en ny bog fra Dan Ariely: Payoff: The Hidden Logic That Shapes Our Motivations som udkommer 15. november 2016.
Fra bestyrelseslokalet til hjemmet kigger Dan Ariely nærmere på, hvordan vi kan motivere os selv og hinanden.
Du kan finde Dan Arielys undersøgelse It's (Not) All About the Jacksons her og læse mere om motivation i denne artikel.