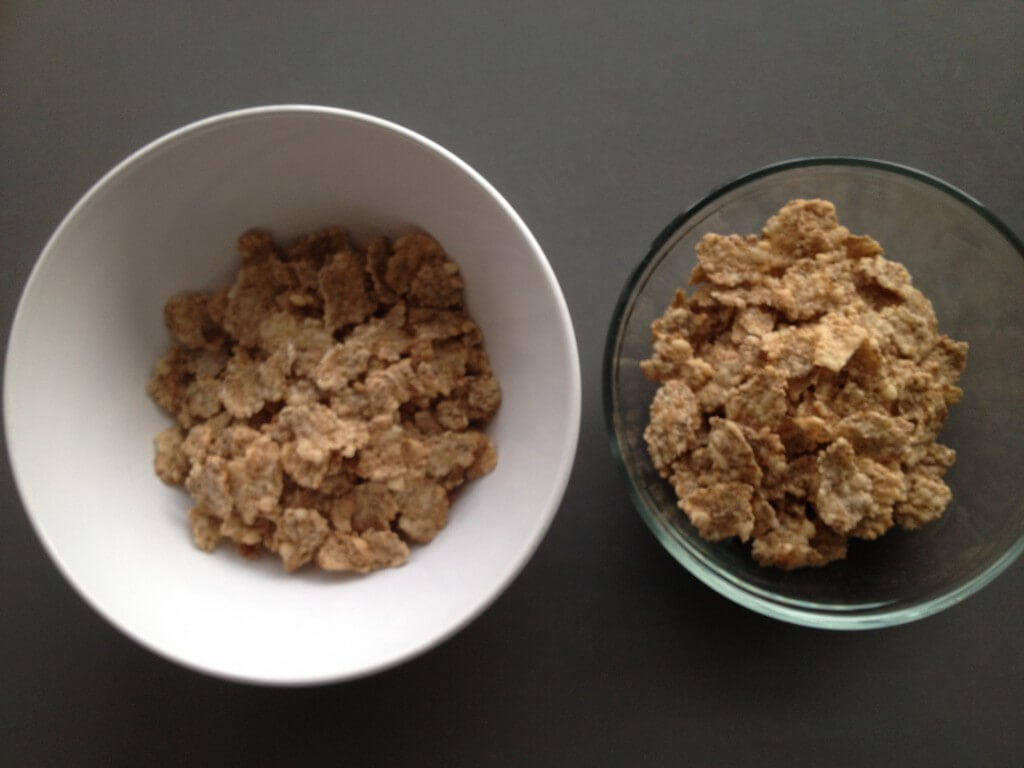 Vi er gået en tallerkenstørrelse ned hjemme hos os. For så spiser man mindre var mit ræssonement efter at have læst Brian Warsinks Mindless Eating. Ny undersøgelse viser at børn spiser 52% mere hvis de bruger en stor tallerken. 
Det er Brian Warsink, der sammen med nogle kolleger fra Cornell University har kigget på børns spisevaner. I billedet ovenfor er der samme mængde – 37 gr Special K – men det virker som om, der er mindre i tallerkenen til venstre. Det er netop denne effekt, Warsink et al jagter i den seneste undersøgelse.
Se indlæg om at Bryde vanen, hvor du også kan lære mere om sukkers påvirkning.
Først serverede man morgenmad for 69 børn i børnehaveklasse-alderen. De skulle selv indikere når de havde fået serveret nok. Her ønskede børn med større tallerkner mere i hele 87% af tilfældene. Det skyldtes ikke deres egne fysiske forhold (altså om de var større eller mindre end andre).
I en anden undersøgelse af børn i alderen 6-10 valgte 52% at få mere morgenmad, når det blev serveret i en større tallerken. De fleste spiste mere men madspildet steg også! Spildet steg med hele 29%!
Dette var klart medvirkende til at Bloomberg ville forbyde de store sodavand i New York.
Hør lidt mere – det er dog en gammel udsendelse, så måske er der forskel i forhold til tal nævnt ovenfor:
Danske Pelle Guldborg, fra Roskilde Universitet og iNudgeYou, har lavet en lignende undersøgelse herhjemme. Læs om den her.
Virker det så hjemme hos mig? Det har virket i lang tid, men jeg er faldet lidt i på det seneste. Så jeg tager to portioner nogle gange. Men der kan naturligvis stadig være mindre mad på to mindre tallerkener end på to store.
Du kan læse lidt mere om undersøgelsen her.