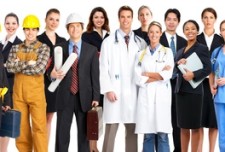 Forleden bragte epn.dk en artikel om at bankledelser forventer en ny krise. En nyhed flere medier valgte at bringe videre og det er der mange gode grunde til. Avisen havde spurgt en række direktører i pengeinstitutter om de forventede en ny krise. Det gjorde langt de fleste og dermed var en interessant overskrift hjemme.
Det siger næsten sig selv at mange vil finde overskriften "Banker frygter ny finanskrise" interessant og dermed lokke læsere til. At disse eksperter forventer en ny finanskrise er en interessant nyhed, men det er ikke nødvendigvis særlig anvendelig nyhed.
For det første er det de samme mennesker som formentlig for to år siden ville have sagt at de ikke ville forvente en krise i den finansielle sektor.
Dernæst bør nyheden ikke komme bag på opmærksomme læsere. Det har nemlig altid været sådan at gode tider er blevet afløst af dårlige tider og der har været finansielle krise-situationer i forbindelse med de fleste nedgange i økonomierne. Sådan vil det formentlig også være fremover.
Alligevel var der mange læsere der læste nyheden og flere medier der tog nyheden op. Artiklen indeholder også flere ting vi læsere finder interessant:
Trussel om noget ubehageligt – ny finanskrise
Aktualitet – vi er jo stadig i gang med den gamle finanskrise
Eksperter der udtaler sig
Den sidste er måske den værste i denne situation. Havde overskriften været "Mikkel Kessler forudser ny krise" ville knap så mange formentlig have fundet artiklen interessant. Men nu var det jo ledelserne i danske pengeinstitutter der forudså nedtur.
Men er der reelt nogen informationsværdi i en sådan artikel? Det er der formetnlig kun hvis disse direktører forudså den økonomiske nedtur for ca to år siden. Desværre tyder mange bankers resultater på at deres ledelser ikke tidligt nok forudså den økonomiske nedgang…………..
Desværre er vi ret glade for sådanne ekspertudtalelser. Der er noget i vore hjerner der får os til at føle os trygge og tillægge udtalelsen stor værdi. Dette har man blandt andet undersøgt ved at lade nogle forsøgspersoner udsætte andre for smerte. En meget stor del af deltagerne valgte at vægte forsøgslederens anvisninger – han var klædt ud som en læge – højere end de skrig og smerteangivelserne forsøgets patienter gav udtryk for. (For en mere udførlig beskrivelse af dette se evt. min tidligere blog: Hvis eksperter siger det er det vel godt nok.
Dernæst har vi det med at vægte nylige hændelser hårdere i vores hukommelse og dermed vægte det hårdere i vores forudsigelser omkring fremtiden. Før krisen forventede ingen krisen, nu har vi en krise og nu forventer man så at den kommer igen. Det svarer lidt til at kontrollen i lufthavnene altid sættes op EFTER et terrorangreb og ikke FØR et terrorangreb.
Er der så nogen værdi i min blog her? Måske ikke, jeg er jo bare endnu en ekspert der udtaler mig. I øvrigt tror jeg også at vi vil få en ny finanskrise på et tidspunkt. Sådan har det nemlig altid været………
Er du blevet nysgerrig på artiklen om en mulig ny finansiel krise kan du blandt andet se nyheden her: http://epn.dk/brancher/finans/bank/article1776397.ece
Denne blog er også bragt på borsen.dk: http://borsen.dk/blog/2149/10803/29404/Jens_Balle