Vi laver meget ofte de samme fejl igen og igen. Som investor kan det komme til at koste mange penge – derfor skal vi være opmærksomme på hvad det er for fejl.
Jeg har her lavet en lille oversigt over de hyppigste biases, der udfordrer os som investorer.
Kort sigt vinder over lang sigt
Måske påvirket af ordsproget "En fugl i hånden, er bedre end ti på taget" foretrækker vi ofte kort sigt over lang sigt. Også selvom det lang sigtede er meget sikkert.
Det viser et forsøg danske hjerneforskere foretog (omtales blandt andet her), hvor deltagerne hellere ville have et tilbudt beløb NU end vente og modtage et større beløb.
Et andet eksempel på dette – dog i en lidt anden kontekst – finder man i marshmellow-forsøgene. Dem kan du læse om her.
Det kigger jeg på i morgen
Trods glæden ved det kortsigtede, gælder det ikke altid. Nogen opgaver udsætter vi nemlig næsten uendeligt.
På den måde slipper vi for at tage stilling.
Men det kan være farligt. En kollega lavede engang et forslag på en livsforsikring til et ungt par. Det ville de lige tænke over. Desværre døde manden kort efter, huset måtte sælges og økonomien var noget usikker for enken.
Mange vælger at udskyde beslutningen om at investere opsparing. Dette til trods for at mange undersøgelser viser at kontant indestående i en bank er det, der giver det dårligste afkast.
Tillid til eksperter
Vi har også ofte for stor tillid til eksperter. Hvad enten det er en læge, håndværker, finansiel rådgiver, en ekspert i fjernsynet eller en, der blogger om et emne, stoler vi ofte næsten blindt på dem.
Det taler Noreena Hertz blandt andet om på TED – se det her:
Frygt for tab
Vi hader tab meget mere end vi holder af gevinster. Det viser undersøgelser og forholdet er næsten 1 til 2.
Desværre fører det til at vi ender med langt større tab i mange situationer.
For frygten for tab, gør at vi venter med at tage tabet. For det kan jo være at det når at rette sig. Modsat tager vi en gevinst når den er der. For det kan jo være at den forsvinder igen.
Denne bias leder til at vi tager små gevinster og store tab, hvilket ikke økonomisk er en god ide.
Læs mere om tabsaversion her.
Anchoring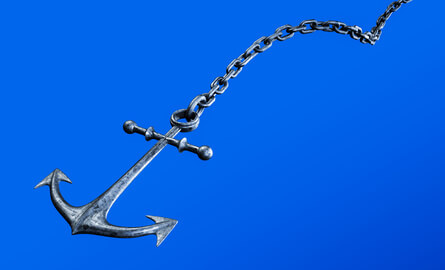 Jeg kender mange investorer, der kan huske at Vestas på et tidspunkt var oppe i næsten kurs 700. De synes måske stadig den er lidt billig trods den store stigning den har haft, efter den var i kurs ca 25 i 2012.
På den måde kan vi få et forhold til bestemte prisniveauer, som påvirker vores beslutninger. Det til trods for at det reelt intet har med dagens pris at gøre.
Nogen mener også at en aktie kan være billig, hvis den er faldet meget. Der skal man huske på at den stadig kan falde 100% selvom den er faldet f eks 50% på nuværende tidspunkt. Det er nemlig irrelevant information.
Men vi lader det påvirke vores vurderinger.
Vi anerkender ikke disse tendenser
Jeg indleder ofte mine foredrag med at sige, at det naturligvis ikke handler om dig. Det handler om den, der sidder ved siden af os.
For vi kan nemlig heller ikke lide at blive gjort opmærksom på, at vi måske ikke altid agerer så rationelt. Men det gør vi. Og kun ved at anerkende dette, kan vi komme videre og blive bedre som investorer.
Hvordan kan man så undgå at lave disse fejl? Det blev Daniel Kahneman spurgt om på et seminar en gang og hans svar var, at man skulle holde afstand til sine investeringer. Man skulle lave en strategi og så sikre at andre overvågede investeringerne i dagligdagen. På den måde bliver man ikke revet med.
Det samme siger Greg B. Davies, der er chef for Baclays Banks Behavioral Finance. Han arbejder med investeringsrådgivning i dagligdagen, men vil ikke have adgang til skærme med realtidsopdaterede skærme. For det risikerer at påvirke din beslutningskraft – og da de fleste investeringer er langsigtede, betyder det jo ikke noget reelt.
Det kender jeg også fra mig selv. Jeg har i lang tid kun haft aktier i min pensionsopsparing. Det er jo langsigtet og på lang sigt er aktier bedst. Men i 2008 og 2009 var jeg tæt ved at genoverveje denne strategi. Kunne det virkelig passe at jeg skulle fortsætte med at investere i aktier? Jeg holdt heldigvis fast!
Ifølge Gregg B. Davies skal man gøre sådan her:
Definer din investeringsmulighed
Sæt dine penge på arbejde – stå ikke kontant
Diversificer – spred dine investeringer
Sikr at du selv har beslutningsretten
Du kan høre ham forklare det nærmere her.